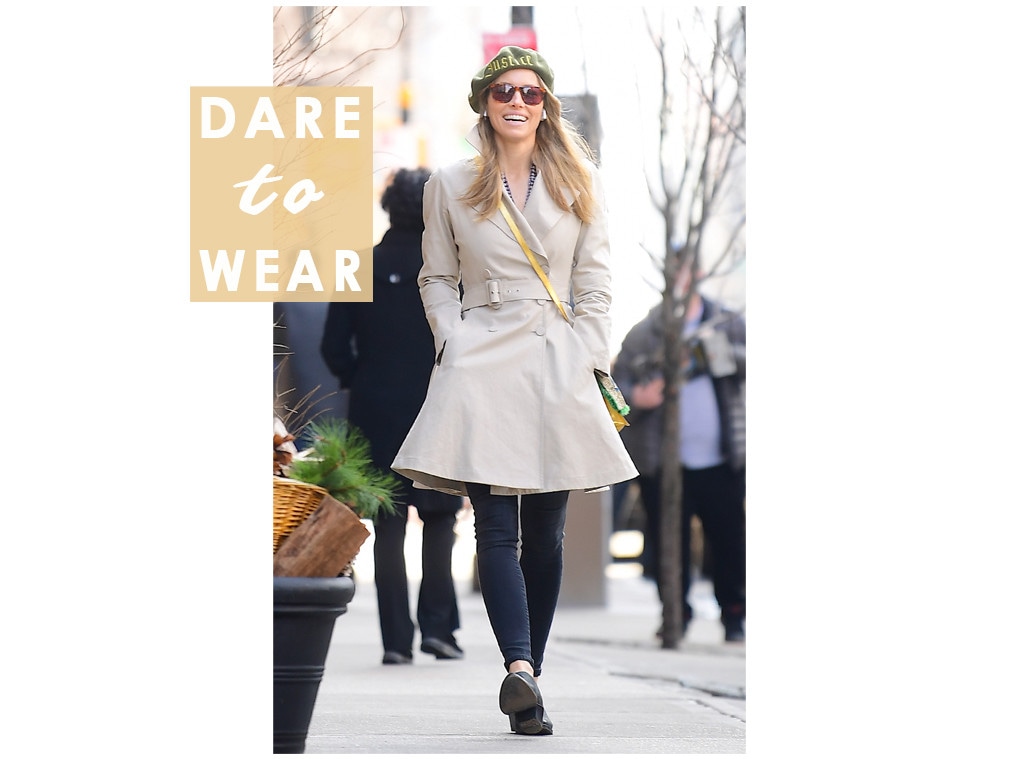 247PAPS.TV / Splash News
Hats off to Jessica Biel for her statement-making street style!
Photographed walking the streets of Tribeca in New York, the star took on her day in black skinny jeans, a dress-like trench coat and loafers. Although the key components of her outfit don't sound thrilling, it's her choice of accessories that made her look standout. 
To top off her comfortable and classic outfit, Justin Timberlake's better half added a muted green beret from Itchy Scratchy Patchy that features yellow stitching of the word "Justice" and a yellow and green crossbody bag. It's righteous and offers a glimpse into the star's beliefs, as fashion should.
In the world of celebrity, berets have recently replaced baker boy hats, which have a similar shape, but include a bill. Considering that berets, specifically, have a revolutionary past, we've seen them a lot more recently, as women's movements and Black Lives Matter continue to gain support and momentum. Celebrities like Beyoncé have been using the accessory to express their support non-verbally.
Although we can't speak to Jessica's beliefs from her clothes alone, we can take a hint. She wants justice.
Beyond empowerment, the classic French accessory is a flattering addition to any outfit. With a little something extra, like embellishments or words, it can easily take your outfit from drab to fab.
Ready to make your statement? Shop the look below!