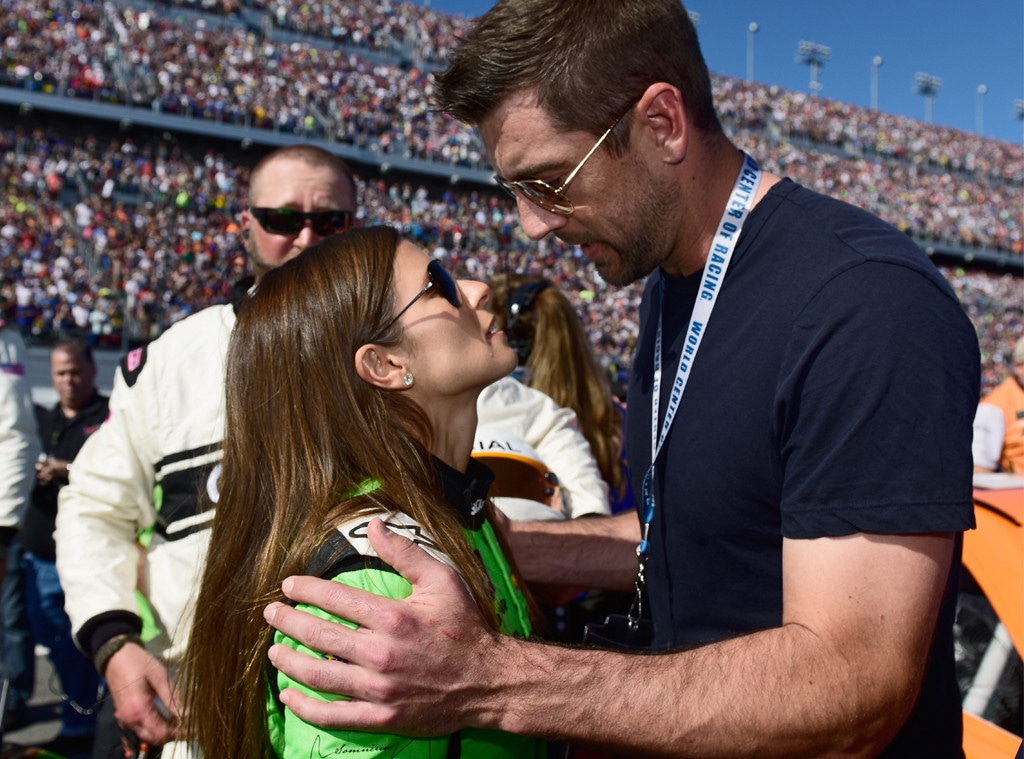 Jared C. Tilton/Getty Images
Is Danica Patrick ready to drive into the sunset with Aaron Rodgers?
The race car driver, who's heading into the home stretch of her pioneering career, has taken up with NFL star Aaron Rodgers—and, if the photos taken of the couple kissing at the Daytona 500 mean anything, these two appear to be on the fast track to something special.
But enough with the automotive metaphors. Basically, the success of this relationship will come down to timing—both with regard to whether they're ready for the same thing at the same time, and if they can make enough time for each other.
And since it's Rodgers' off-season, there's been no trouble there yet.
But while athletes' schedules are packed with traveling, training and competition, who better to understand that than another athlete? Patrick just detailed her approach to diet and fitness and maintaining a healthy mindset in her new book, Pretty Intense.
"The most important part is that you figure out why you're doing it," she said on Good Morning America. "For me, I do it because it makes me feel good so therefore I keep doing it."
All of which can double as an approach to relationships. And so far, so good.
Patrick and Rodgers have only been dating for a few months, the GoDaddy-sponsored NASCAR star having confirmed as much last month. Ironically, Patrick was born in Wisconsin, all of which you'd think would be devoted to Rodgers' Green Bay Packers—but she's always rooted for the Chicago Bears.
"I told him a long time ago I'd always root for him as a player," Patrick quipped to a reporter in January, recalling how she first met Rodgers back in 2012 at the ESPYs. She added, "Now I am probably going to cheer for the whole team. Take out the word 'probably.' Now I'm going to cheer for the whole team."
"We've just been sort of friends the whole time, kept in vague touch and seen each other at the ESPYs almost every year, and other places," Patrick also told For the Win. "So one thing led to another, and we realized how similar we were, and yeah, that got the ball rolling."
Rodgers has yet to comment publicly (he stayed silent when a few reporters spotted him leaving her pit box at a tune-up last Thursday), but he's already met the Patrick family and he said it all when he kissed Danica on the sidelines at Daytona, the first half of the "Danica Double," the final two races of her career. She's planning to pack it in after the Indianapolis 500 in May.
After which, they'll have a couple good months before it's time for Rodgers to report to training camp, veteran quarterbacks not having to go back to work until July.
David J. Griffin/Icon Sportswire via Getty Images
Despite the strong support system, Patrick had a disappointing finish at the Daytona 500, getting swept into a pile-up on lap 102 that her car wasn't able to recover from. "It just wasn't meant to be today, I guess," she told reporters afterward. "It was competitive, that's all you can do. That's the gamble about Daytona, it can go so well and it can go so awful."
Being winless in her six years as a NASCAR driver (she has one IndyCar victory) hasn't stopped Patrick from becoming one of the most famous faces in all of racing, and a hugely marketable sports superstar. Last year she was No. 7 on Forbes' list of highest-paid NASCAR drivers with $12.2 million, including $5 million in endorsements.
Despite having made history wherever she's gone as the "first woman to...," the gap between her drive (no pun intended) and her results (fascinatingly, she didn't make this 2014 list of the most successful female race car drivers ever, though she's the only one most people would have heard of) has served as both a source of motivation and frustration.
And though Rodgers has a Super Bowl ring from 2010, is a two-time season MVP and remains, at 34, one of the NFL's elite quarterbacks, he too is more than familiar with the frustration that comes from not finishing in first place. He also, like Patrick, knows all about being the most photographed person in the room, win or lose.
Alberto E. Rodriguez/Getty Images
Before she started dating Rodgers, Patrick was only recently single, having ended her five-year relationship with fellow driver Ricky Stenhouse Jr.—not long after Patrick had said she was ready for more.
"Someday, not yet," he told a TMZ cameraman as the couple were trying to walk from here to there together last July, when asked if they were engaged. Patrick then added, "I was ready yesterday." She had previously been married for eight years to Paul Edward Hospenthal. 
She and Stenhouse confirmed they had broken up in mid-December. Just a month beforehand, when she announced her intent to retire after the Indy 500, Patrick said that Stenhouse, then still her boyfriend, "has never been more excited about something about me in his life."
Rodgers, meanwhile, broke up with Olivia Munn last April after about three years of dating, during which he got a taste of the Hollywood-celebrity life and the rapt attention that comes with it. (Like Patrick, he too had a non-public relationship before his last one, having been engaged to a high school sweetheart.)
"When you are living out a relationship in the public eye, it's definitely ... it's difficult," Rodgers told ESPN The Magazine last summer. (The story notes that Rodgers also taped the interview, to ensure the finished article appropriately reflected their conversation. In 2012, CBS News suggested he was being "overly sensitive" when he criticized how a 60 Minutes piece on him turned out.)
"It has some extra constraints," he continued, "because you have other opinions about your relationship, how it affects your work and, you know, just some inappropriate connections."
Jordan Strauss/Invision/AP
Rodgers, who's been a household name for the last decade after succeeding Packers legend Brett Favre in 2008, found himself in uncharted territory dating Munn, as far as the rumor mill. After his brother Jordan Rodgers made it clear on The Bachelorette that not all was well among certain members of the family, namely between his brother and everyone else, there was talk that Munn had something to do with it. If he had a bad game, there was talk of the celebrity-girlfriend curse.
"They're such misogynists, right?" Rodgers said to ESPN, referring to speculation that Munn was at the root of his issues. (No one has blamed him for Patrick's crash, just sayin'.)
Ultimately, he said, "I think there should be a separation between your public life and your personal life. I've just always felt like there should be a time when you don't have to be on."
At the same time, Rodgers also said he's hoping "to be seen" (he spent a lot of his career being mistaken for the super-serious, unforgiving type, though his State Farm commercials have helped dispel that image lately). "Just to be understood a little bit more."
Don't expect any Tom vs. Time sort of project from Aaron Rodgers anytime soon, but he has reached the point where he knows that football isn't everything, and he doesn't want to be known solely as the football player with a chip on his shoulder.
Of course, he sat down for that interview months before a broken collar bone suffered in October sidelined him for two months and the Packers missed the playoffs. He'll be returning to the field this year looking to prove a few things.
Chris Trotman/Getty Images
Patrick, meanwhile, has had no choice but to be fearless, not just as a female athlete but as one of a very tiny club of professional female athletes competing regularly against men (including her own boyfriend at times).
She also has been endlessly patient and gracious in letting all sorts of sexist comments roll off her back over the years, such as when legendary driver Richard Petty said in 2014 that Patrick could win "if everybody else stayed home." He said she was getting attention solely because she was a woman—which, he acknowledged, was good for the sport.
"As I said the last time somebody said something that was not so positive for me, it spawns so many positive articles," Patrick told reporters at Daytona 500 media day that year. "I love the conversation that it creates in sport, and across the board it makes sports interesting. It makes life interesting when people have different perspectives, and that's fine with me."
She'll approach the Indy 500 on May 27 with her usual combination of competitiveness and preparedness. And then...
Aside from having some Packers games to look forward to this fall, Patrick has some pretty ordinary goals in mind after the Indy 500.
"I'm excited to have a weekend," she told the Los Angeles Times during NASCAR Media Day last week. "I'm excited to go to a farmers market. Simple things like that.
"There's always a farmers market. There's always vacation. There's always just enjoying life. I love the idea of looking at my schedule and being able to plan things. I don't even trust it yet. I don't trust it can happen yet."