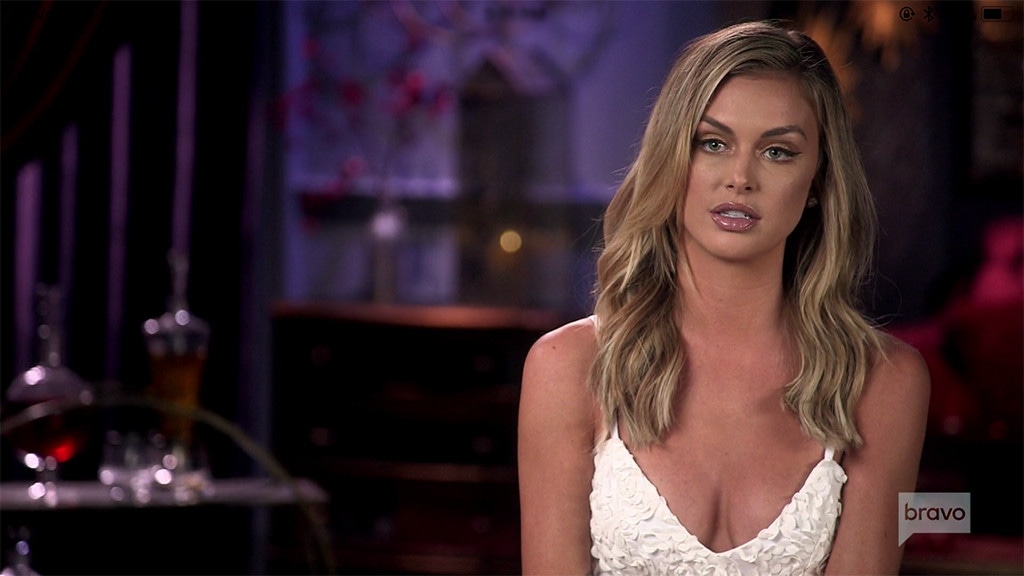 Bravo
Vanderpump Rules serves up delicious drama, both on- and off-camera.
After the latest episode aired Monday night, Lala Kent appeared on Bravo's Watch What Happens Live With Andy Cohen. At one point, a viewer called in to ask what James Kennedy "adds" to her life, since she is the sole cast member who still "puts up with all of his nonsense."
"You know what, my love? That is a great question, and I have just recently realized [he adds] nothing," Kent said, just after watching a preview of next week's episode. "So, that's what it is."
In that very preview, Kennedy complained about Kent's boyfriend, Randall Emmett. "If I had been that billionaire successful DJ, she would have definitely come along for the ride. Her man was the guy that had all of that, so she went running along with him. Do I think that could have happened? Absolutely," Kennedy said. "You know Ray J hit it first before [Kanye West], right?" Kent's jaw dropped as she watched her supposed friend speak about her in such a way. "But I thought he was the 'White Kanye.' Is he really Ray J?" Kent asked Andy Cohen. "He's the Ray J!"
Kennedy told Kent in Monday's episode of Vanderpump Rules that he has a "negative view" of Emmett, whom he'd met "three" times since her relationship began. "I've loved you, so you have to understand: I'm not used to it yet," he said. Kent acknowledged that she and Kennedy were once "intimate," which only irked him. "That's a nice way of saying, 'Yeah, we f--ked,'" he said. Kent reminded him that he's dating Raquel Leviss, and he needs to be "respectful" of that.
"James thinks that he's losing me to my relationship. But it's OK for him to have a girlfriend. It's OK for me to have a boyfriend. It doesn't mean we're losing each other as friends," Kent later reasoned during a confessional interview. "I don't think he knows how to make the transition."
In the digital-only Vanderpump Rules After Show, Kent said, "I can't tell if he, like, really hates me a lot or if he loves me so much that he wants to skin me and wear me everyday. You know?"
Since filming on the current season ended, their feud has only escalated. Last month, Kent publicly announced she was "mourning the loss" of their friendship. In response, Kennedy tweeted he was "blindsided" by her message and called her a hypocrite for befriending Kristen Doute and Katie Maloney, who'd previously accused her of being a home wrecker. (Though he was separated, Emmett was technically married when he began dating Kent.) Kennedy added, "God forbid I let my temper get the best of me and she decides she needs to publicly bash me."
(E! and Bravo are both members of the NBCUniversal family.)