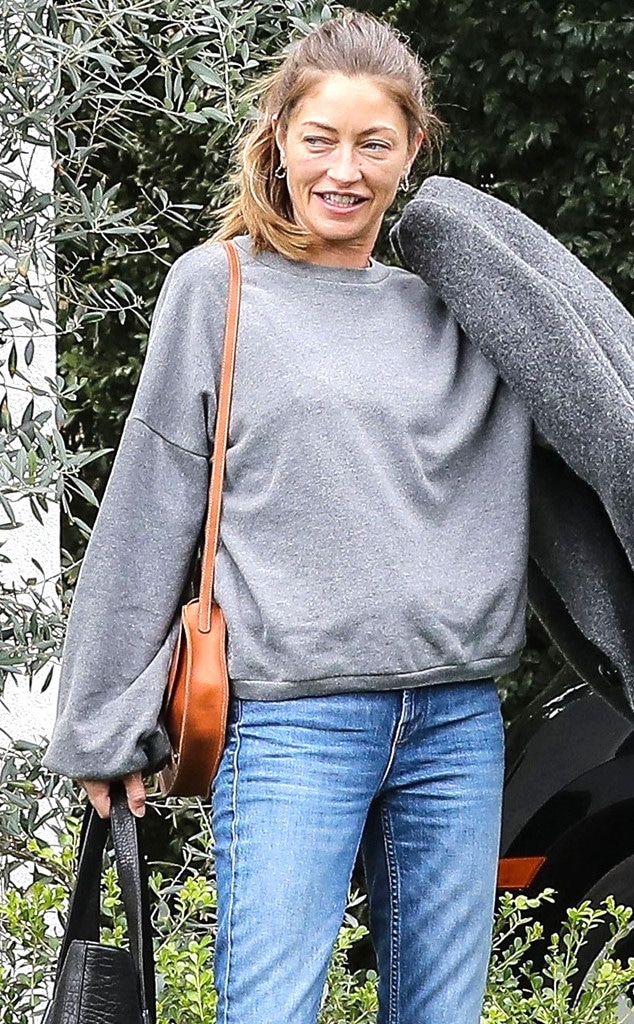 SPOT/BACKGRID
Rebecca Gayheart was spotted out for the first time today after filing for her divorce from Eric Dane.
The 46-year-old actress was photographed arriving at a friend's house in Los Angeles alongside her two daughters, Billie and Georgia, who she shares with her estranged husband.
Gayheart dressed for the chilly L.A. weather in a gray sweater with jeans and a matching coat. More notable, however, was the gold band she wore on her ring finger despite her split from Dane.
As we reported last week, the former Beverly Hills, 90210 actress filed for divorce from her husband of 14 years, releasing a joint statement to E! News on Friday.
"After 14 years together we have decided that ending our marriage is the best decision for our family," the former couple said. "We will continue our friendship and work as a team to co-parent our two beautiful girls as they are the most important thing in the world to us. We kindly ask that you respect our privacy during this time as we navigate the next phase of our lives."
Gayheart took to Instagram today to thank her family, friends and fans for their support following the news.
"I just wanted to say thank you to all of you that have sent me kind encouraging words ...... it means more than you will ever know," she wrote beside a quote that reads, "Today I am grateful to all the people who are loving and kind to me."
According to the divorce documents obtained by E! News, Gayheart cited "irreconcilable differences" as the reason behind the split. She's also asking for joint legal and physical custody of their two daughters.
In fact, Gayheart shared an Instagram post with her daughters the day she and Dane released their joint statement.
"Holding onto my girls tight and loving them hard today," she captioned the photo. "So many broken hearts and shattered dreams ....... @nancyneil @sophiemonet #meandmygirls #myeverything #trulymadlydeeply #gratitude #feels."
Gayheart and Dane tied the knot in August 2004, and their last red carpet appearance as a couple was back at the Chrysalis Butterfly Ball in the summer of 2017.