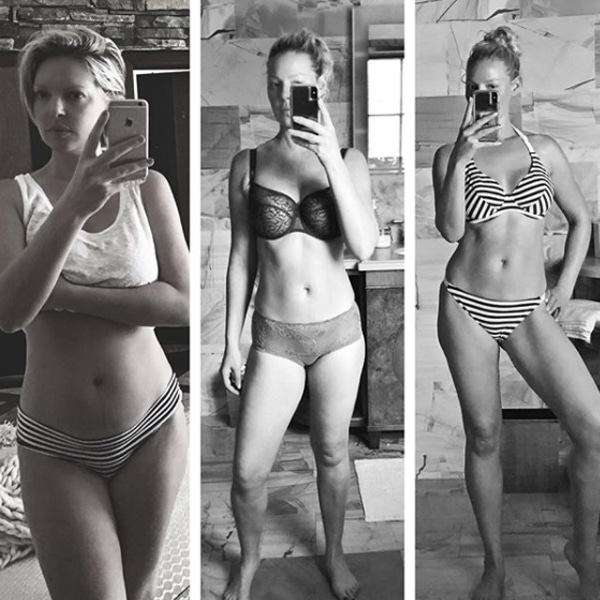 Instagram
Katherine Heigl is giving us a peek inside her 14-month weight loss journey after giving birth to her third child, Joshua Bishop Kelley Jr.
The actress and her husband, Josh Kelley—who are also parents to their two adopted daughters, Naleigh and Adalaide—welcomed their son into the world on Dec. 20, 2016. Heigl took to Instagram today to share side-by-side photos of her body after giving birth.
"It's been almost 14 months since Joshua Jr was born and it has taken me about that long to really get back in shape," she captioned the photo collage. "The first pic was taken one month after he was born. The second pic was taken almost a full year later and the last pic was taken this weekend. I wish I had a few from in between the first and second so you could really see how slow my progress was but alas...I was busy covering it all up those months, not posing in my unders!"
Heigl noted that she's been extra motivated recently for a few reasons—one of them being her upcoming role on Suits.
"I have a beach vacation coming up, a new job I start filming in April and my deep desire to feel fit, strong and sexy propelling me forward the last two months to finally loose the last of my baby weight and do a deep dive search for the ab muscles I knew were buried under that belly somewhere!" she explained. "I was wholly and totally inspired by Miss @rachparcell [blogger Rachel Parcell] and the before and after pics she shared after taking the #bbg challenge. I had never heard of it but she looked so damn great (she had her baby just a few months before me) that I had to check it out."
Michael Simon/startraksphoto.com
Heigl said she found a workout perfectly fitting for her lifestyle.
"I found a fantastic app called #sweat that features several different #bbg programs you can choose from and makes it incredibly easy to do anywhere, which for me means in my bedroom at home!" she said. "I won't lie, the workouts are real ass kickers but the progress I've made in only 5 short weeks has kept me motivated and inspired to keep going!"
Heigl continued, "I am so grateful I've had a full year to find those ab muscles and get my butt back up where it belongs and wasn't forced by work to snap back into shape but it is time to make the strength, fitness and overall health of my body a priority and I am so grateful that @rachparcell shared her story and got this mama motivated!"
Heigl's story comes just a few days after Blake Lively shared photos of her 14-month weight loss as well.
The former Gossip Girl star took to Instagram to reveal she lost 61-pounds following the birth of her second daughter in September 2016.
You go, girls!