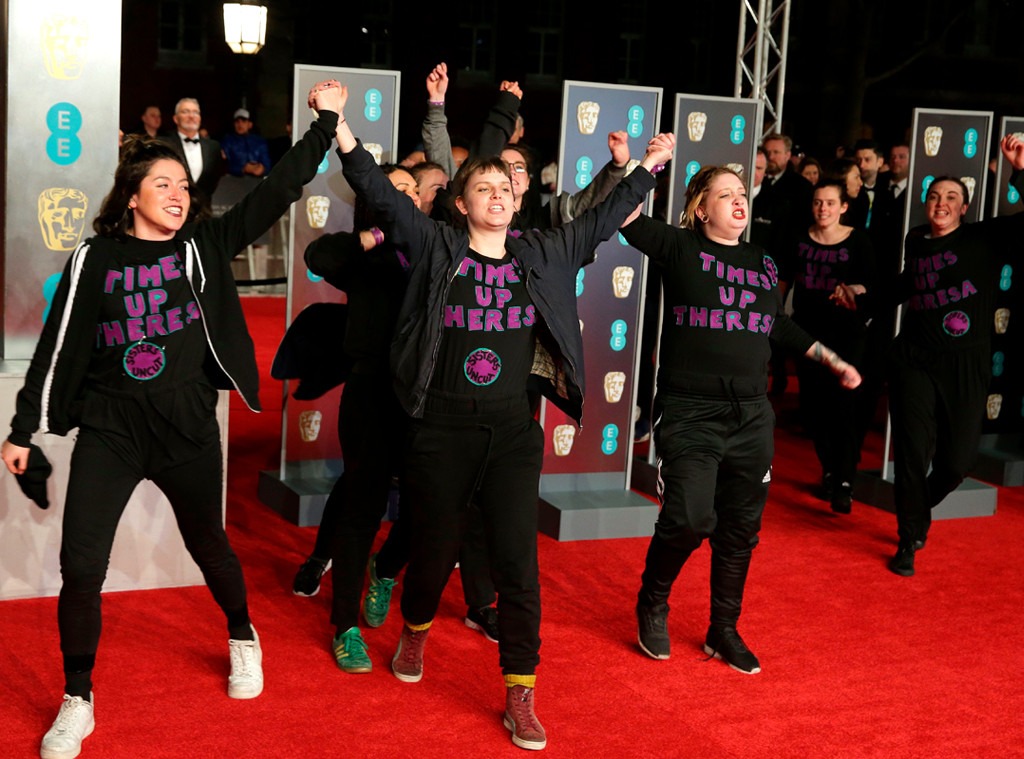 DANIEL LEAL-OLIVAS/AFP/Getty Images
As celebrities such as Angelina Jolie and Jennifer Lawrence as well as Kate Middleton and Prince William arrived at the 2018 BAFTA Film Awards, several members of a feminist protest group crashed the area to stage a political demonstration, prompting police to intervene.
Wearing black and purple tops that read "Times Up Theresa," about a dozen protesters from Sisters Uncut linked arms and lined up and even lay down on the red carpet at the Royal Albert Hall in London before the ceremony on Sunday. Police eventually moved the group. Police were called and the group soon left. No arrests were made and the protesters made no contact with famous guests.
"Sisters Uncut stormed the BAFTA red carpet to protest [British Prime Minister] Theresa May's upcoming Domestic Violence and Abuse Bill, which they say will criminalize survivors while distracting from devastating funding cuts to domestic violence services nationwide," the group said in a press release, adding that the U.K. leader's domestic violence policies will leave survivors "locked up in prison, locked out of refuges, and locked in to violent relationships."
At the BAFTAs, film stars wore black to support the global Time's Up campaign to stop sexual harassment and inequality in the workplace.
"We are in solidarity with the Time's Up campaign," the Sisters Uncut press release quoted protester Ana Kaur as saying. "Like the Alianza Nacional De Campesinas, we recognize that gender-based violence happens everywhere, and that to disclose abuse requires support. As well as calling Time's Up on individual perpetrators, we have to call Time's Up on our government for failing to provide us with real options and support."