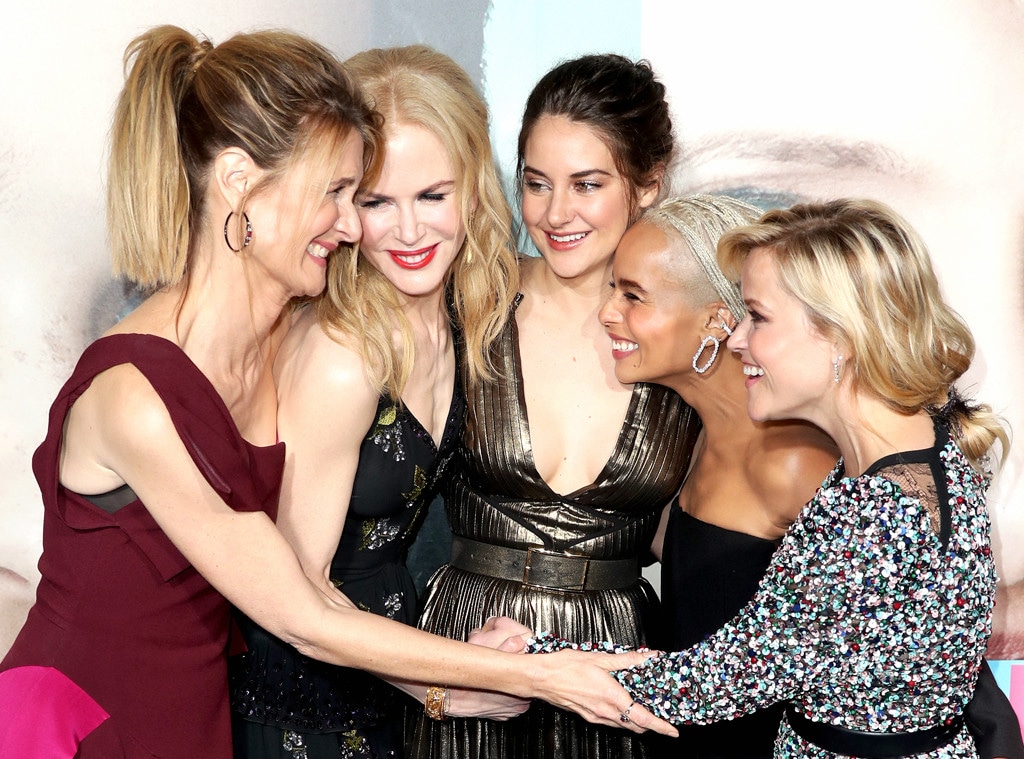 Frederick M. Brown/Getty Images
The whole Monterey gang is getting back together for Big Little Lies season two. E! News has confirmed Laura Dern, Shailene Woodley and Zoë Kravitz have officially signed on to reprise their roles in HBO's Big Little Lies season two. They join previously announced returning stars and executive producers Reese Witherspoon and Nicole Kidman.
HBO previously announced Meryl Streep is joining the cast as Mary Louise Wright, the mother of Perry Wright (Alexander Skarsgård), Celeste's deceased abusive ex-husband.
Season one ended with the five ladies united, but under the watchful eye of the investigating detective played by Merrin Dungey, following the accidental death of Perry.
When the second season was announced, HBO said the new season will "explore the malignancy of lies, the durability of friendships, the fragility of marriage and, of course, the vicious ferocity of sound parenting. Relationships will fray, loyalties will erode…the potential for emotional and bodily injury shall loom."
And now we have more information.
Witherspoon's Madeline Martha Mackenzie confronts the truth of Perry's death and must come to terms with her own marriage and traditional notions of marriage.
Kidman's Celeste Wright is still reeling from Perry's death, "adrift, but determined to fight for her family and find the woman she once was." Fight whom? Her mother-in-law played by Streep? Streep's character is concerned for her grandchildren and comes to town searching for answers.
 
Dern's Renata Klein will face new challenges in her own marriage. Woodley's Jane Chapman is still processing the death of her attacker, Perry, and continues rebuilding her life with son Ziggy. Kravitz' Bonnie Carlson, who pushed Perry to his death, struggles with her actions and is forced to face the demons in her past. Viewers will also meet Bonnie's parents.
David E. Kelley is writing all seven episodes based on a new story by novel author Liane Moriarty. Andrea Arnold is directing all seven episodes.
No premiere date was given, but look for this in 2019.