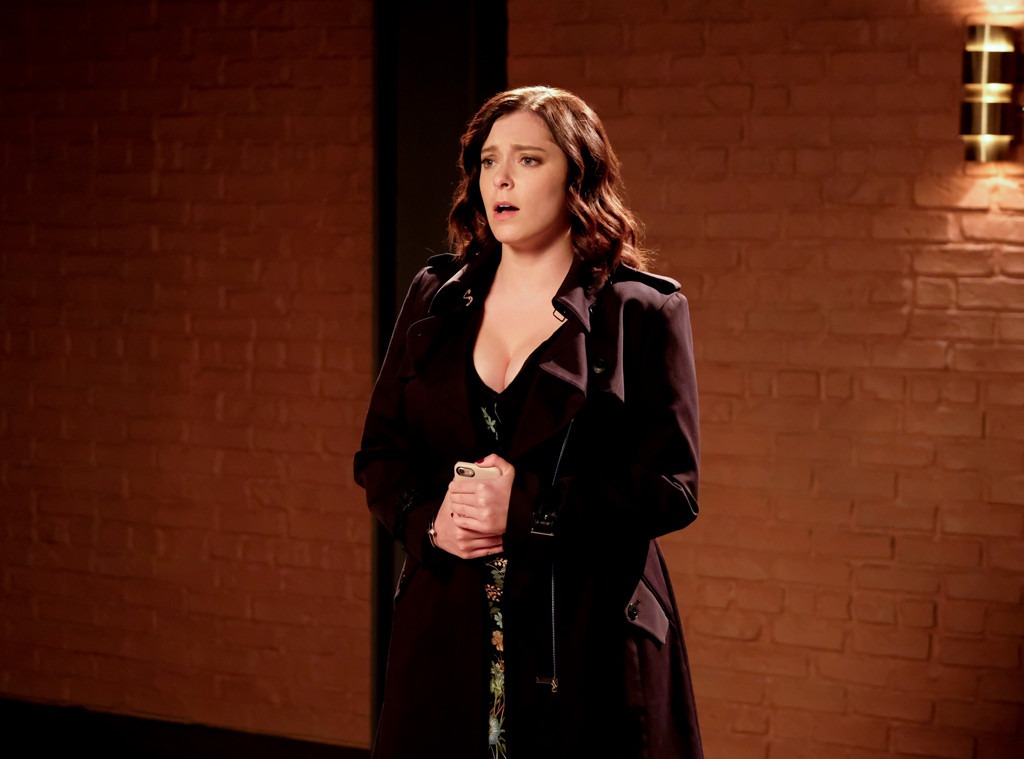 CW
Crazy Ex-Girlfriend has a history of changing just about everything for its heroine Rebecca Bunch (Rachel Bloom) in season finales. The Friday, Feb. 16 season three finale of Crazy Ex-Girlfriend is no different.
In "Nathaniel Is Irrelevant," Rebecca is put in a situation she's never faced before, and this time she is more aware of her behavior and consequences of it all than she's ever been before. Gone is the girl who's just in love and can't be held accountable for her actions.
"[The finale] was really a joy to work on because it felt culminative, and we felt all these strands coming together, and we got to do big group scenes where everyone was together...And then, it's a really interesting ending. It's a love story ending and then not at all a love story ending and that's the thing we live to do, which is sort of take the piss a little bit out of the rom-com romance," co-creator and showrunner Aline Brosh McKenna told E! News ahead of a talk with Bloom at New York City's 92Y.
"It's like in a lot of ways the most romantic song we've ever done and the most romantic ending we could ever do. It's also completely bats—t crazy," she continued about a finale musical number toward the end of the hour.
This season featured Rebecca finally getting diagnosed—she has borderline personality disorder—and working on herself with therapy.
"I think the biggest challenge after that diagnosis was that she had an expectation, and maybe the audience had an expectation, that once she had that, it was going to be a sort of cure that would change her behavior. We wanted to show the sort of backsliding that happens. Just because you know, 'I have anxiety, oh I have depression, I have BPD [borderline personality disorder]'—it's not gone. You're just aware," Brosh McKenna said.
"In some ways she became like season one Rebecca in terms of scheming and doing things to help Nathaniel or try and help Valencia. It was almost like she was going through those same capers, but now with the knowledge of what she was doing and Rachel was always great about. There was scene where she snapped at Dr. Akopian and there was not a line in the script and Rachel improvised a line where she was like, 'I'm sorry, I was feeling cornered and provoked.' Season one or season two Rebecca would have just snapped at Dr. Akopian, but post-diagnosis she's somebody who is very aware," Brosh McKenna continued. "So in a weird way it was more painful to watch her go through that and sort of put her through her paces with her knowing she was struggling with something really specific."
In recent episodes, the show jumped eight months into the future, Rebecca reignited an affair with her boss, Nathaniel (Scott Michael Foster), and her stalker Trent (Paul Welsh) returned to blackmail her into being with him. Rebecca lied to Paula (Donna Lynne Champlin) to get her help in escaping Trent and since then had been full of immense guilt. But confessing to her misdeeds isn't the end of Rebecca's story—or the season. There's a cliffhanger coming and CW has yet to officially order a fourth (and possibly last) season.
Would Brosh McKenna and Bloom be happy with this ending?
"No," Bloom said.
"No, it's not ending this way," Brosh McKenna said. "There will be a fourth season somewhere even if it's in our basement."
Come back to E! News for more from Bloom and Brosh McKenna about what's next after the pivotal Friday, Feb. 16 episode.
Crazy Ex-Girlfriend airs Fridays, 8 p.m. on The CW.