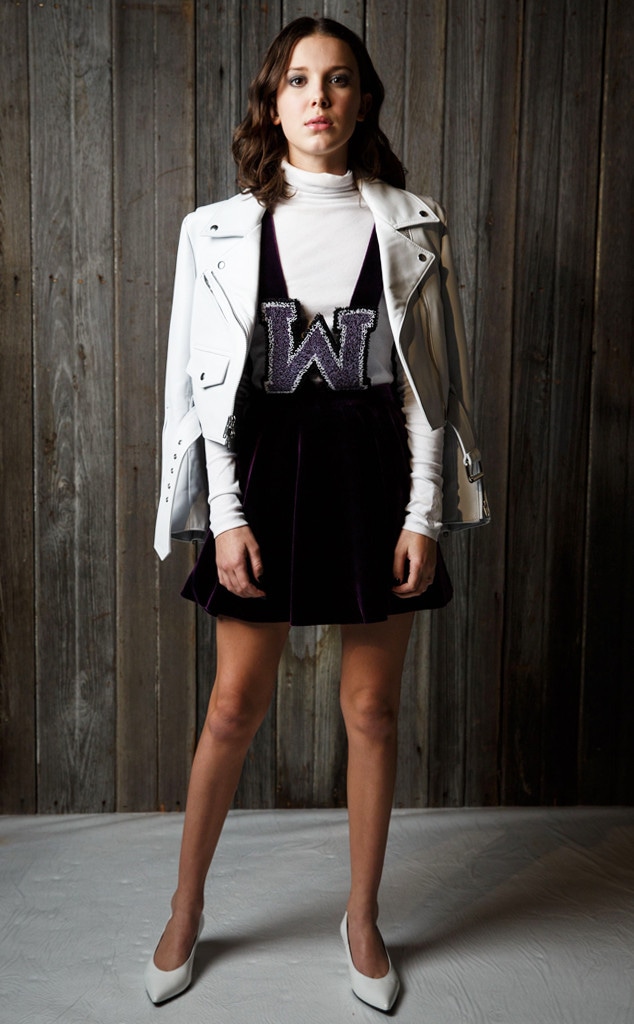 Kelly Taub/BFA/REX/Shutterstock
Millie Bobby Brown's cheer-inspired outfit, FTW!
The Stranger Things actress made a New York Fashion Week appearance in a Calvin Klein by Appointment purple jumper, a white turtleneck, matching leather jacket and kitten heels. While many outlets applauded the 13-year-old's front-row fashions, we'd argue it's her best look yet.
Before references of her press tour looks or her edgy ensemble at the CFDA/Vogue Fashion Fund Show and Tea inundate the comments section in protest, give our reasoning a chance.
The face of Calvin Klein is a wardrobe repeat offender, just like the rest of us. If you thought you've seen this ensemble before, you have…for an editorial in InStyle. It's not often that a celebrity wears a look twice, especially to a high-profile event—but it's refreshing to see. More importantly, it's relatable. How often do you wear your favorite dress or pair of jeans? Exactly.
Swan Gallet/WWD/REX/Shutterstock
Not to mention, the outfit tugs on our throwback heartstrings. There's a reason why cult-classics like Bring It On are so popular. From a business perspective, the varsity trend was and is still going strong. In fact, any opportunity for personalization or monograms proves to win (get it—"W" for win?) among the millennial set.
Finally, and perhaps the most important reason why we love this outfit so much: Millie is dressed like a 13-year-old—a very fashion-forward teen but a kid nonetheless. Don't get us wrong—every outfit Millie has worn at events and on red carpets have been stunning, from the two-tone platform Gucci shoes to the multi-texture pink ensemble she wore during Stranger Things promotion. However, sometimes the looks—layered and nuanced—can feel a little too elevated or too purposeful.
Watch:
Millie Bobby Brown Tells How She Stays Grounded
Is this Millie's best look yet? Let us know in the comments!