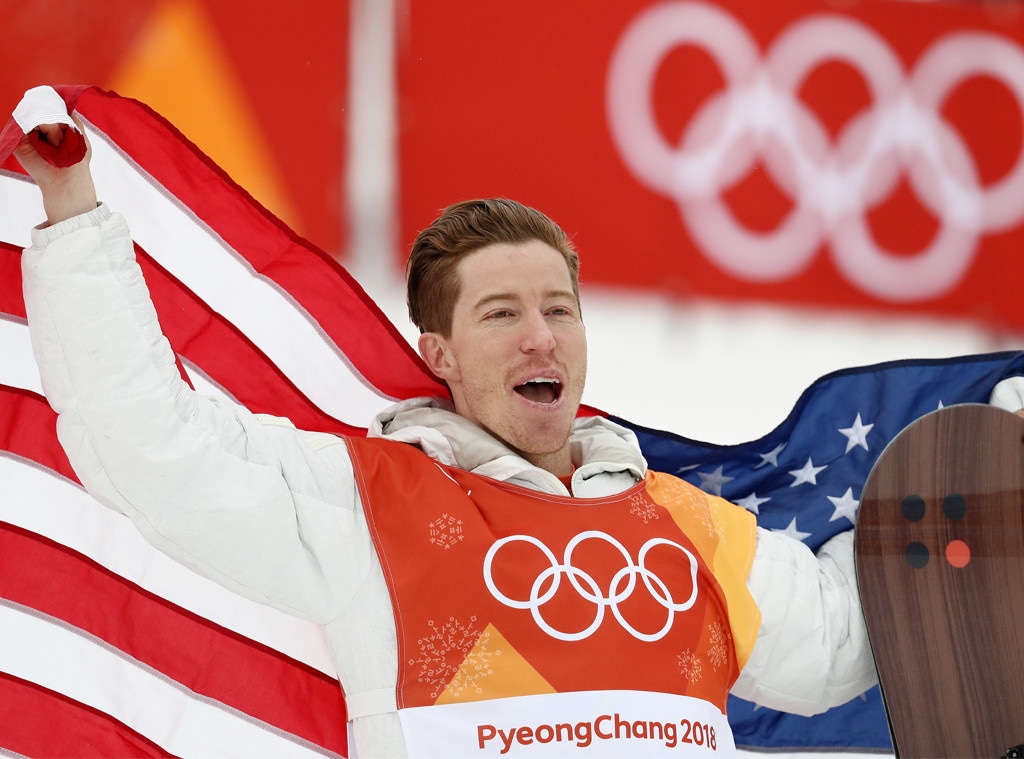 Clive Rose/Getty Images
As a two-time Olympic gold-medalist in the halfpipe and the most winning X Games athlete of all time, Shaun White didn't have anything left to prove to people when he headed into the men's halfpipe final this evening at Phoenix Snow Park in Pyeongchang.
But he had plenty to prove to himself.
"It's qualifying, but this is an ego contest right now...Oh my lord!" the NBC Sports analyst marveled over the elevation White achieved during his second qualifying run in the semifinal yesterday, which resulted in a near-perfect 98.5 that only served to pad his lead—and perhaps wipe all the lingering nightmares of slush and Sochi from his mind once and for all.
Consider those demons vanquished, because White just won his third gold medal in the halfpipe, making him the only snowboarder with three Olympic gold medals since the event began in 1998.
In terminology that means nothing to most on most days but means everything during a snowboarding competition, White pulled off back-to-back 1440s, a double McTwist 1260 and a frontside 1260 in his do-or-die third run to score 97.75 and spring back into first place.
Cameron Spencer/Getty Images
Not as outrageous as his qualifying run, but it turned out to be just enough to win.
Cameron Spencer/Getty Images
White at first fell to his knees with emotion and soon was awash in hugs from teammates and his parents.
Cameron Spencer/Getty Images
"Honestly I just felt it inside, I had it," he told NBC Olympics about his pivotal third run. "I knew I had to put it down…you know it's so hard to describe. It's the feeling, like, I knew I had it but I had to still do it."
Asked about his fighter's mentality, White said that was a good way to put it. "My family just says I like to show off," he said, his grin a mile wide and his eyes brimming with tears but not quite spilling over. "They're like 'you do this every time, you wait until the last run.' I'm like, 'it's what I do, I'm sorry!' I need the pressure, I need the build and the energy. It helps me get it done. Honestly, it's the spirit of competition just helps me get my runs accomplished, and get me motivated and I'm just so thankful for today, honestly."
Ayumu Hirano of Japan, in first place after scoring 95.25 on his second run, got the silver and White's teammate Scotty James took the bronze.
A bit like the mythical bird for which the snow park is named, so White rose—looking as good as new—from a series of physical and mental setbacks that may have sidelined a less determined athlete.
Now 31 and an elder statesman among the American snowboarders—including 17-year-old men's slopestyle gold medalist Red Gerard and 17-year-old women's halfpipe champ Chloe Kim—White is closer to the end of his storied career than the beginning.
The San Diego, Calif., native scored his first sponsorship, from apparel company Burton, as a snowboarder when he was 7. He went pro at 13 and followed that by going pro in skateboarding at 17.
He eventually became the first athlete to win gold medals at both the Summer and Winter X Games. He won his first Olympic halfpipe gold medal when he was 19, at the 2006 Games in Turin, and he repeated in 2010 in Vancouver.
But in Sochi in 2014, where a number of athletes had issues with the slushy snow caused by relatively balmy weather for a winter climate, White slammed his board into the lip of the wall trying to execute the "Yolo"—the trick that eventual gold medalist Iouri Podladtchikov (aka iPod) of Russia made his own that year—and finished fourth. He had planned to make his Olympic debut in slopestyle as well but ended up pulling out of the qualifying round to focus on the halfpipe, citing the less-than-ideal conditions on the course.
Cameron Spencer/Getty Images
Not used to losing, White barely recognized the wave of disappointment washing over him.
"The immediate feeling was more of a 'Wow, this is what that feels like,'" he recently recalled to NBC News.
FRANCK FIFE/AFP/Getty Images
If he had considered calling it a career, he had plenty to be proud of. At 27 he had done it all for his sport, putting snowboarding on the map in the process and earning millions of dollars while doing it. 
He had also had his immature, irresponsible celebrity moments, getting arrested at a hotel in Nashville in 2012 for vandalism and public intoxication. Posing for a mug shot almost seems to be a right of passage for certain brash young Olympians at the pinnacle of their sports. 
"I want to apologize for the unwise choices I made over the weekend and for any inconvenience it caused my family, friends, business partners, the hotel and their guests," he wrote contritely on Facebook at the time. "I was celebrating a happy occasion with a ton of family and friends and got carried away. I'm truly sorry for my poor behavior." White cut a deal to get the charges dismissed provided he complete alcohol treatment, perform 24 hours of community service and pay restitution.
But after Sochi, he knew he needed a break no matter where it led him. He hit the road—for real, in a 15-passenger van—with his band Bad Things. They released an album in 2014 and performed at SXSW. With snowboarding being such a solitary sport, he said that playing music was the only thing he did that qualified as "collaborative."
Recalling that "before" time of his career, as in everything that came before Sochi, White told the Washington Post this month, "I didn't really enjoy riding with the other riders because it was like, they're my direct competition. I would ride with certain people, but it just became hard to hang with the guys that you were competing against, honestly. Think of any sport: It's not like after the World Series everyone goes and gets beers. It's tough."
In addition to re-teaching himself how to play well with others, White focused on his relationship (now heading into its fifth year) with Phantogram singer Sarah Barthel. And most of all he dedicated himself to not competing for awhile. But he could only stay off the mountain for so long and soon enough he was back in the game.
In 2016 he actually bought a minority stake in California's Mammoth Resorts, owner of winter sport hot spots Snow Summit and Mammoth Mountain.
It turned out he wanted to give back to the same areas that helped foster his love of snowboarding as a kid. "I'm completely vested in it," he told the Los Angeles Times about his latest investment. "I want to do right by the mountain and all the people there."
That October he underwent surgery to remove a piece of bone in his ankle and he started training seriously again with an eye on qualifying for the 2018 Winter Olympics, this time with a whole new attitude ("my mindset just really wasn't there" in Sochi, he admitted) and a whole new entourage.
2017 didn't start off exactly how White was hoping, however. He finished 11th at the 2017 Winter X Games, his worst finish there since 2000, when he made his debut at 13. (His last X Games gold in the halfpipe came in 2013, then he skipped 2014 while preparing for Sochi. He finished fourth in 2015 and didn't receive an invite in 2016, due to what he called a "lovers' quarrel" with the organizers.)
But he jollily pressed on, with his new training regimen (heavy on mountain biking—though he hates spinining—and light weights) and fresh approach.
"You need to have family and friends and other goals and aspirations in life," he mused to Mike Tirico, who's presiding over NBC's Olympics coverage for the first time. "You need other things in your life to be excited about."
"People ask, 'When are you going to get over it?' You know, the loss or whatever. You don't, you don't really ever get over it," White told NBC Sports a year ago, reflecting on his failure to medal in Sochi. "It's kind of like you have a scar from falling off a bike, it's just with you forever. But you learn from it. So it's a part of me now, which is great. As hard as it was, I'm thankful that it happened because it taught me a lot."
The support he received from family, friends and fans—"my dog still liked me!"—who were still appreciative of everything he'd already accomplished helped him recover psychologically and got him excited to compete again.
"So learning from that, I came back this time around with a new coach, new trainer, new physical therapist, new sponsors, new haircut," quipped the athlete once—and often still—dubbed "the Flying Tomato" for his flowing red locks, which he chopped off and donated to charity years ago. "Everything just feels different, so it's very exciting. And obviously winning the last event [U.S. Grand Prix at Mammoth Mountain], that was the Olympic judging format they're going to use and all that, so it feels good."
After being coached through his first three Olympics by Bud Keene, White hired J.J. Thomas, who took bronze in the halfpipe at the 2002 Salt Lake City Olympics. He also started practicing with 17-year-old Toby Miller, who both benefits from White's snowboarding wisdom and injects some spirited young energy into the proceedings.
"Toby is bringing that youthful sort of excitement," White told the Post. "He just wants to do everything there is. When you're with someone young, they just kind of bring it out. He basically has some sort of gaming system on him at all times. So he's like, 'Oh, I just got the new Call of Duty,' and there I am, up to at 3 a.m., yelling at 8-year-olds online."
So nothing could stop him, right? White continued to gear up for his fourth Olympics, which, presuming he qualified, he would enter as the gold medal favorite in the halfpipe, an esteemed veteran of his sport and one of Team USA's biggest stars, let alone one of only a handful of household names whose fame transcends their individual sport on any given day.
In September, however, he withdrew from the Winter Games NZ, a World Cup event, after crashing in practice. He didn't break any bones, but...
"The biggest scare was seeing blood in my urine but after the tests all came back looking good I was released to go home," White wrote on Instagram afterward. "Life's going to knock you down.... get up, learn from your mistakes, and you'll be better for it!"
About a month later, while still in New Zealand training, he crashed again and this time he suffered bruised lungs and needed 62 stitches to sew up the various gashes on his face.
"I was working on a new trick, and as I re-entered the halfpipe, I clipped the top," White explained in a video he sent to the Today show. "I flew about 22 feet and hit my face at the bottom, and had 62 stitches and I had some bad bruising in my lungs. My modeling days may be over, but I will definitely be there in 2018 in Pyeongchang for the Olympics."
That, of course, was if he qualified.
White returned to Los Angeles and took to wearing a surgical mask around for a few weeks to keep his healing nose safe from the elements—but then it was back to his board, with not a heck of a lot of time to spare.
And when it came time to clinch his spot on the U.S. Olympic team...well, that's where the superstardom and veteran poise come in.
After falling in his first of two runs at the U.S. Grand Prix last month in Snowmass, Colo., White basically needed a scoring miracle to qualify.
So, he went out and got himself a miracle. He nailed a 1440 double cork on the first hit, plus two more 1260 double corks, and he scored the second perfect 100 of his entire career. (He remains the only male snowboarder to have scored 100 ever, let alone twice.)
Matthew Stockman/Getty Images
"Getting the perfect score was just nuts," White told NBC Sports after the event, getting uncharacteristically emotional. "I mean, I'm just so happy. Honestly, like, I never say this, I'm really proud of myself." He shook his head. "I was in New Zealand, I ripped my face open trying these tricks. It's been a long recovery from that to get to this point to try to make the team, and just to get rewarded for that run. I really felt like I put it down and it means the world.
"Now I feel like I'm on the right course for the Olympics."
With his mojo fully intact, he headed to Pyeongchang, sharing pics of his private jet ride over and his dandy Ralph Lauren-designed Team USA threads. And the rest is now Olympic history, no matter what he chooses to do going forward.
Jamie Squire/Getty Images
Though, for the record, he has said he's not only thinking Beijing in 2022, he's hoping to qualify for skateboarding when the sport makes its debut at the 2020 Summer Olympics in Tokyo.
As for his dispiriting fall in Sochi, he told Tirico he didn't want to sound too cheesy, but...
"Maybe that's something that needed to happen on the path to get here," White said. "I don't know. I could've got that third medal and been like 'see you later!' I feel like everything happens for a reason and I was left with this sort of unfinished-business feeling inside and kept after it."
And then the perfect 100 "meant the world to me," he said.
After he was injured in New Zealand, "I'm looking in the mirror and I don't recognize myself, and I'm just like what happens next? Do I want to continue on with this? And like these big decisions at this point… real doubts. And by saying I want to continue on in the sport means that I'm looking at myself in the mirror and I'm saying, OK, if I step out on the snow again, that means I'm willing to have this happen again. I'm ready to take that risk."
When he made his fourth Olympic team, "that was truly the comeback story for me. It just felt so amazing and so incredible to make that jump back and get that score." Winning would be "really icing on the cake if things go the way I hope they go."
His country thanks him. That icing turned out to be Team USA's overall 100th gold medal in Winter Olympics history.