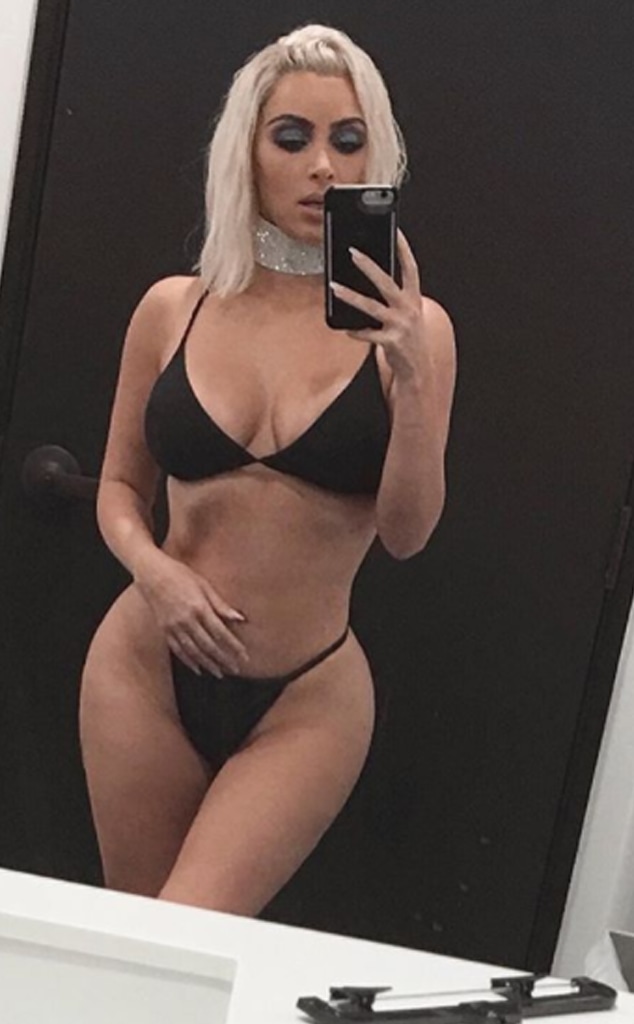 Instagram
Another day, another Kim Kardashian bikini pic...but this time, there are some details you should know about it.
The 37-year-old reality star took to Instagram to share a photo wearing a teeny, tiny black bikini with a diamond choker that sparkles amid her chopped, platinum locks.
She captioned the photo, "Forgot to post this last night."
Though it's nothing new for Kim to post a mirror selfie in a bathing suit—as she's always been proud to show off her body—it's worth noting that she's feeling exceptionally proud these days.
The reality star has been working out non-stop with her trainer, Melissa Alcantara, in recent months, slimming down more than ever before.
In fact, she posted a video to her app yesterday revealing her waist is now 24 inches.
"It's never been 24 ever in my life," Kim said, before sharing that her hips are 39 inches.
Needless to say, she's feeling pretty darn good about herself. But it wasn't easy!
Kim continued, "She could help direct my food and really get me on an amazing path…If I was 10 percent like her it would be life-changing. Like my whole arms and back. It's mostly food. I gotta have this lifestyle. I gotta try."
Looks like she not only tried, she succeeded!