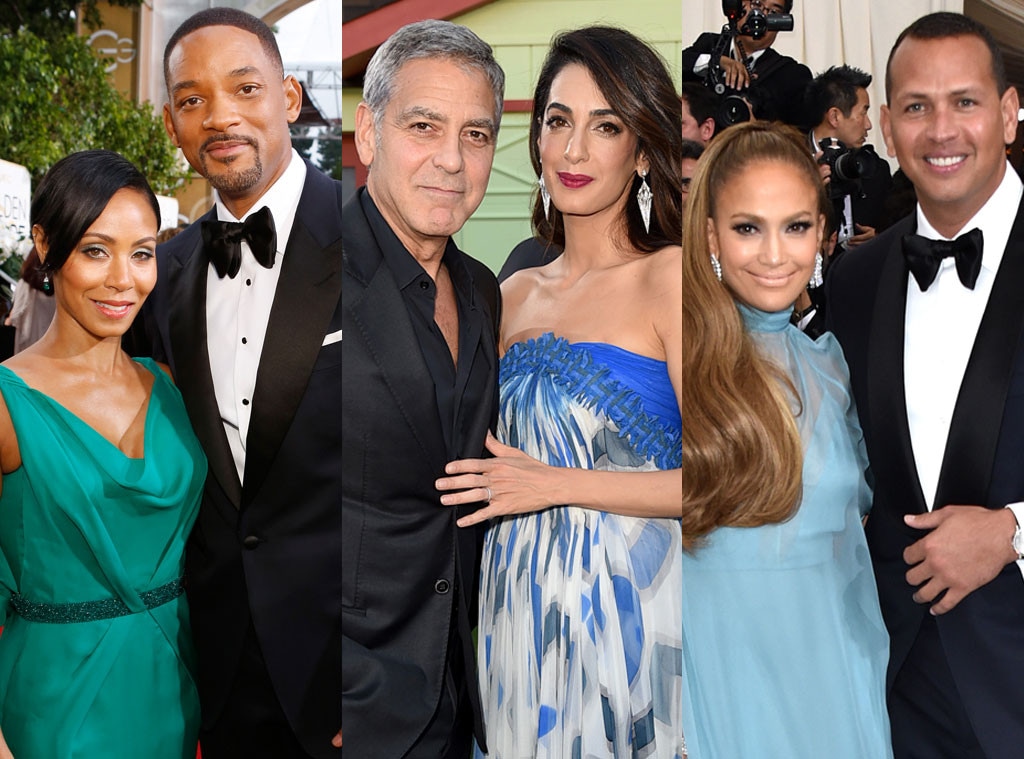 Getty Images
Sometimes, cupid strikes when you least expect it.
It's no secret that some people have very specific timelines for life's biggest events. Getting married by a certain age? Sounds familiar. Having your first child by this year?  That's on the list too.
But as so many can relate to, life has a funny way of changing up your plans.
For some celebrities, they've had to experience one too many bad dates or a public divorce. Fortunately, those same celebs have proven that the best love can come later in life.
In honor of Couples Week at E! News, we compiled just a few famous pairings who found their happily ever after the second—or third—time around. Trust us single pop culture lovers; your special someone is coming!
Jordan Strauss/Invision/AP
Julianne Moore & Bart Freundlich: Following her divorce from John Rublin in 1995, the actress said "I Do" to director Bart Freundlich in August 2003. "When I read the script for [The Myth of Fingerprints], I met Bart Freundlich. I loved it, and I loved his story," she shared while being honored by the Museum of the Moving Image. "But I never, ever, ever in my life imagined that making that movie would give me the personal life that I always dreamed of."
Katie Couric & John Molner: Back in 1998, the journalist lost her husband of nine years Jay Monahan after a brave battle with colon cancer. Ultimately, Katie received a second chance of love when she met (and eventually married) John. "I feel really lucky because he's funny and kind and really smart and great company," Katie shared on The Ellen DeGeneres Show. "You know, you forget how important it is just to enjoy being with the person."
Vivian Zink/Bravo/NBCU Photo Bank via Getty Images
Tamra Barney & Eddie Judge: While her marriage to Simon Barney may have ended in front of Bravo cameras, the Real Housewives of Orange County star found her perfect match in Eddie. The couple recently celebrated their four-year anniversary, moved into a new home and continue working on CUT Fitness. "I love your fine ass @eddiejudge," Tamra shared on Instagram. "You are my forever babe. I love you SO much." 
Will Smith & Jada Pinkett Smith: After his marriage to Sheree Zampino ended, the Hitch star found love with Jada. Fast-forward to 2017 and the pair celebrated their 20-year wedding anniversary. "Love is Like Gardening... I have learned to focus on HELPING you to BLOSSOM into what YOU want to be (into what you were born to be)... Rather than Demanding that you become what my Fragile Ego needs you to be," Will shared on Instagram. "I have learned that Love is Listening. Love is Giving. Love is Freedom."
Jennifer Lopez & Alex Rodriguez: While they each found love with others before finding each other, something about this duo has captivated pop culture fans like no other. "He's so supportive," the Shades of Blue star previously told E! News. "I mean, he was at rehearsal with me last night till 1 a.m. and after he had worked his whole day, I work my whole day, then we go to rehearsal and he's like, 'What time will you be done?' I said, 'I don't know.' He goes, 'Alright, I'll just come over there and I'll do some work and we'll go home together.' That's the kind of support, like in this business, it's just a different kind of business, you know, and so, to have someone who understands it and wants to be there and you want to be there for them, it's a very special thing."
JosiahW / Gachie / Splash News
Sandra Bullock & Bryan Randall: After getting her heart broken from Jesse James, The Proposal star adopted two kids after divorce and met Bryan. While the couple has yet to make a red carpet appearance together, a source recently told E! News this pair is the real deal.  "She balances her life out well. Her kids are her number one priority and always have been," an insider previously shared with us. "Bryan is like a father to her kids. He adores Sandy.
Barbra Streisand & James Brolin: While the legendary singer's marriage to Elliott Gould didn't work out, Barbra found love again at age 56 with James. The two tied the knot in July of 1998 and have been together ever since. 
Valerie Bertinelli & Tom Vitale: After meeting in 2004 following the end of their respective past marriages, the couple decided to say "I Do" in 2010.  "If the time wasn't right, I wouldn't have asked," Tom shared with AARP The Magazine. "We're both still a little afraid of commitment, but then we were over there, and it was like our souls were calibrated." Those fears have gone and this duo remains happily in love. 
Franziska Krug/Getty Images
George Clooney & Amal Clooney: Say goodbye to that bachelor lifestyle George. While the Hollywood A-lister was previously married to Talia Balsam from 1989–1993, many pop culture fans thought George would never marry again. Once Amal came around, however, everything changed. "I have to say, before I had the twins, I felt that about her. I felt that I had met someone who I would absolutely, you know, trade my life for," George shared with David Letterman. "I met someone who her life meant more to me than my life. And I'd never had that experience before."
Hoda Kotb & Joel Schiffman: After her two-year marriage ended in 2007, Hoda wondered if she would find someone special again. But at 53, the Today show star is open to marriage. "Maybe, we might. I feel like everything's great. He's Haley's dad. I'm Haley's mom. We're together. I feel like there's not a rush other than we're old, and we probably, if we're going to do it, we might as well do it," Hoda previously told Ellen DeGeneres when discussing Joel. "But I think it's fun like this. I don't mind it... We're enjoying our lives. Yeah, I think we're good this way."