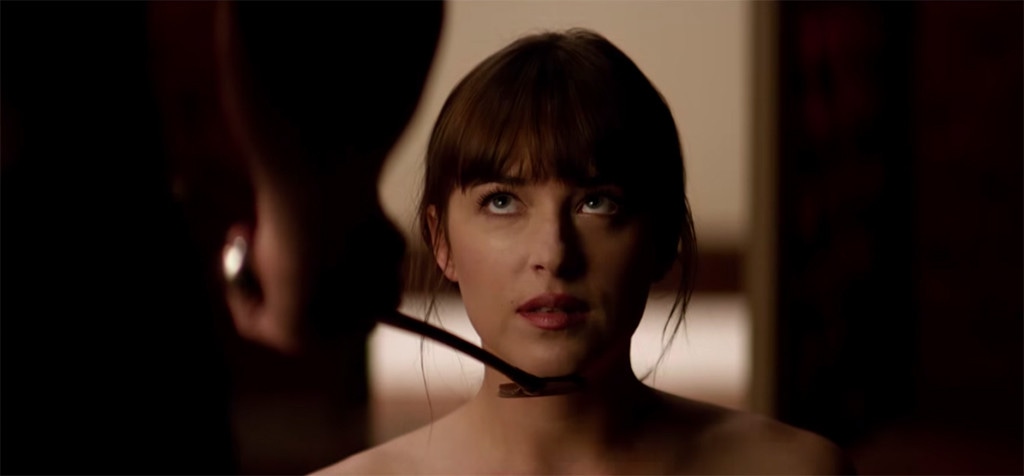 Universal Pictures
Turns out Christian Grey wasn't initially so smooth at taking off underwear. 
While reminiscing with Conan O'Brien, the trilogy's titular star, Jamie Dornan thought back to the first movie in the series, Fifty Shades of Grey, and how his co-star Dakota Johnson would give him a few notes. 
"I think Dakota would be quicker to give me a note than a director," he told the late-night host. "I guess there's a sexy way to take off a girl's underwear."
As the actor demonstrated in the interview, the sexy underwear process involves thumbs and a shimmy. "There's a more delicate and sensual way to do it, which is thumbs into the side...and then you sort of shimmy it down."
And there you have it—a lesson from Dakota Johnson on how to sensually take off underwear—permission given first, of course. 
Meanwhile, the actor is officially hanging up his Christian Grey skills as Fifty Shades Freed marks the end of the silver screen franchise. "I don't think there's any...I mean there's no other books. [E.L. James] wrote the first two books again from Christian's perspective, but I guess we've already seen...we've done those films, the same story, so they won't do that again," the actor recently explained in an interview on ITV's Lorraine. 
He concluded, "Unless Erika keeps writing, but Dakota [Johnson] and I are...particularly me, I'm gettin' too old for...for this."
Laters, baby!
For a sneak peek at a clip from the final film, out in theaters now, check out the video above!
(E! and Universal Pictures are both part of the NBCUniversal family.)