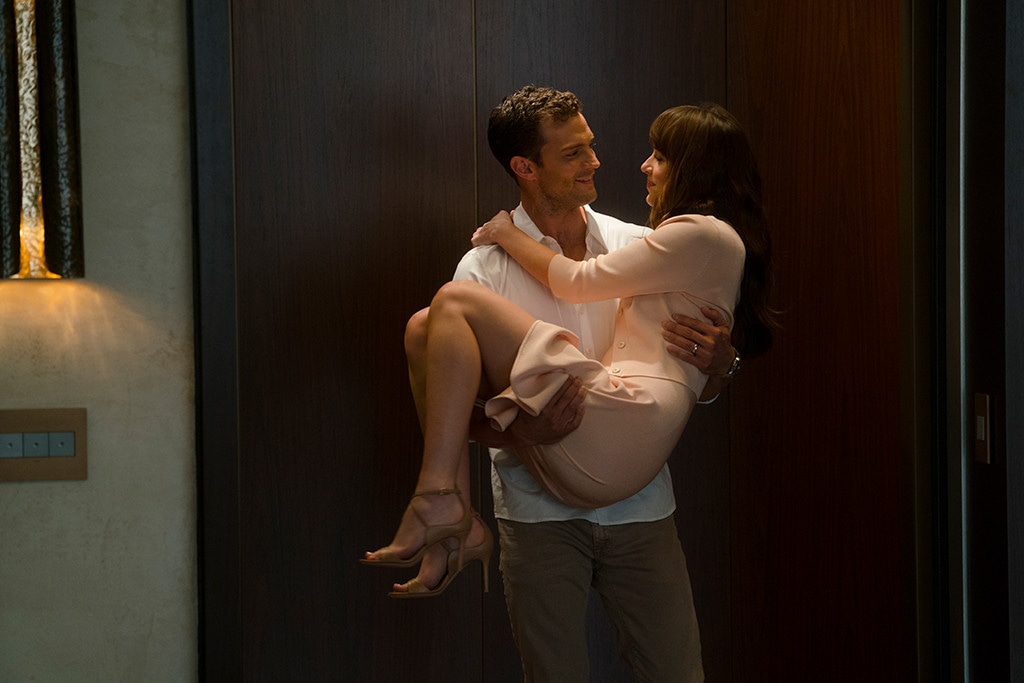 Photo Credit: Doane Gregory
Jamie Dornan is a man of many talents.
The Fifty Shades Freed soundtrack was released Friday—the same day as the final chapter in the film trilogy arrived in theaters. The compilation album features new songs, from artists like Jessie J, Julia Michaels and Hailee Steinfeld. Dornan, returning as Christian Grey alongside Dakota Johnson as Anastasia Steele, covers Paul McCartney's 1970 track "Maybe I'm Amazed."
Officially, Dornan's contribution is listed as a "bonus track."
In one scene, Christian performs the piano ballad at his mountain home. "Baby, I'm amazed at the way you love me all the time / Maybe I'm afraid of the way I love you / Baby, I'm amazed at the way you pulled me out of time / You hung me on a line / Maybe I'm amazed at the way I really need you / And maybe I'm a man / Maybe I'm a lonely man / Who's in the middle of something / That he doesn't really understand," Christian sings. "And maybe I'm a man / And maybe you're the only woman / Who could ever help me / Won't you help me to understand?"
Dornan's cover is available to purchase on iTunes and to stream on Spotify.
During an interview on ITV's Lorraine, Dornan said he hadn't heard the song yet. "I presume it's not very good," he shrugged. "I kind of got through it. There was a plan to have a longer version on the soundtrack, but they ended up just putting the bit we did on the day as a bonus track." Admittedly, the actor's nerves got the best of him as soon as the cameras began to roll. "We were shooting at the home of Canadian singer Sarah McLachlan and she did a rendition of a couple of her songs before [filming began]. Everyone was spellbound by this amazing singing. She finished and everyone was crying, and then they were like, 'OK, Jamie, we're ready for you now,'" he added. "And I had to say, 'Can everyone leave? I cannot bear to try and follow that!'"
More than a decade before he was cast in Focus Features' Fifty Shades of Grey, Dornan—who traded the U.K. for L.A. to pursue a modeling career—fronted the rock band Sons of Jim. The group released two singles, "Fairytale" and "My Burning Sun," in 2005 and 2006, respectively. Sons of Jim disbanded in 2008. The reason, Dornan once explained, is they "weren't very good."
(E!, Focus Features and Universal Music are all members of the NBCUniversal family.)