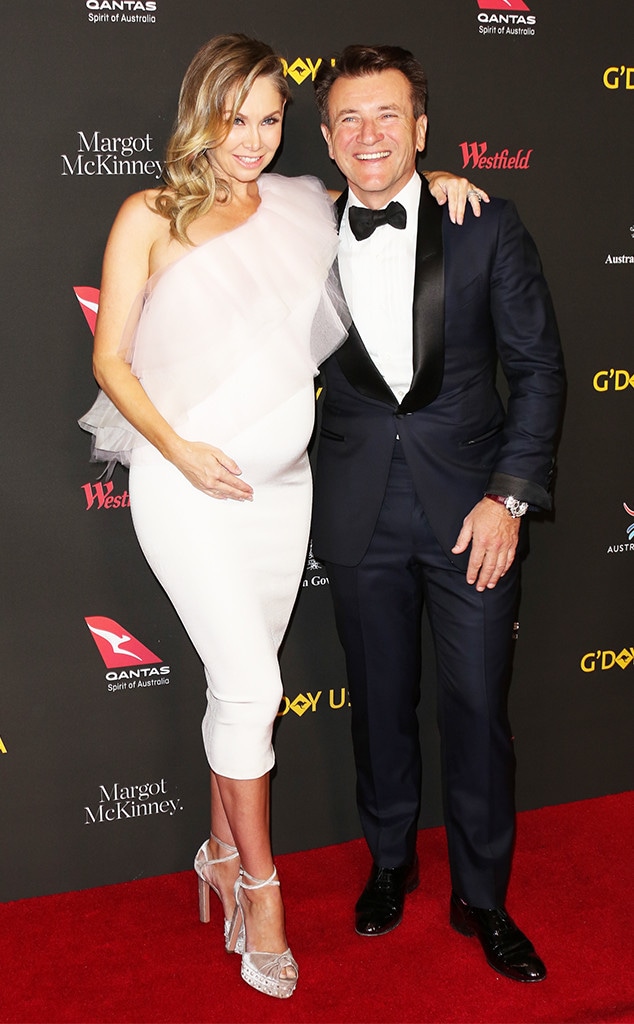 Paul Archuleta/FilmMagic
There's no dancing around this great news: Kym Johnson Herjavec and Robert Herjavec's family is about to get a whole lot bigger.
In just a couple of months, the Dancing With the Stars pro and Shark Tank star will welcome twins.
And while Robert has three kids from a previous marriage, Kym is about to experience motherhood for the very first time.
"We are truly so excited and can't believe that we will get to meet our two little bundles of joy in a few months," the founder of The Bod by Kym Herjavec shared on her personal website. "When you get pregnant, it's such a big feeling, right? You're surprised, happy, nervous—all at the same time!"
Since Kym announced her pregnancy through Instagram on December 11, E! News is learning more about how she is preparing for her special arrivals.
Watch:
Kym Johnson "So Excited" Being Pregnant With Twins
"She has always maintained a very healthy lifestyle so she's been continuing to do that during the pregnancy. She eats all organic and avoids processed foods," a source shared with E! News. "She's eating lots of fruits/veggies and smoothies/juices. Overall, she is just very conscious of what she's putting in her body, but also has let herself indulge in cravings which she hasn't had a lot of."
While Kym experienced some nausea during the first few months of her pregnancy journey, we're told she has had a "very smooth pregnancy" thus far.
And while some expectant moms find themselves staying away from the gym, Kym has continued to stay active during her pregnancy.
"She's used to working out every day normally but hasn't had as much energy as she's gotten bigger," our source shared. "She's modified her workouts so that they are far less intense with things like Pilates, dance, yoga, and light weights."
In a blog past last month titled " My Pregnancy Journey: Diet and Fitness," Kym revealed that her doctor advised her not to exercise at all for the first three months. Now that she's been cleared to work out, the fitness lover has enjoyed Pilates in particular.
"I love doing Pilates because it really strengthens my legs without putting pressure on my tummy," she wrote to her followers.
As her due date gets closer and closer, Kym has had the full support of her husband. In fact, the pregnancy is extra special for the pair who has been trying to expand their family for a while.
"Robert is so excited for the babies and has been a really supportive husband," a source shared with E! News. "They are looking at this as a miracle and are completely overjoyed."
And while the couple is keeping the sex of their babies a surprise for the time being, Kym remains focused on her pregnancy journey that includes a grateful mindset.
"Being pregnant is such a special experience and I'm truly so excited to be a Mum!" she previously wrote on her website. "It's just so great to see how your body takes over and changes everyday. My advice to any mum-to-be is to stay positive and as stress-free as possible."
Kym added, "I'm so grateful to everyone for their love and support—especially my husband, Robert! I can't wait for this new chapter in our lives."