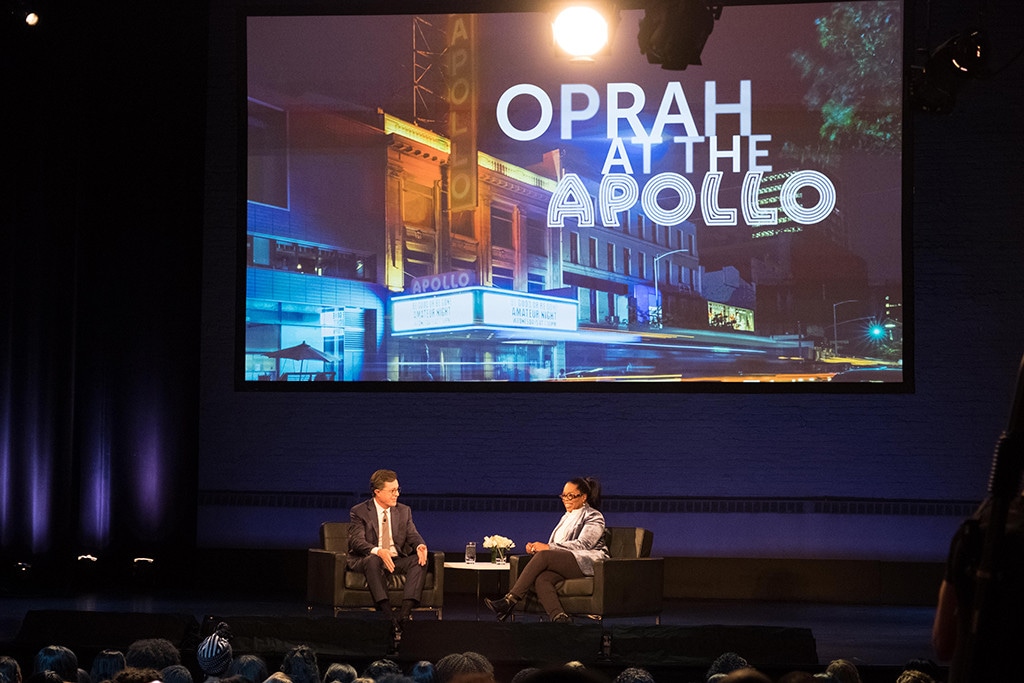 JoJo Whilden/Courtesy of OWN
Oprah Winfrey assembled an all-star lineup for Oprah's Super Soul Conversations, taped at the Apollo Theater in New York City Wednesday. For nearly six hours, Winfrey interviewed Stephen Colbert, Lin-Manuel Miranda, Trevor Noah, Salma Hayek Pinault, Jordan Peele and Yara Shahidi. "I know so many people are feeling uneasy right now about the state of our world, but it's going to be all right. We have been through tougher times than these. It's going to be OK, especially if you don't buy into the hysteria," Winfrey told the crowd. "Lean out of the hysteria."
Though we're living in "consequential times," Colbert said he's "having a really good time" as the newly minted host of CBS' The Late Show. "You want to have a sense of community with the audience. That's what we want more than anything else. We want to tell jokes, and thereby build a community of people who can all share their feelings with each other. I get to say all the words, but we're sharing our feelings with each other, because they're laughing back. We don't want to be alone," Colbert explained. "It is a lonely time. This feels like a lonely time right now."
Colbert said his main goal is joke about whatever is in the national conversation. "We kind of present their day back to them, with some jokes, and make their day better, hopefully," he said. Later, Colbert added, "I'm there to influence how they feel, because I'm telling you how I think and getting a laugh out of it. I want to make you feel better. They already have their own thoughts about today's news, and then I can give you my thoughts about today's news, and hopefully the best thing I can do is make you feel better. Make 'em not be afraid—that's what my goal is! Make the audience not be afraid. Because then they know what they actually think."
"If you're laughing, you can't be afraid," he added. "So, if you laugh, I know you can think."
Though he's a staunch critic of President Donald Trump and his administration, Colbert said, "I'm always hopeful for this country. Our country remains the last best hope for mankind. It is already great." More importantly, he said, "The darkness is only for now. The light always wins."
Colbert felt growing pains after leaving Comedy Central's The Colbert Report and taking over for David Letterman on CBS. "The thing that actually took the calcium out of your bones was that you have to do this with humility, because you're trying to find something that you don't know how to do yet—in front of millions of people," he said. Long before executive producer Chris Licht came into the picture, eight months after the show's debut, director Spike Jonze offered some assistance. "He came by and he said, 'Do you need any help starting your show?' I'm like, 'Sure. Let's talk.' So, he came by and did an interview six months before my show went on the air about what I wanted my show to be. After we'd been on the air for a while...he sent those notes back to me. He said, 'I want to remind you what you're intention was.' And one of the things I said was, 'I don't know how to do a late-night comedy show that talks about love. But I'd like it in some way to be about love. And there's so many different ways to express that, I suppose.' That's what I had said to him in the interview, and he sent back to me as a reminder."
JoJo Whilden/Courtesy of OWN
Through his political and social commentary, he hopes he's been able to honor that intention. "I love my country. I love science. I love facts. I love people regardless of their race or their gender identity. The challenge now is to love the people who don't seem to have that value in their hearts—or at least how it's politically expressed; I don't know what's in their heart. How it's politically expressed. Even the people I disagree the most with, if I sat down and had this conversation with them, we might leave the conversation hand-in-hand. But when we're making jokes about people's political action, it's very hard to see them as more than their ideas. You cannot love their ideas; you can only love their selves. So, that's the challenge. That's the heroine challenge that Christ sets forth, to love the people you disagree with the most," said Colbert, a devout Catholic. "Because loving the people you agree with? Anybody could do that."
"That's right," Winfrey said. "That means you have to find the path to love Donald Trump."
"Yeah. That's true," he said. With a wry smile, he added, "I didn't say I was a good Catholic!"
Colbert also told Winfrey that he often wonders "what happened to socially conscious music," citing The Youngbloods' 1966 anthem "Get Together" as an example. He hopes today's artists will help remind society that "love is not a bad word" and to use it freely and often, as it is the most "important" thing. And, lastly, Colbert wants people "to mean it without embarrassment."
The entire special, Oprah at the Apollo, will air Feb. 27 at 10 p.m. on OWN: Oprah Winfrey Network. All of the interviews will be available on Oprah's Super Soul Conversations podcast.