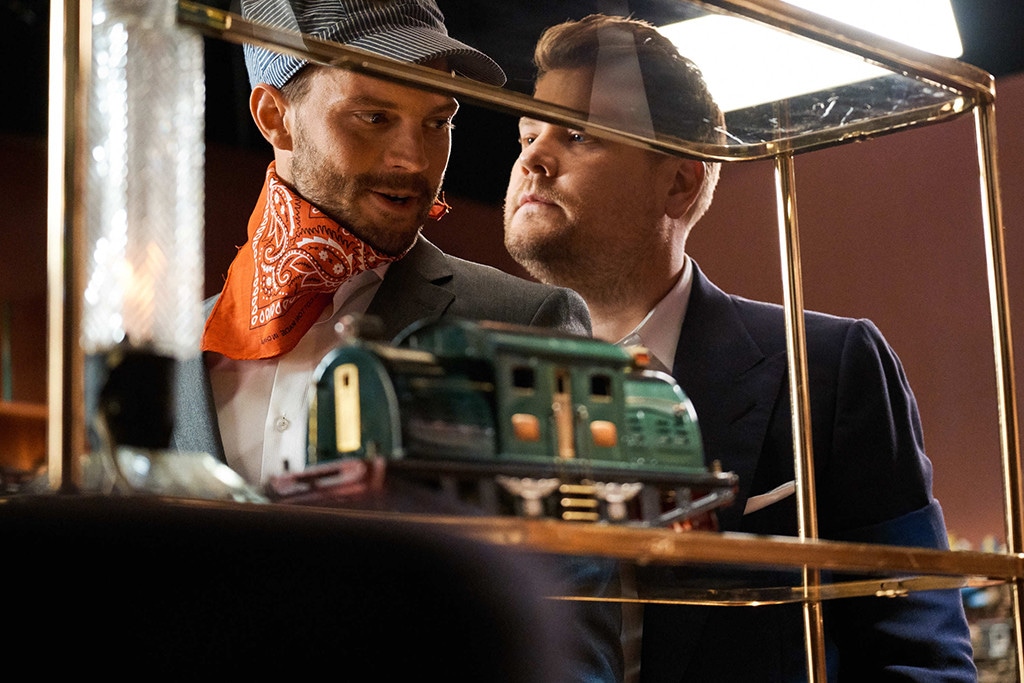 Terence Patrick/CBS Broadcasting, Inc.
Mr. Corden will see you now.
In anticipation of Focus Features' Fifty Shades Freed (in theaters Friday), James Corden and Jamie Dornan parodied a scene from the first film on CBS' The Late Late Show Tuesday night. The scene opened with Corden inviting Jamie into his playroom—and it pales in comparison to the Red Room of Pain Christian Grey shows to Anastasia Steele (Dakota Johnson) in the movie.
Before opening the door, Corden said, "It's important to know that you can leave at any time." Scared, yet intrigued, Dornan followed his lead, stepping into a world he had never imagined. There were no floggers or riding crops, no chains or whips; instead, Dornan saw model train sets.
"Say something, please," Corden pleaded.
After a pause, Dornan replied, "You're a nerd."
"I'm a hobbyist," Corden clarified.
"What's the difference?" the actor asked.
"Can I show you?" Corden asked. "Turn around."
The late-night host proceeded to seduce Dornan—first, by dressing him up as a train conductor, then, by demanding he be called "signal master." Set to The-Dream's "Code Blue," from the Fifty Shades Darker soundtrack, Corden and Dornan's ridiculous foreplay continued until it reached its steamy climax. (Pun intended.) Feeling vulnerable, the actor asked, "James, you ever play Dungeons and Dragons?" Disgusted, Corden kicked him out of his playroom. "You sick, sick bastard! Get out! Leave! LEAVE!" he shouted. "That is disgusting! Oh...There's always one."
(E! and Focus Features are both members of the NBCUniversal family.)