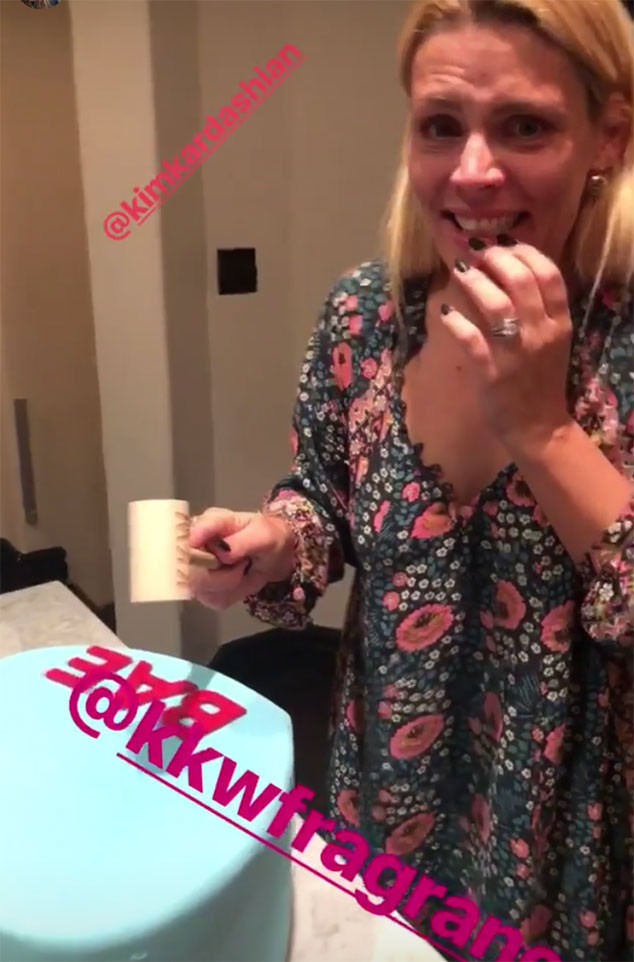 Instagram
One of Busy Philipps' sweetest dreams has come true.  
Just days ago, the actress let fans in on a little secret: she was secretly hoping Kim Kardashian would send her one of the KKW Fragrance chocolate heart packages taking over the Internet. "I mean. There's no reason I would get one but I have been secretly hoping @KimKardashian would send me one of those chocolate hearts with perfume in it so I could bust it open with a tiny mallet," she tweeted on Friday. 
Ask and you shall receive, Busy! "You guys. Something really exciting happened today," she teased fans on her Instagram Story Monday night. "This is like the most exciting thing that's happened in awhile."
As you may have guessed, a chocolate heart was waiting for Philipps in her fridge. For those who haven't caught a glimpse at the literal heart-breaking process on social media, recipients use a wood hammer included in the package to break open the chocolate heart, which contains miniature candy hearts and the boxed perfume. 
"You guys—can you see what it says? It says KKW Fragrance," she said as she zoomed in on the white box with glee. "It's KKW Fragrance, you guys. It's a big box from Kim Kardashian."
The excitement only continued as the star opened the box to find a blue heart inscribed with "BAE." Cue screams from Busy. 
"This is the most exciting thing I've ever done," she declared. "Am I overreacting?"
After going through the motions, the star tried to distinguish the scent. While she couldn't place the particular notes, she determined it smelled like vanilla and that she liked it. "I'm just going to be here watching Friends, smelling my wrist high off that chocolate. What a night."
What a night, indeed!
As Philipps later tweeted, "DREAMS DO COME TRUE! (On the internet at least and only sometimes at best because mostly it's horrible oh well ignore me I'm gonna be eating my chocolate and smelling my new perfume byeeeeeeee..)