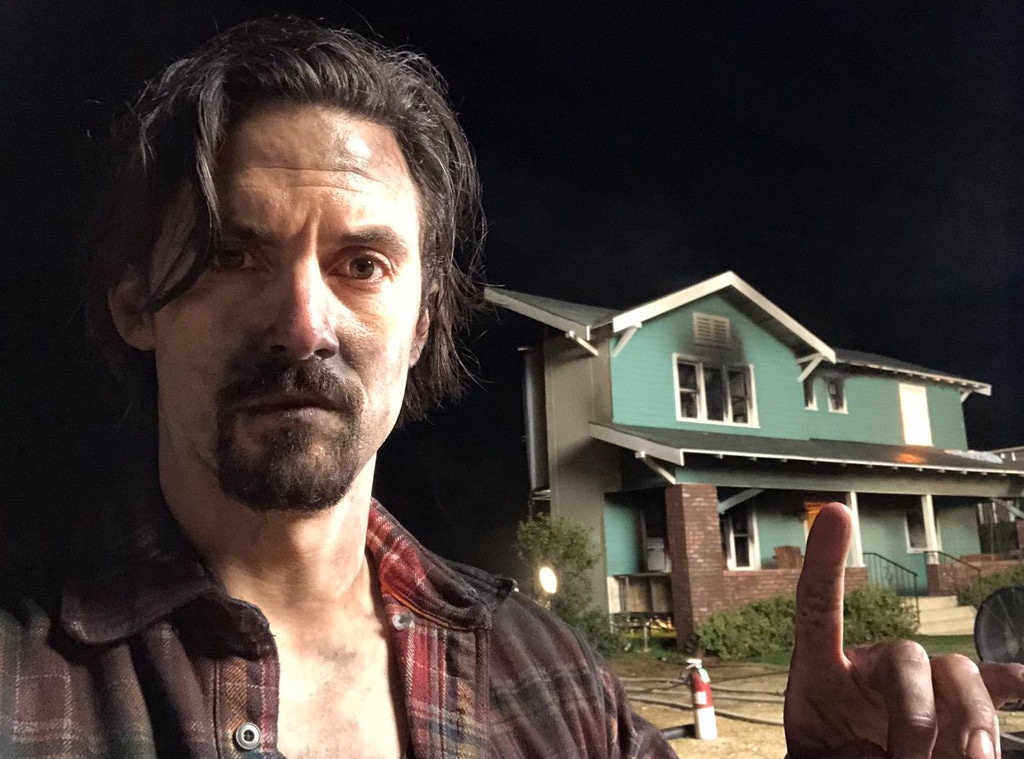 Twitter
If you thought watching the Pearson family's home envelope in flames was hard to watch, imagine filming that episode of This Is Us.
The cast and crew took to Twitter to reveal some behind the scenes details about the emotional episode that aired after the Super Bowl. In "Super Bowl Sunday," viewers finally learned what happened to Jack (Milo Ventimiglia) the night of the house fire. He didn't go up in smoke with the house, but suffered a heart attack later at the hospital. His "widow maker" was caused by the amount of smoke he inhaled while securing his family and their precious belongings.
"Just so everyone knows it....#JackPearson lives in all of our hearts. He's you. He's me. He's Us. Thank you all for supporting our show. We love you all :) And this isn't the end of Jack. Stay tuned," Ventimiglia tweeted after the episode aired.
Creator Dan Fogelman shared some of the thought process that went into the show's decisions. "My mom died 10 years ago, unexpectedly. It's the hinge upon which my life swings. Jack's death is the Pearson hinge. We look back. We move forward. That's our collective journey. Sad? Yes. But when you look through a wide enough lens - it's also outrageously beautiful," he tweeted.
Fogelman and Ventimiglia also shared photos from the emotional day.
Ventimiglia told Esquire he and Mandy Moore found out about Jack's cause of death in the middle of the first season.
"Mandy and I were on set and Fogelman came over to talk to us and explained that it was a house fire, but we didn't know how or when or why. We slowly learned about these other little things—Randall's girlfriend, Kevin's broken leg, Kate's dog—that were going to tip off the audience, and once we got into the second season, it was kind of a harrowing thing to just keep everything under wraps," he said. "It became Fort Knox secrecy: photocopy-proof scripts, code words, secret locations. And we really couldn't talk about it outside the company."
Safe to say the secrecy worked.
This Is Us airs Tuesdays, 9 p.m. on NBC.
(E! and NBC are both part of the NBCUniversal family.)