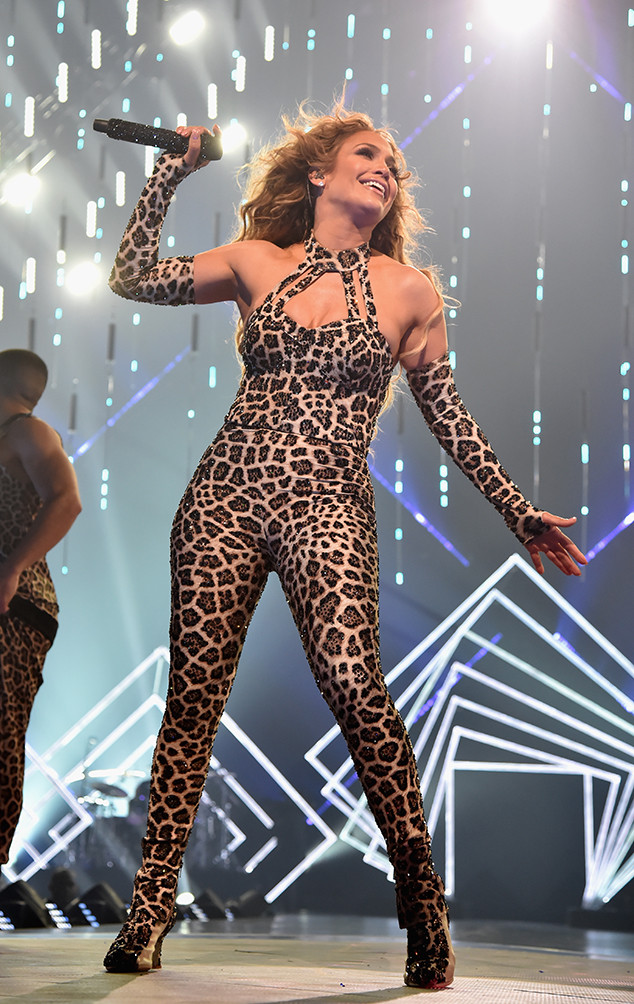 Kevin Mazur/Getty Images for DirecTV
Jennifer Lopez showed off eight sexy looks as she took the stage as the headlining performer at the 2018 DIRECTV NOW Super Saturday Night concert, a pre-Super Bowl LII show, in Minneapolis.
The singer's outfits included a leopard-print catsuit, a blue fringed mini dress and risqué lingerie.
The day also marked a special one for J.Lo; it is the one-year dating anniversary for her and former MLB star Alex Rodriguez. He attended the concert with his two daughters, Natasha and Ella. Dancing With the Star veteran Derek Hough, the singer's World of Dance co-judge, watched with them in a VIP section.
Lopez gave her beau a special shout-out before performing her song "Us," saying onstage, "We've been together for one year today. I don't want to get all mushy or anything, but baby, this song's for you. I love you."
A-Rod certainly acted like her biggest fan—he posted on his Instagram page a video of the group dancing and cheering on J.Lo.
"J.Lo, I love you," Derek said, then pointed at A-Rod. "He loves you."
"This place is on fire!" the singer's beau said, smiling intently and showing the packed Armory venue.
A-Rod dancing along to the music and knew the words to pretty much all of the songs, moving his head to the beat, E! News has learned. He looked at J.Lo with so much love and awe. He never took his eyes off her.