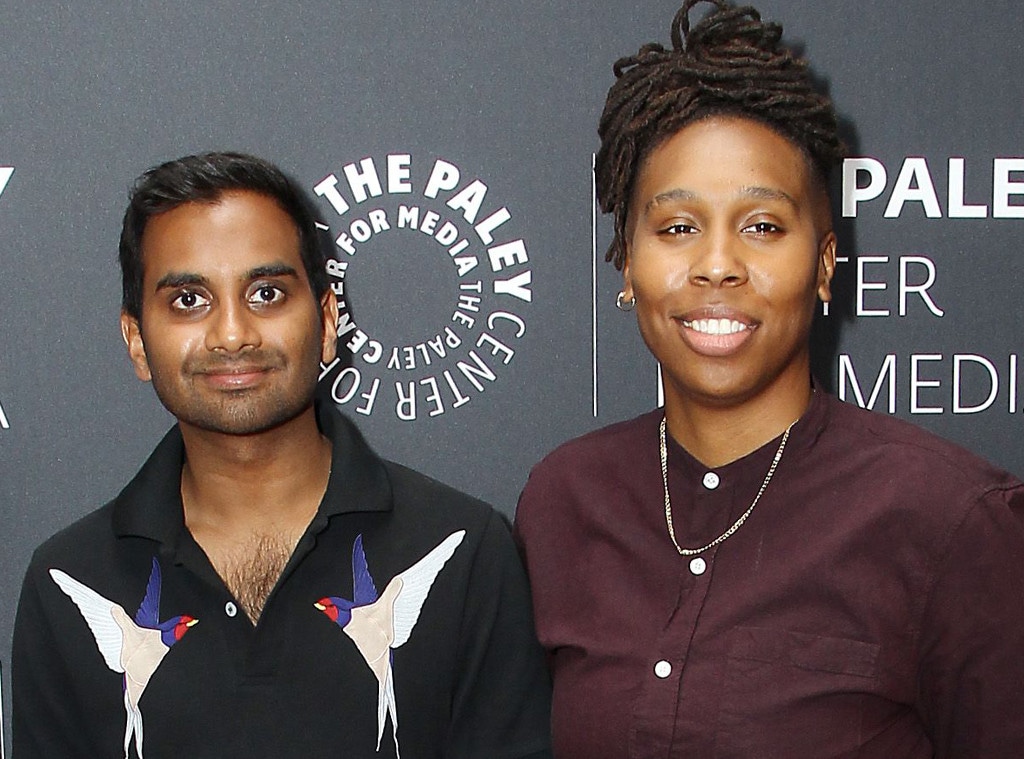 Patrick Lewis/Starpix/REX/Shutterstock
Aziz Ansari's Master of None co-star Lena Waithe has weighed in on the sexual misconduct allegations made against him, saying "there are no sides" in some scenarios and that people need to start reeducating themselves about what consent is.
Last month, a woman said she felt "violated" during a 2017 date with the actor and comedian. He responded by saying that he and a woman had engaged in sexual activity, "which by all indications was completely consensual," and that she texted him the following day to tell him that "although it may have seemed okay, upon further reflection, she felt uncomfortable."
In an interview with 89.3 KPCC's The Frame, released on Wednesday, Waithe, an outspoken advocate for the Time's Up initiative to help victims of sexual harassment, opened up about the allegations made against Ansari and the growing #MeToo movement spurred by sexual misconduct claims made against powerful men such as Harvey Weinstein and Kevin Spacey.
"Here's the truth—in every situation, it's not always black and white," she said. "And I know that's simple for people, and it's easy for people to go, 'Whose side are you on?' Like, there are no sides, really, in some of these scenarios. Some of them, there are. I'm not on Harvey Weinstein's side, I'm not on Kevin Spacey's side. But I think...you have to take each situation [individually]. You can't just say, Well, I'm on this person's team' or 'I'm on that person's team.' It doesn't work that way." 
Phil McCarten/Invision for the Television Academy/AP Images
She said people "have to have a dialogue."
"We have to start reeducating ourselves about what consent is, what's appropriate behavior at the workplace. We have to sort of create codes of conduct," she said.
The allegations made against Ansari have already sparked dialogues about the notion of consent in intimate situations and what constitutes sexual misconduct. 
"'Cause also I think there's an element of—how do you know if you're breaking a rule if you aren't aware of the rules? Or how do you know what appropriate behavior is if no one's ever communicated to you what appropriate behavior is?" Waithe said. "Even though some people may assume, 'Well, of course we all know what appropriate behavior is,' but some people may not know. And I think it's about really educating ourselves and not stepping in it and just going, 'Oh, I'm sorry. My bad'—and sort of keep going."
"But it's about really sitting with yourself and educating yourself in terms of what consent is, what it looks like, what it feels like, what it sounds like," she said. "And all of us starting to really act accordingly based on this new information that I think we have now. We all gotta start talking to each other, start educating each other."
Waithe is not only Ansari's co-star but also shared an Emmy with him last year. They won Outstanding Writing for a Comedy Series for a Master of None episode they wrote together that is based on her own coming out story. She made history by winning the award, becoming the first black woman ever to win an Emmy for writing in a comedy series.
"Thank you Aziz for pushing me to co-write this bro, now we're standing here," Waithe said during her speech. "I love you forever."
Earlier this week, actress and comedienne Amy Schumer, a victim of sexual assault herself and a friend of Ansari, weighed in on the allegations made against him.
"I've been flat-out raped," Schumer said on Katie Couric's podcast. "But there are so many other kinds of- there's so much other sexual misconduct."
"I'm in the middle, where I'm saying what a great thing that there's this change with this generation, who I think we're gonna learn from this," Schumer said. "I don't think anyone wants to see Aziz's career ruined or his life ruined or anything like that, but that's where people's minds go, they go, 'Does he deserve this?' and it's really not about that. I think it's about expressing and showing women that that behavior is not OK and not only can you leave but you need to leave, because then the women who come after you, you're leaving a mark for them too, so it's not just about your own encounter."