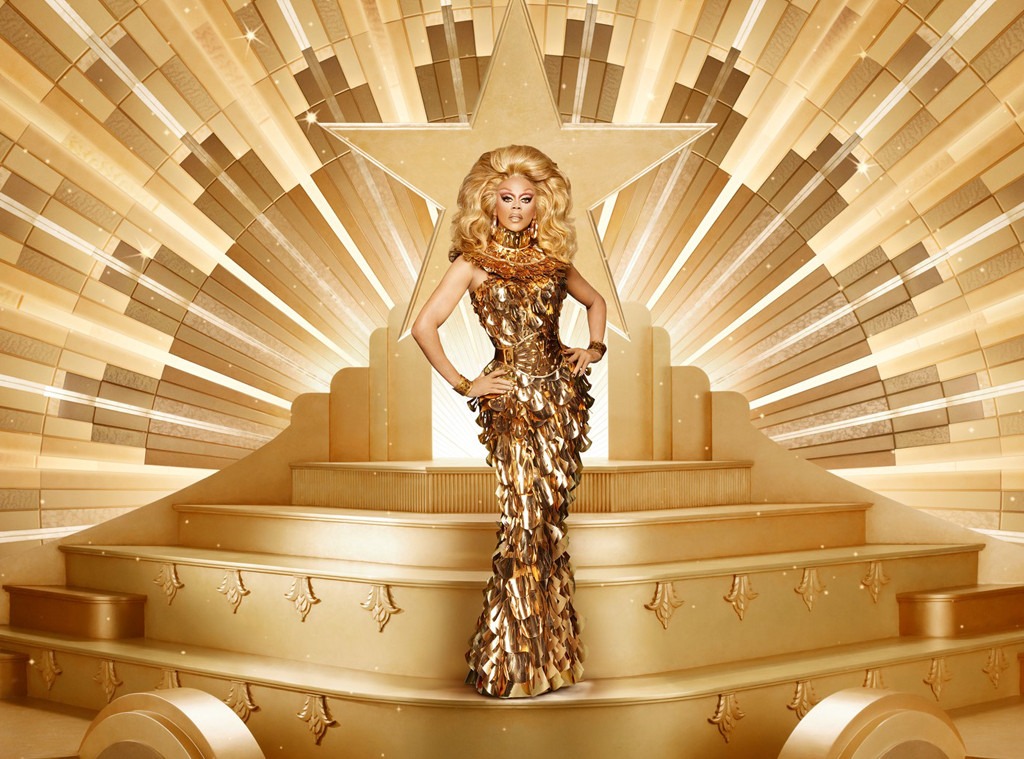 VH1
It all started with an Emmy win. Or maybe it was the move to VH1. Or perhaps it was the Lady Gaga appearance.
It's hard to pinpoint exactly when RuPaul's Drag Race made the leap from queer cult favorite and straight into the zeitgeist, but made the leap it has. While Mama Ru has been known to downplay the potential for drag culture to ever truly go mainstream, it's harder still to argue against the idea that a show that's been around for nine seasons and counting, launched two spin-offs, an aftershow and a yearly fan convention, had one of its more entertaining elements ripped off on another reality show, been parodied on Saturday Night Live and introduced the country to a lexicon previously unheard outside of a gay bar hasn't done just that. And if you'd told anyone who tuned in for that first episode on Logo way back in 2009 that this would all become possible, they'd have called you crazy.
When RuPaul Charles brought Drag Race to Logo almost exactly nine years ago in his first attempt to find America's next drag superstar, he was also re-introducing the world to the art of drag—and on what was undoubtedly a shoestring budget. Returning to the Viacom family after an eponymous talk show on VH1 in the '90s, Ru and his partners at World of Wonder delivered a show that combined the craft of Project Runway with the fierceness of America's Next Top Model, all while flipping every reality TV trope on its head in what can only be described as loving mockery. Despite its fuzzy, lo-fi camera filter and paltry prize ($20,000 in cash and some MAC cosmetics), RuPaul's Drag Race quickly began connecting with a small, but fiercely devoted fan base thanks to the heartfelt ethos of its creator, which is encapsulated in Ru's closing remarks on every episode: "If you can't love yourself, how in the hell you gonna love somebody else?"
But it was an uphill battle to be taken seriously. Nielsen didn't even rate the first season, if you can believe it. 
As the seasons went on and more fans began trickling in, the show underwent minor changes to its judging panel (Goodbye, Merle Ginsberg! Hello, Michelle Visage!) and its challenges (the iconic and highly-anticipated "Snatch Game" challenge, which tasks the queens to deliver their best celebrity impersonation while competing in Ru's version of the classic game show Match Game, wouldn't arrive until season two), while its set would grow and its grand prize increased incrementally each season until settling at the current dollar amount, $100,000, in season four. But the tone of the show, in its search for the queen who possesses just the right amount of charisma, uniqueness, nerve and talent, has never wavered. (For the uninitiated looking to understand the tone, look no further than the acronym those four qualities creates.) And while the ethos of self-acceptance, self-expression, and cheeky dismantling of societal norms has endeared the show to its target LGBTQ audience, its the irreverence and showmanship that has drawn in those who might've never dreamed of attending a drag show in the lives. In short, RuPaul's Drag Race is just damn entertaining.
Entertaining enough for Logo to order its first spinoff, RuPaul's Drag U, in 2010, and the second, RuPaul's Drag Race All-Stars, in 2012. While Drag U, which featured three women in each episode who were paired with Drag Race alumni to get drag makeovers to help access their "inner diva," came to an end after just two years, All-Stars returned in 2016 and its third season is currently airing on new network home VH1. 
Entertaining enough that it went global via Netflix in 2013, making the series available in 30 countries worldwide, currently.
Entertaining enough for a fellow Viacom network (Spike TV, now Paramount Network) to ape one of its signature elements (the Lip Sync for Your Life elimination challenge) and turn it into Lip Sync Battle, which, despite the star power it pulls in, can only be described as a weak imitation of the real thing.
Entertaining enough that it's become an industry of its own, launching careers out of most of its contestants, who, thanks to DragCon, touring, merchandising and recording contracts, are earning in the low to mid-six figures annually.
And, at long last, entertaining enough to land a damn Emmy. In 2016, RuPaul finally earned a much-deserved nomination for Outstanding Reality-Competition Host and won, beating out category mainstays Jane Lynch, Heidi Klum & Tim Gunn, Tom Bergeron, and Ryan Seacrest. The following year, the series landed a stunning eight nominations, including its first for Outstanding Reality-Competition Series (it lost to The Voice), racking up three wins, including a repeat for Ru as host.
And it's that acknowledgement from the industry establishment that helped the series make the leap in season nine from its Logo home, with its limited potential viewership of 48.6 million homes, to VH1, a network with nearly double that footprint. "It was just this idea that the Emmy win really cemented the show in mainstream pop culture, and VH1 is more broadly available in homes across the US," VH1 original programming senior vice president Pamela Post, who worked at Logo when Drag Race first began, told IndieWire. "It was an opportunity to broaden the show's viewership even further."
The leap to VH1 saw season nine premiere with nearly a million viewers watching, breaking ratings records for the show as it nearly tripled the viewership of season eight's premiere. That the episode featured Lady Gaga, arguably the show's biggest get to date, certainly didn't hurt. But the fact that Gaga even made an appearance, one that was planned and filmed months before the decision was made to change networks, points to the cultural cachet the show finally carried.
With a fourth round of its All-Stars off-shoot on the way, a recently-wrapped 10th season breaking ratings records, earning four E! People's Choice Award nominations and another Emmy for Ru, and an 11th in the casting stages, all signs point to RuPaul's Drag Race still being on the rise. And the effects of that rise can be felt everywhere, from the sketch during Chris Pine's SNL episode where he and Bobby Moynihan played two butch auto mechanics obsessed with the show to the social media presence of just about every company desperate to appear hip, incorporating slang from drag culture like it's no big deal. So has Drag Race gone mainstream? Or has it, as RuPaul likes to argue, merely brought drag to the mainstream? And is there a difference?
"So drag becoming mainstream? Honey, please. That's not going to happen, mainly because the mainstream wants you to choose an identity so they can sell you beer and shampoo. That's just the way it is," Ru argued in Rolling Stone late last year. "In drag, we are shape-shifters. We don't hear the rules. We change every day. People need a box to understand how to navigate their lives. They need a grid to go 'Oh, I'm here and that's there.' They're not fluid in the way of saying 'I'm both male, female, black, white. I'm earth. I'm united.' Drag says, 'I'm f--king everything.'"
While we may disagree on Drag Race's mainstream position, we have only one thing to say to that: Can we get an amen?
(This post was originally published on February 1, 2018 at 12:02 p.m. PST.)