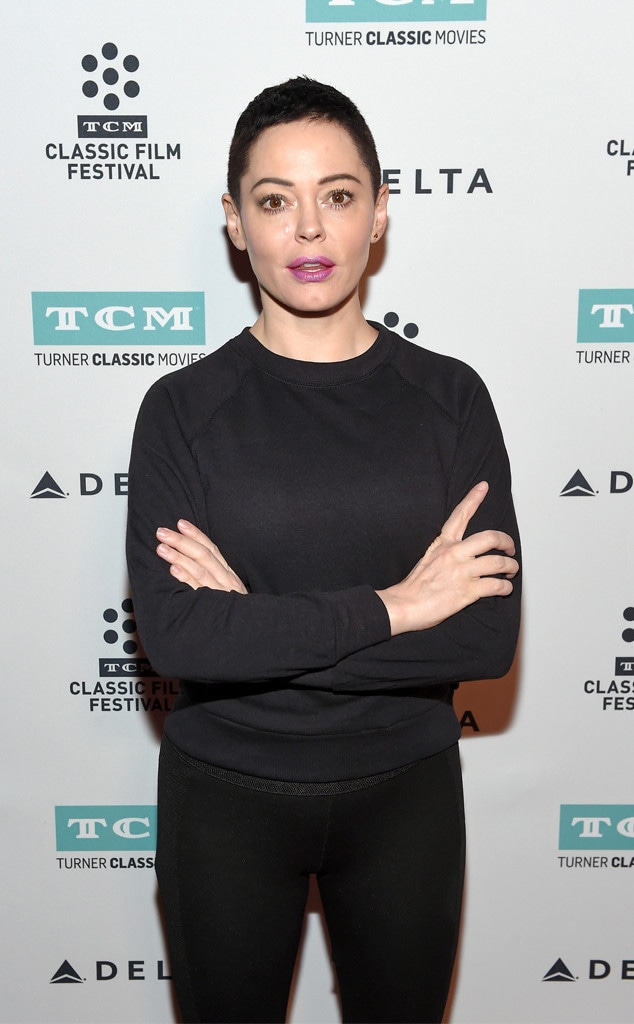 Matt Winkelmeyer/Getty Images for TCM
There is a war of words brewing between Rose McGowan and Harvey Weinstein, whose attorney recently issued a rare statement in response to her sexual assault claim, marking the first comments in months from the producer's team amid numerous misconduct allegations.
In October, the Charmed alum and star of E!'s new docu-series Citizen Rose accused the producer of rape, becoming one of dozens of women to accuse him of sexual misconduct. Even before McGowan went public with her accusations, a rep for Weinstein told E! News, "Any allegations of non-consensual sex are unequivocally denied by Mr. Weinstein." McGowan details her allegations against the producer in her new memoir Brave, without mentioning him by name, saying that during the 1997 Sundance Film Festival, he allegedly performed forcible oral sex on her in a hot tub in his hotel suite.
On Tuesday, Weinstein's lawyer Ben Brafman issued to E! News a rare statement directly in response to the actress, accusing her of trying to "smear" the producer "with a bold lie" that is "denied" by Weinstein and "at least two witnesses," including Ms. McGowan's former manager and former co-star Ben Affleck. McGowan issued an expletive-filled response, while her team hit back with their own statement, calling Weinstein's lawyer's words a "sad, pathetic old-fashioned sexist attempt to undermine obvious truth."
Watch:
Rose McGowan Reflects on Most Powerful Scenes in "CITIZEN ROSE"
In a tweet posted in October and in her book, McGowan wrote that after Weinstein's alleged sexual assault of her, she told Affleck, her co-star in the Weinstein-produced movie Phantoms, what happened, to which he allegedly responded, "Goddamn it. I told him to stop doing that."
"As a general matter, Harvey Weinstein and his attorneys have refrained from publicly criticizing any of the women who have made allegations of sexual assault against Mr. Weinstein despite a wealth of evidence that would demonstrate the patent falsity of these claims," Weinstein's attorney said in his statement.
"Watching the 'performance' by Rose McGowan as she looks to promote her new book however, has made it impossible to remain quiet as she tries to smear Mr. Weinstein with a bold lie that is denied not only by Mr. Weinstein himself, but by at least two witnesses, including Ms. McGowan's own manager at the time who Ms. McGowan claims to have confided in the day after the alleged assault and an A-list actor Ben Affleck, who Ms. McGowan claims to have also told about her encounter with Mr. Weinstein shortly after the incident she now describes as 'rape,' but which in 1997 she described to her manager as a 'consensual' act of sex,'" the lawyer said.
The attorney also said, "Ben Affleck expressed the following in an email to Mr. Weinstein, 'She never told me nor did I ever infer that she was attacked by anyone. Any accounts to the contrary are false. I have no knowledge about anything Rose did or claimed to have done." Affleck has not commented.
Jason Kempin/Getty Images
In October, McGowan told The New York Times that she had told her then-manager Jill Messick about the alleged incident, saying, "She held me. She put her arms around me." Messick did not comment. Her then-assistant, Anne Woodward, told the newspaper that she remembers "that Rose was extremely upset and did not want to settle" and that no one around her supported that instinct.
Weinstein's attorney said in his statement on Tuesday, "In an email to Mr. Weinstein regarding the encounter, Jill Messick says the following, 'When we met up the following day, she hesitantly told me of her own accord that during the meeting that night before she had gotten into a hot tub with Mr. Weinstein. She was very clear about the fact that getting into that hot tub was something that she did consensually and that in hindsight it was also something that she regretted having done.'" Messick has not commented on the lawyer's remarks.
After the attorney's statement was made public, McGowan posted on Twitter in response, "F--k you you f--king douche bag loser from hell. You will burn. You will be an empty suit coffin. You go fall off the planet you f--k. #RoseArmy." 
Her team issued a longer statement to Deadline on Wednesday, saying that Weinstein's lawyer's comments "unequivocally proves a continued attempt to malign, smear and 'slut shame' McGowan."
"It is an affront not only to Rose but to the hundreds of women who have come forward with their stories of harassment, sexual abuse and rape perpetrated by Mr. Weinstein and those like him," the statement said. "This is a sad, pathetic old-fashioned sexist attempt to undermine obvious truth and the gaslighting will no longer be tolerated. The 'performance' is him and his complicity machine, and they are bad actors."
On her Twitter page on Wednesday, McGowan retweeted a video of an interview Affleck gave NBC's Today show last November, at the height of the Weinstein scandal, in which he said, "I knew he was sleazy and kind of a bully but unfortunately that wasn't that uncommon."
"I don't really want to get into other people's individual stories, because I feel like those are their stories and they're entitled to tell as much or as little of those as they want. I believe Rose," he said. "I support her. I really like and admire her tenacity, and I wish her the best."
McGowan's team said in their statement that the "email 'evidence'" cited by Weinstein's attorney was "disproven" by Affleck on the Today Show in his statement of support for the actress and by Woodward in the New York Times story.
"Mr. Weinstein has used his power to violate Rose in all too many ways...Mr. Weinstein's attempts to discredit Rose is part of his 20 year long campaign to silence her, clearly proving he IS the monster so many women have described him to be," the statement said. "Like so many other #MeToo's, Rose will continue to push back at ingrained thought and a corrupt power structure."