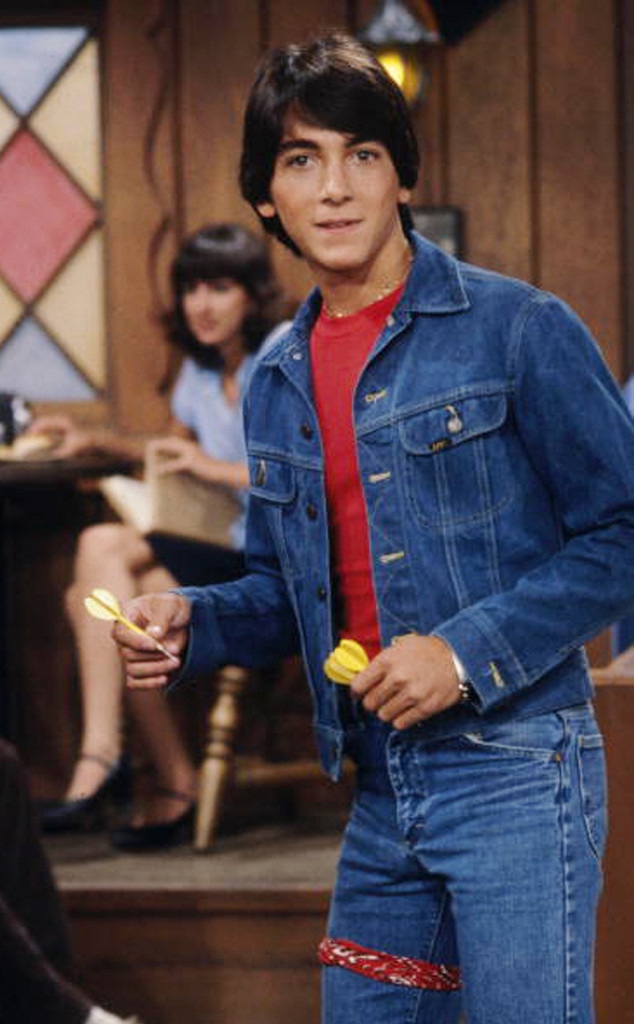 Henderson Productions
Scott Baio's latest chapter has run into an unexpected plot twist.
The former sitcom heartthrob turned reality TV star turned conservative pundit and Hollywood-establishment-rejecter has adamantly denied Charles in Charge co-star Nicole Eggert's recent claims that he molested her starting when she was 14 and then they had sex when she was still underage.
"I'm trying to figure out which time she's lying and which time she's not lying, because the story seems to change quite a bit and I can't keep up with it quite honestly," Baio, who has admitted to having sex with Eggert once after she turned 18, said on Good Morning America Wednesday.
He says he was "never" alone with her on set and he wouldn't be concerned if she reported him to the police.
"Why would I have concerns over something I didn't do? Rather than take your case to social media where people tend to beat up people like me, why not do it through the proper channels instead of making the appearance—because you put out allegations like that and it becomes like wildfire."
Baio added, "My 10-year-old daughter does not need to be hearing about this from friends at school—these false allegations. Her job is not to defend me. My job is to defend my daughter. Her job is to be 10 years old and that's why this has got to stop."
At 57 and now married for 10 years after his prolonged bachelorhood was the subject of a reality show, Baio has had an interesting relationship with the public eye that has grown testier in recent years as he's become increasingly political—though at the same time, his stance has certainly won him a whole new crop of fans as well. (And he was always a Republican, being  a prominent supporter of Ronald Reagan back in the 1980s.)
But for years, before he grew tired of being considered a womanizer and decided to dissect his own issues for the cameras, he basked in the attention from women that his early success won him.
"Women. Scott and women," recalled Willie Ames, who played Charles' dim-witted best friend Buddy Lembeck on Charles in Charge (they also co-starred in the cult fave Zapped!), on a 2008 episode of A&E's Biography about Baio. "I once told somebody I thought there was just one hard, fast rule in Hollywood—and that was if you were blond, first you date Scott Baio and then you marry Tommy Lee."
A Pamela Anderson reference, of course. In addition to the Baywatch star, Baio was linked over the years to Brooke Shields, Nicollette Sheridan, Heather Locklear and a bevy of models.
Darlene Hammond/Getty Images
When he signed up for Charles in Charge in 1984, he had already been an object of mass female desire for almost a decade. He started on Happy Days playing Chachi Arcola when he was barely 17 and, though the spin-off Joanie Loves Chachi didn't stick, his status as a teen idol was already set in stone.
And, in case you hadn't heard, Joanie wasn't the only one who loved Chachi. ("Every time you turned around, you went 'wow!'" the Fonz himself, Henry Winkler, said in the A&E special. "Where did you find this goddess?") Joanie was the first to love him, though.
Baio said on GMA, purportedly paraphrasing Eggert, that she "aggressively sought me out because she wanted me to be her first so she would be good for her boyfriend—those are her words."
On Scott Baio Is 45…and Single, his VH1 show that aired in 2007 (and then became Scott Baio Is 46…and Pregnant in 2008), Baio reveals he lost his virginity to Erin Moran, who played onscreen love Joanie Cunningham. She apparently thought that he thought for years she had broken up with him because she was unsatisfied by the size of his manhood, and she tried to assure him that wasn't the case.
In an interview she did after shooting the segment with Baio, Moran said, "He thought that's why we broke up when we were together." The truth was, "I come from a very dysfunctional family…Scott said he wanted to marry me and it scared me to death. My parents didn't get along…we can't judge, right? So I got scared and I wanted to break up."
(On the show, however, Baio told Moran that he would date a woman and then "hit a wall," and she fired back, "Yeah, I remember.")
Baio had a good laugh over the small-manhood anecdote, and if he was ever haunted by it, he never let that hiccup slow him down. In fact, he had been spiralling from one relationship to another ever since.
"It crippled me," he told a life coach on the show, referring to the female spoils of fame. "I was just easy. If I had any aggravation from any woman, she was gone."
In his Biography episode, Baio recalled his trajectory with women.
Ron Galella, Ltd./WireImage
"I had a huge advantage. I was on television, the greatest aphrodisiac ever. I don't care who you are or what you look like—I'm not the best looking guy in the world I'm not the ugliest guy in the world. I'm ok looking—but I was on TV. And celebrity gives you a lot of perks, and that's one of them. It became a game, and I was good at the game. I was really good at it. It wasn't even that hard of a game. But my attitude towards it all was, I didn't care. I didn't care what you were going to say to me. You weren't interested? OK," he shrugged. "Hi, how you doing? No? OK…hi, what's happening?' It was easy.
"Then it got to the point where I started not being nice to women. I wasn't physical with them or anything, I just was rude. I didn't care. I started hurting feelings of girls, and I started hurting women emotionally, and I stopped enjoying that."
During the series he tried to exorcise his demons, meeting with Moran and another ex, Growing Pains actress Julie McCullough, who lamented how much Baio cheated on her when they were together.
Fotos International/Getty Images
Eggert appeared on the show too, framed as one of the ex-girlfriends the life coach tasked him with visiting in order to help get to the bottom of why he had never settled down.
"Do you remember being on set and, like, having the Playboy magazine and picking [out women] like it was a Sears catalog?" she asked her former co-star during a daytime meeting at the beach. He flung himself back in the sand in a "ah, you're killin' me" gesture. They do share some relaxed-looking laughs on-camera, though.
(In 1995, in an appearance on MTV's The Jon Stewart Show, Eggert said that when in New York, people recognized her less for Baywatch and more from Charles in Charge, which ended in 1990. Stewart commented that Baio had been on the show, and she replied with a combo "oh-ah" and asked, "What is he doing now?")
At the root of the VH1 show, despite having "single" in the title, was the fact that Baio was in a long-term relationship with Renee Sloan—whom he met at one of his then-favorite haunts the Playboy Mansion in the '90s and reconnected with some time later—and he knew he had to move forward with her or move on. They steered clear of each other for eight weeks during filming while he sorted himself out, per his life coach's orders, and he ended up proposing at the end. Their L.A. wedding was featured on the second season, Scott Baio Is 46…and Pregnant, in reference to Sloan's expectant status.
Sloan, who is also mom to a now 28-year-old daughter, was pregnant with twins and sadly they lost one at around 12 weeks. They welcomed their daughter, Bailey, five weeks early in 2007, but she was home in time to be the guest of honor at her parents' wedding. When she was first born, however, the doctor told Scott and Renee that Bailey had tested positive for a rare and possibly fatal metabolic disorder, but further testing was needed to know for sure.
When Bailey was 10 weeks old, her relieved parents found out she was actually fine—but stricken by what they went through not knowing, the Baios started the Bailey Baio Angel Foundation to raise awareness and funds for children with metabolic disorders and their families.
"Every time [Scott] would see a child, see a baby, he would just break down," Renee told People about the waiting period. "He's a first-time father. He didn't grow up with younger siblings. And it would just break him down…break us down. It was so tough to go through the holidays, our wedding…all the while knowing, our kid may die."
Gushing about his daughter, who had just started walking, on The Rachael Ray Show in 2009, Baio said, "The only word I have to describe her is delicious." He also said, speaking from experience as a former child actor, that he wouldn't steer Bailey in that direction.
"I would probably discourage her from pursuing a career in showbiz," he concluded. "[There is] a lot of using and a lot of manipulation, and knowing now what I know, I would not want to see her go through all the stuff I went through and stuff I've seen other people go through."
As far as the zeitgeist was concerned, the most notable acting gig Baio had enjoyed since his hey-day was his recurring role as Bob Loblaw on Arrested Development, which counts Happy Days star Ron Howard as an executive producer (and narrator), but his reality TV run helped revive his career as far as far as more consistent visibility went.
In 2012 Baio had his biggest sitcom success in 20 years in the family comedy See Dad Run on Nick at Nite, which he also executive-produced.
That ran until 2014, since which Baio has enjoyed his role as unexpected political gadfly. He became a familiar presence on Fox News and ended up landing a speaking slot at the Republican National Convention in 2016.
"I don't give a s--t if I ever work again," he told The Hollywood Reporter at the RNC (nor did he "give a s--t" about what "Hollywood liberals" thought). "My country comes first. I guess I'm just an old, angry, successful white guy who stole everything he has from someone else."
Aside from his stumping for Donald Trump, he also made headlines last year when, after Erin Moran died at the age of 56 (of cancer, as it turned out), Baio said he wasn't "completely shocked" because she had led a hard life.
"My thing is, I feel bad because her whole life, she was troubled, could never find what made her happy and content. For me, you do drugs or drink, you're gonna die," he said on The Bernie & Sid Show last April. "I'm sorry if that's cold, but God gave you a brain, gave you the will to live and thrive and you gotta take care of yourself."
Ilya S. Savenok/Getty Images
Ripping the media for reporting on his comments in a subsequently cold light, he took to Facebook to clarify: "I was asked ONLY about Erin's troubled past due to drug & alcohol abuse. I was still upset and said I felt that living that kind of a lifestyle will catch up with you and nothing good would come of it. THIS WAS BEFORE THE CAUSE OF DEATH WAS ANNOUNCED STATING STAGE 4 CANCER.
"Now it seems every news outlet & tabloid wants to paint a different picture of me and of what really happened. They're stating that I'm saying drugs caused her to die after it was reported stage 4 cancer. This is so wrong! Now I truly understand the meaning of 'Fake News'. This is crazy.
"Please stop assuming the worse in me. I'm a compassionate person. I'm very heartbroken over her passing, especially since it was cancer. I don't see people going after or attacking every network that said it was a drug overdose. I've openly stated my truths. I'm done." (The story took an even weirder turn when Moran's brother, Tony, revived the whole small-penis issue on social media, after which Renee Baio made a rare foray into her husband's battles, tweeting, "Why would a sister tell her brother about the size of boyfriend's manhood? Creepy at best. SB was a playboy for a reason!")
Meanwhile, just when you declare yourself done, people demand to know more.
Eggert told Megyn Kelly on Today Tuesday that she's the one who had previously lied about not having sex with Baio till she was 18 and having an OK time with him on set.
"What my truth is, is that I wasn't ready to tell my story and for me it was always protecting the show and protecting that whole legacy that nothing happened there. That was my delusion and that was my cover-up always."
Baio tweeted before the Today appearance that her allegations were "100% lies" and today said on GMA, "I'm trying to figure out which time she's lying and which time she's not lying because the story seems to change quite a bit and I can't keep up with it quite honestly."