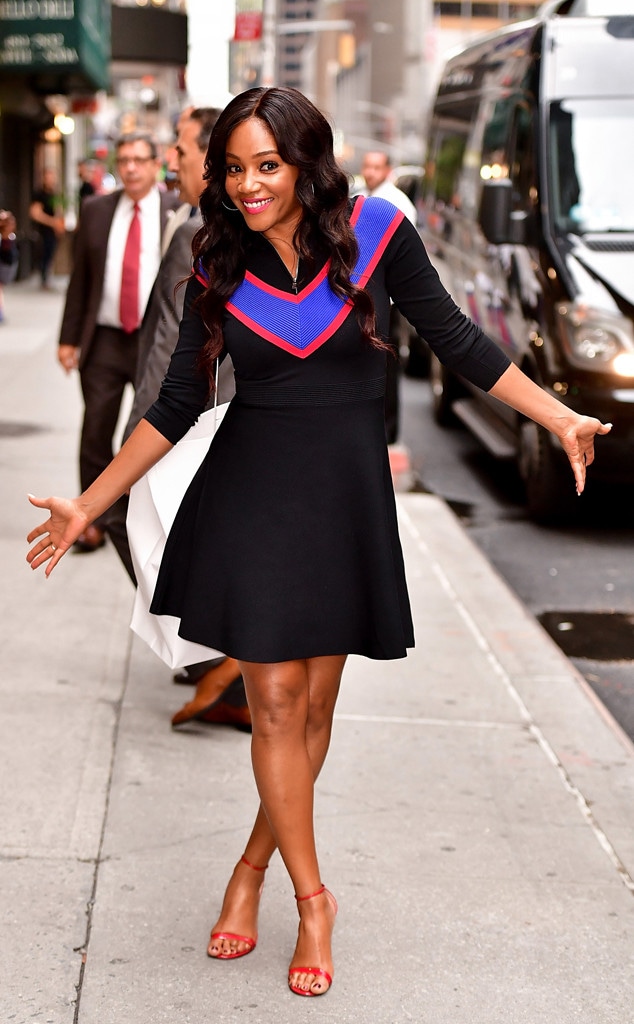 James Devaney/GC Images
Tiffany Haddish is at the top of her game. 
Fresh off the success of Girls Trip, Haddish went on to make history as the first African-American female comedian to host Saturday Night Live and even released a memoir detailing her rocky road to stardom. Tiffany was most recently tapped as Groupon's newest celebrity spokesperson, and stars in their 2018 Super Bowl commercial. 
So what words of wisdom does Tiffany have for her younger self? As she told E! News exclusively, "I would tell a young Tiffany to figure out what it is you love, do that every single day and you will always make money. Don't doubt yourself... Never ever doubt it." 
Haddish, 38, continued, "I love to make people laugh and I'm making a living out of it. I remember being a little girl and people telling me, 'Oh, you can't make any money doing that. You need to figure out something else to do and get a real job.'"
"And look at me now," she shared. "I'm doing exactly what I love to do and I'm making a great living from it." 
But just because Haddish is financially secure, that doesn't mean she's left bargain hunting in the past. The comedienne has even admitted to introducing Will Smith and Jada Pinkett Smith to Groupon, and she's not afraid to reveal her most cherished purchase is a bidet. 
"It is the best damn thing in the world," Tiffany told us, adding, "I spend very little money on toilet paper now and I feel so fresh and so clean. I hold it 'till I get home—you understand me? You don't even need no man when you got a bidet!" 
Haddish also said she's purchased gloves and a snow coat off Groupon, which will definitely come in handy when she travels to Minneapolis for Sunday's big game between the New England Patriots and Philadelphia Eagles. 
As for who she's rooting for, Tiffany dished, "Well, I don't necessarily have a favorite team. I usually go to Super Bowl parties and it's a great place to meet guys or just hang out with my friends... But this year I'm actually going to get to go to the Super Bowl so it's going to be amazing. I might meet a football player!" 
Might Tiffany get to retire her bidet after this weekend? Only time will tell! Check out all the 2018 Super Bowl commercials here.