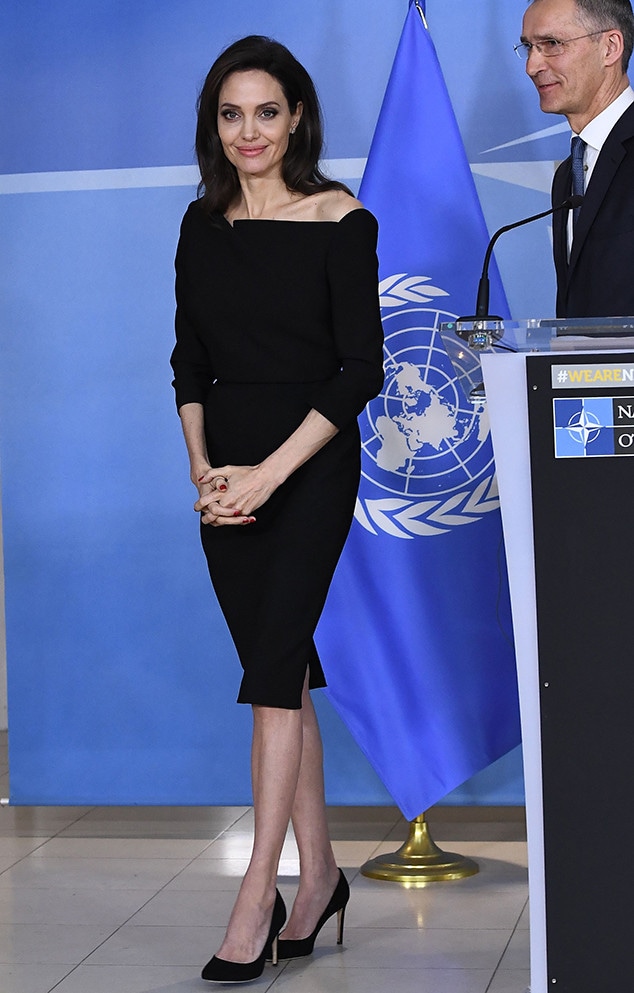 EMMANUEL DUNAND/AFP/Getty Images
It seems Angelina Jolie is on somewhat of a political tour—and it had nothing to do with last night's State of the Union.
From visiting a Syrian refugee camp with daughters Shiloh Jolie-Pitt and Zahara Jolie-Pitt, to meeting France's First Lady Brigitte Macron to discuss the Syrian war, to speaking at NATO Headquarters in Brussels on Wednesday, Jolie continues to use her public platform and voice for good.
As UNHCR Special Envoy and co-founder of Preventing Sexual Violence in Conflict Initiative, Jolie visited NATO headquarters to discuss the ongoing problem of sexual violence in conflict zones. Jolie joined a conversation between NATO representatives and the UN Refugee Agency.
In a press conference following the confidential meeting, Jolie said, "Violence against women and children, particularly sexual violence, is an increasing feature of conflict...This is rape used as a weapon to achieve military or political goals. It affects men and boys as well as women and girls."
She hopes that the work they are doing will lead to better "training, reporting, monitoring and awareness" as a way to end the horrors women and children have faced in war zones.
EMMANUEL DUNAND/AFP/Getty Images
Aiding Jolie in this fight is Secretary General Jens Stoltenberg. In December, he and Jolie co-wrote and published a piece titled "Why NATO Must Defend Women's Rights." Stoltenberg believes Jolie is the perfect spokesperson for their shared cause due to her "strong voice" and "great leadership for empowering women and the fight against sexual violence."