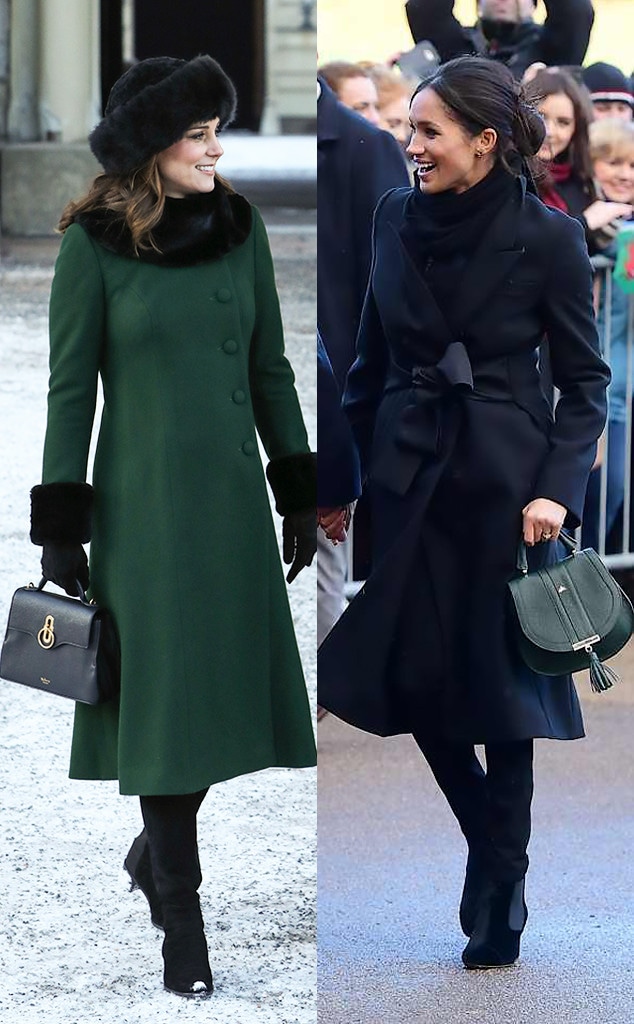 Getty Images
When it comes to royal style, Duchess of Cambridge Kate Middleton and Meghan Markle are officially on the same page. 
As the expectant mom stepped out on Tuesday for the first day of her and Prince William's four-day tour of Sweden and Norway, Middleton's hand was noticeably full. The future mother of three was toting Mulberry's Mini Seaton style black top-handle handbag with gold detailing—an atypical choice for the British fashion icon. 
"Kate is well-known for carrying clutch handbags at royal events, so seeing her with a new Mulberry handbag is definitely a change,"  What Would Kate Do Editor Christine Ross explained to E! News, noting the Duchess of Cambridge memorably sported a Chanel handheld purse in Paris early last year in one limited instance. She brought the burgundy and gold designer purse back out again on Wednesday as she visited Stockholm. 
Royal fashion experts like Ross noticed Middleton's newfound penchant for pint-sized purses with handles and likened the accessory choice to Meghan Markle's recent handbag selections. 
For most of the American star's initial public appearances as Prince Harry's fiancée, she's sported similar top-handle bags by the likes of Strathberry and Chloe. 
"Meghan has been carrying some fabulous handbags in the last few weeks! They are all similar in style—a small-to-medium sized body with a small, handheld handle. This creates a very elegant, ladylike look as she carries them delicately to the side or in front of her," Ross described. 
As the editor suggested, "Meghan has definitely shown us how you can carry a great bag and still perform royal duties, so perhaps Kate took a note from Meghan's style book!" 
Meanwhile, both women may very well be influenced by Queen Elizabeth II herself, who has also been known to carry top-handle purses. 
"Meghan may be taking a style note from Her Majesty as she chooses handbags similar to the Queen's beloved Launer bags," Ross pointed out. "Her Majesty has a few styles from the luxury brand, such as the Lucia and Traviata, but they all have the same style of delicate handle."
As Markle will learn, royals have used handbags for a variety of reasons outside of their typical functions. While the Queen has been said to switch her bag from one arm to another to signal to her handlers she wants to end a conversation, Princess Diana always had a small clutch with her on a night out that she would hold over her chest as she stepped out of a car to avoid any revealing photos. 
As for Middleton, it has been suggested she holds a clutch with both hands when it might be awkward for a handshake.
"It would be great if Meghan and Kate were sharing style notes," Ross told E! News. "The two women share very similar roles, and Kate can certainly give Meghan some pointers on entering into the royal family. There are some royal fashion etiquette rules that must be followed, and it can be tricky to navigate the expectations."