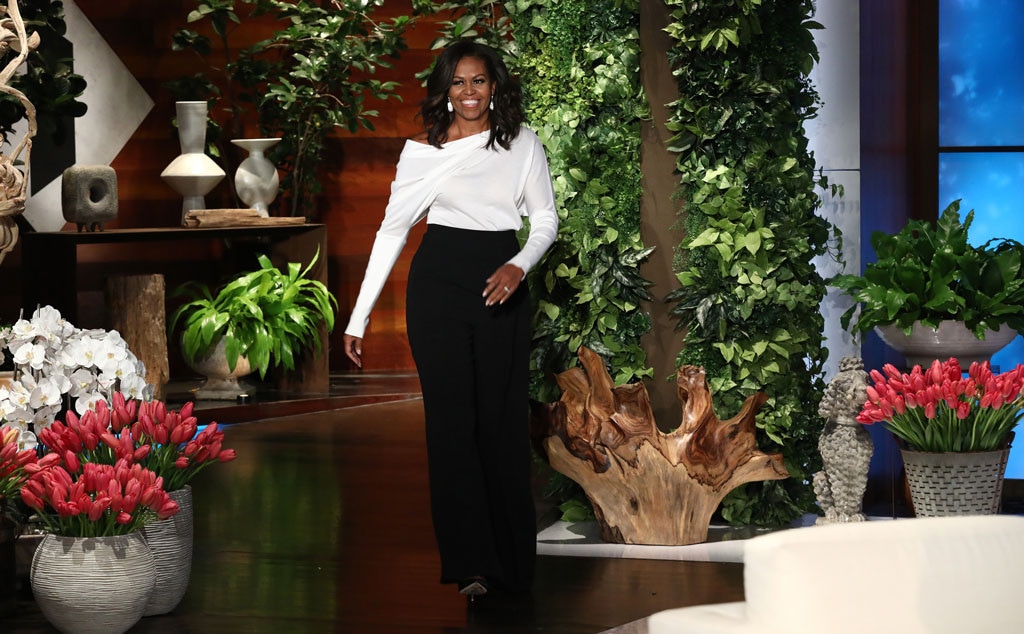 Michael Rozman/Warner Bros.
Michelle Obama is sharing her thoughts on that awkward gift exchange with Melania Trump in 2017.
As part of Ellen DeGeneres' 60th birthday celebration, the former First Lady appeared on Thursday's episode of The Ellen Show, her first TV interview since leaving the White House last year. During the interview, Ellen asked about the seemingly awkward gift exchange between Melania and Michelle before the 2017 Inauguration.
"Hey, I have a question and I think a lot of people have the same question. So, when the transfer was happening, when Donald Trump and his wife were moving into the White House, there was a gift exchange," Ellen said.
"Oh, yeah," Michelle replied. "A Tiffany box."
When asked what was in the box, Michelle laughed and said, "It was a lovely frame."
The video of the Trumps arriving then played as Ellen noted, "First of all, he just walks up the steps without his wife, just leaves his wife behind. He just walks up there."
Michelle then revealed what she was thinking during the exchange.
"Well, there's all this protocol," Michelle shared. "I mean, this is like a state visit, so they tell you that you're going to do this, they're going to stand here. Never before do you get this gift, so I'm sort of like OK…What am I supposed to do with this gift? And everyone cleared out and no one would come and take the box. And I'm thinking do we take the picture with…? And then my husband saved the day – see he grabbed the box and took it back inside. But everybody cleared out. No staff, no one. I was like what do you do with the box?"
Watch the video to see Michelle talk about the awkward exchange!