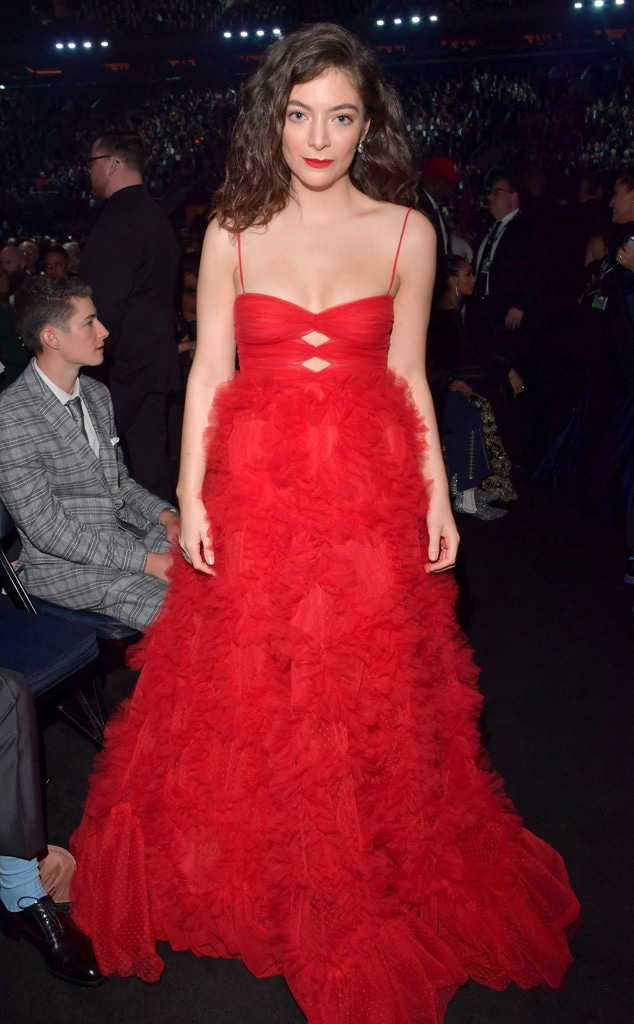 Lester Cohen/Getty Images for NARAS
Lorde has taken out an ad in The New Zealand Herald that features a handwritten note about her 2018 Grammys nomination.
Shayne Currie, managing editor of the newspaper's media company NZME, shared a picture of the advertisement on Twitter Tuesday. 
"Oh, hi there!" the note reads. "I'm writing this from New York City. [My brother] Angelo and I sat in Madison Square Garden last night and saw a lot of crazy and wonderful things. I just wanted to say thank you, from the bottom of my heart, for loving and embracing Melodrama the way you did. My nomination belongs to you. Thank you, also, for believing in female musicians. You set a beautiful precedent. All my love, Lorde."
Lorde was nominated for Album of the Year but lost to Bruno Mars. She was the only female nominee in the category. In fact, many viewers thought the Grammys lacked female representation altogether. Alessia Cara, who won for Best New Artist, was the only woman to win in a major category. In addition, there was a bit of a Twitter uproar after Ed Sheeran won Best Pop Performance in the female-led category.
The lack of female winners led viewers to tweet #GrammysSoMale, which started trending during Sunday night's award show.
There was also a bit of controversy as to why Lorde didn't take the stage despite being an Album of the Year nominee. According to Variety, Lorde was asked to perform with other artists for a tribute to Tom Petty; however, her fellow male nominees were reportedly offered solo performances. Even though Jay-Z didn't end up taking the stage, Kendrick Lamar, Mars and Childish Gambino all performed their own music.
When asked about Lorde's missing performance, Recording Academy president Neil Portnow said, it's "hard to have a balanced show and have everybody involved."
However, Lorde still made a powerful statement at Sunday night's award by wearing an essay on the back of her dress.
The newspaper ad also comes after Portnow said women wanting to be in the music industry need to "step up." The comment has caused celebrities like Pink and Kelly Clarkson to fire back.