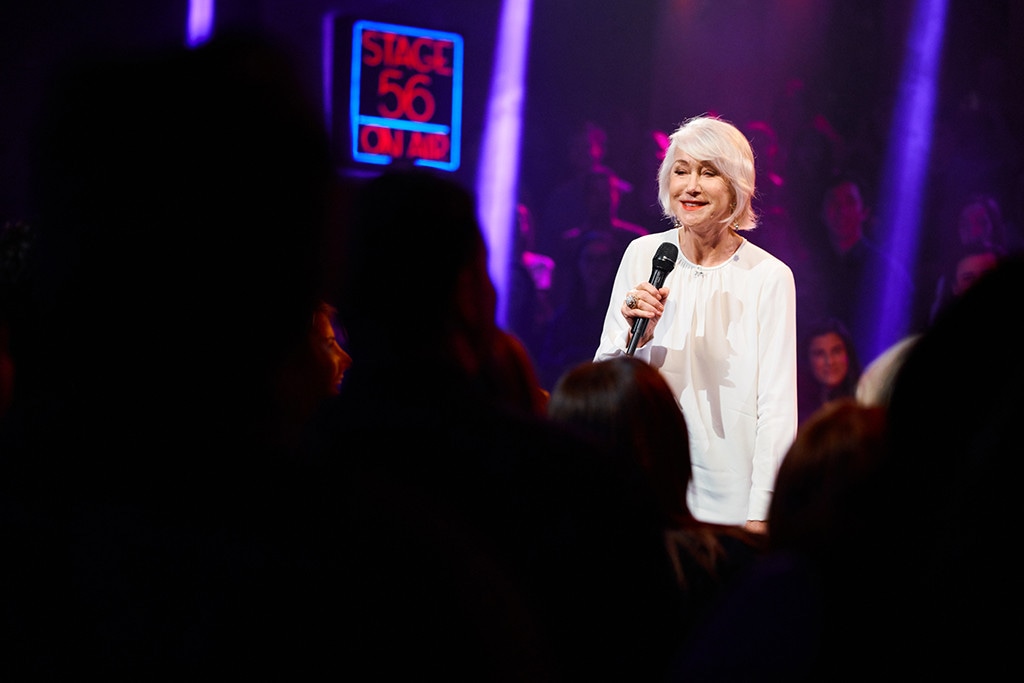 Terence Patrick/CBS Broadcasting, Inc.
Helen Mirren is a low-key savage.
The 72-year-old Winchester actress challenged James Corden to a "Drop the Mic" rap battle on CBS' The Late Late Show Tuesday. Mirren followed in the footsteps of Riz Ahmed, Halle Berry, Cara Delevingne, Dave Franco, Kevin Hart, Anne Hathaway, Jennifer Hudson, Samuel L. Jackson, David Schwimmer and Rebel Wilson, who'd battled him to varying degrees of success.
"Bow down, James. Bow down," Mirren told the host. "Kneel, baby. Kneel!"
"We're not at home anymore," Corden jokingly reminded his guest. "I'm the king in this studio."
Corden spit his verse first, but Mirren won the first round. "I'm the one you should fear / Wherever I go / If I'm a pain in your ass / That leaves a lot of room to grow," she rapped. "You stand out, but for games and banter / Other shows do comedy, you just pander / You thought you could beat me / Sorry, game over / I'll cook this beef, his wife and her lover / He's obsessed with my exes / Sorry, James, I'm not single / But you know I taught your little mister to tingle."
After Corden told Mirren she's no Judi Dench, Maggie Smith or Meryl Streep, she fired back by referencing another TV host. "I've played the queen / But also warriors and witches / Crime lords and wizards, bosses and bitches / Detectives and whores / From Altman to Shakespeare / The only role you ever played is 'Guy Who Begged to Be Here' / Poor James Corden will never be satisfied / Until you find a way to get attention deep-fried," the British star rapped. "But this battle is fun / I'm glad that you asked / It's the only bit you didn't find in Jimmy Fallon's trash."
For a moment, Corden though he had Mirren beat in the third and final round. "You're called British royalty / But clearly you're not / Even in Hollywood as a queen / Meghan Markle took your spot / You appeared in the last Fast and Furious without warning / You turned the whole franchise into very slow and boring / It's a shame in Harry Potter you never played a teacher / And your role in James Bond...Wait, you weren't in that either," the host rapped. "I'm sorry that I had to be the one to take you down / I just defeated a queen / Someone hand me my crown."
Mirren's response: "Off with his head."
Then, she proceeded to take back her crown: "You f--ked up, James / You desperate tater tot / A woman's worth isn't credits or who says she's hot / Boys club / Bulls--t / I'm done with that crap / You're welcome for this headline: 'Helen Mirren Can Rap' / Compare me to Meryl, Judi, Maggie, but why? / They're not my competition / They're my ride or die / See, women are a force to be reckoned with / And I reckon I wrecked you / You've been to hell and back, bitch."
The Late Late Show With James Corden airs weeknights at 12:35 a.m. on CBS.