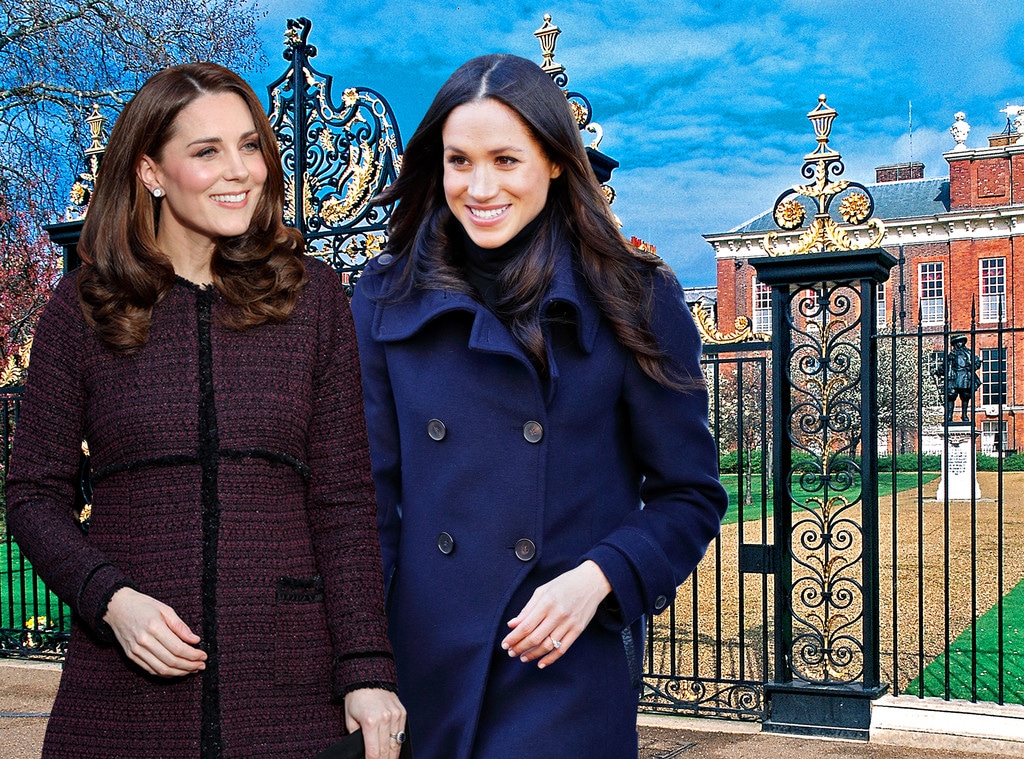 Getty Images; Melissa Herwitt / E! Illustration
When Prince William, Kate Middleton, Meghan Markle and Prince Harry stepped out for the first time together last month on Christmas, the world was introduced to a brand new fab four.
For years, Harry has been the most famous third wheel in the world as he undertook countless public appearances alongside his older brother and sister-in-law. So to finally witness Princess Diana's younger son strolling happily alongside his future wife sent the crowds at Sandringham into a frenzy.
The significance of the moment was bigger than simply Harry being allowed to fulfill his mother's wishes and marry for love (unlike previous generations in the House of Windsor). It also showed that his new fiancée, Meghan, has a strong support network by her side to help her adapt to the unique challenges joining the royal family will inevitably bring.
Which is where Kate comes in.
Because Meghan and Kate are two women who are about to become not only sisters-in-law, but also neighbors, business partners (Meghan will join Harry, William and Kate by becoming a patron of The Royal Foundation) and, more importantly according to our sources, fast friends. An essential bond when you consider that, though the past few months have given Meghan a brief taste of what palace life is like, the accompanying lack of privacy and freedom is a sacrifice she'll have to endure for a lifetime.
And the only person in the world who can truly understand the impact of that loss of normality is Kate. (Even Princess Diana and Sarah, Duchess of York, were better acclimatized to the realities of life in the palace thanks to their aristocratic backgrounds.)
KGC-22/STAR MAX/IPx 2017/AP Images
On the surface, it's easy to point out the differences between the two women: Meghan grew up in sunny California; Kate in overcast Berkshire. Meghan was the only child of a single mother; Kate was one of three children from an enduring marriage. Meghan loves being in front of the camera and has even made a career out of it, whereas Kate is more naturally shy. But there are so many more similarities, aside from the obvious one that they both fell in love with a prince: for starters, they are both animal lovers, have an interest in fashion and wellness, and are passionate about helping children.
And, of course, the biggest shared interest of all is Harry.
Andrew Parsons - WPA Pool/Getty Images
All those years of not finding the right girl to settle down with gave William's brother and his wife time to develop an extremely close friendship. It's been said Kate and Harry have the same silly sense of humor, love watching Game of Thrones box sets together and she would give him dating advice from time to time.
So it should come as no surprise that Kate was one of the first members of the family Harry introduced Meghan to.
A source tells E! News that the first encounter, which took place in January 2017, "went very well. Kate was delighted to finally get to meet the woman that had Harry smiling so much."
We now know that until that point Harry had been keeping his relationship with his new American girlfriend mostly on the down low. As he explained in his engagement interview, "I'd been seeing her for a period of time when I literally didn't tell anybody at all. And then William was longing to meet her and so was Catherine, so you know being our neighbors, we managed to get that in a couple of—well, quite a few times now, and Catherine has been absolutely..."
"She's been wonderful," Markle added. 
"…amazing, as has William as well, you know, fantastic support," Harry continued.
Chris Jackson/Getty Images
It helped that the many get-togethers that have taken place between the two couples have been conducted away from the glare of paparazzi lenses. Harry and Meghan are currently sharing his former bachelor pad, Nottingham Cottage, in the same Kensington Palace grounds as William and Kate's family home, so it's been easy to pop round for a quick cup of tea. After the wedding they will literally be next-door neighbors if, as expected, Harry upsizes to Apartment 1. William and Kate currently occupy Apartment 1A—although don't let that address fool you, the property has 20 rooms spanning four floors.
During those intimate meetings there has developed an understanding between the two women, one of whom can learn a lot from the other to prepare for her unique role, a role that's almost impossible to understand unless you've played it yourself.
A source says that while Kate didn't initially give Meghan any specific advice, "since very early on she made it clear that should Meghan ever need something, or just want to chat, she shouldn't hesitate to get in touch.
"Kate knows how difficult it is navigating one's way through this very different world. [And] it was important to [Harry] that Meghan and Kate got to know each other, as she has experienced many of the challenges Meghan now faces."
The source adds, "It's an exciting time and it's going to be really interesting what they do together as a four in the future. There's a lot of buzz across the [Kensington Palace] household."
A palace insider says, "It's becoming very clear within the family that William, Catherine, Harry and Meghan are the future of the royal family so everything rests on making sure Meghan eases naturally into her role. That's a big priority for everyone.
"Catherine did it and so they know it's possible for an outsider, without any prior interactions with the establishment, to integrate well. Catherine is very aware that Meghan will need a friend alongside her while she gets used to the way things are done around here."
For more on Kate and Meghan's special bond, tune into E! News tonight at 7 and 11 p.m.