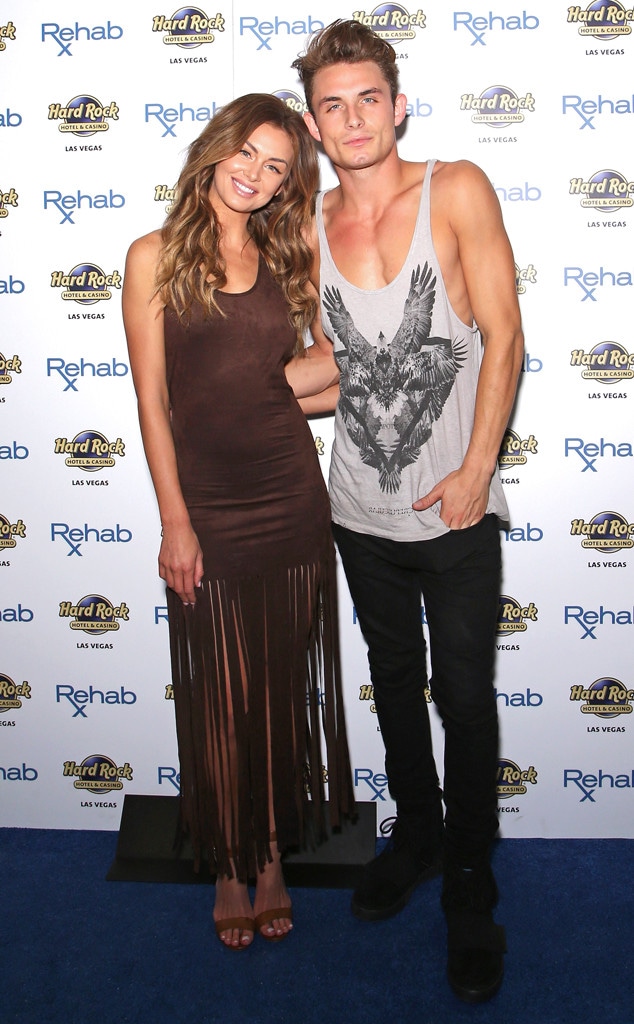 Gabe Ginsberg/Getty Images
Looks like the pasta really is to blame for the undoing of Lala Kent and James Kennedy's friendship. 
During last night's episode of Vanderpump Rules, the reality TV stars nearly came to blows over a comment James made regarding Lala's relationship with newly divorced movie producer Randall Emmett. It all started when Lala admitted to eating James' girlfriend Raquel Leviss' pasta without her permission, which set the British DJ off... to put it nicely. 
James said Lala has "always been a bitch" toward Raquel, adding that she only has sex with the "fat man because he pays for your rent" and will soon "get bored with you." 
As fans know, all bets are off when Lala's relationship is questioned. 
Lala fired back, telling James, "Learn your f--king place, motherf--ker, or else you're gonna learn real goddamn quick when you look next to you and I'm not there anymore, and you're gonna be real f--king upset. So know how the f--k to talk to somebody when they're your friend."
The fight spilled into the street, with James telling Lala his anger wasn't really about the pasta as much as it was about Lala not "showing respect" to his girlfriend. 
But despite the dust having settled, Lala took to Twitter with a message for her former confidant. 
"Tonight's episode is nothing short of cringeworthy," she wrote. "James had always been a dear friend of mine. I make sure I baby him, I make sure he always knows I'm proud of him and I've been nothing but kind to his girlfriend. I don't need to say this, because it's been seen from the beginning. I am constantly forgiving him for whatever venomous words he decides to throw at me."
Kent continued, "I remember the day that he attacked the person I love the most. The person that is my human. My everything. The one I would die for, and live to protect. I let it slide for some reason… maybe out of shock."
"After rewatching it, reliving it, and then dealing with his constant attacks on a regular basis, I'm sadly mourning the loss of our friendship," the Bravolebrity concluded. 
James has since responded, calling Lala a hypocrite for befriending co-stars like Katie Maloney and Kristen Doute who previously cast doubt on the man she's dating. 
He tweeted, "Woke up today totally blindsided by Lala telling me she is distancing herself from me and isn't celebrating my bday with me. I find it very hypocritical of her to constantly pretend like she's best friends with Katie and Kristen, who have done nothing but talk sh--t about her and her man for 2 years, but god forbid I let my temper get the best of me and she decides she needs to publicly bash me. Lala will always be a special person to me and maybe we can talk just the 2 of us instead of blasting me on twitter."
More recently, James returned to Twitter with a clarification on Vanderpump Rules' Pasta-gate: "When I say 'it's not about the pasta' it was about actually pasta and the fact Lala stuffed her face with all my girls food without remorse is the reason I got [pissed] in the first place."
Vanderpump Rules airs Mondays at 9 p.m. on Bravo. 
(E! and Bravo are both part of the NBCUniversal family.)