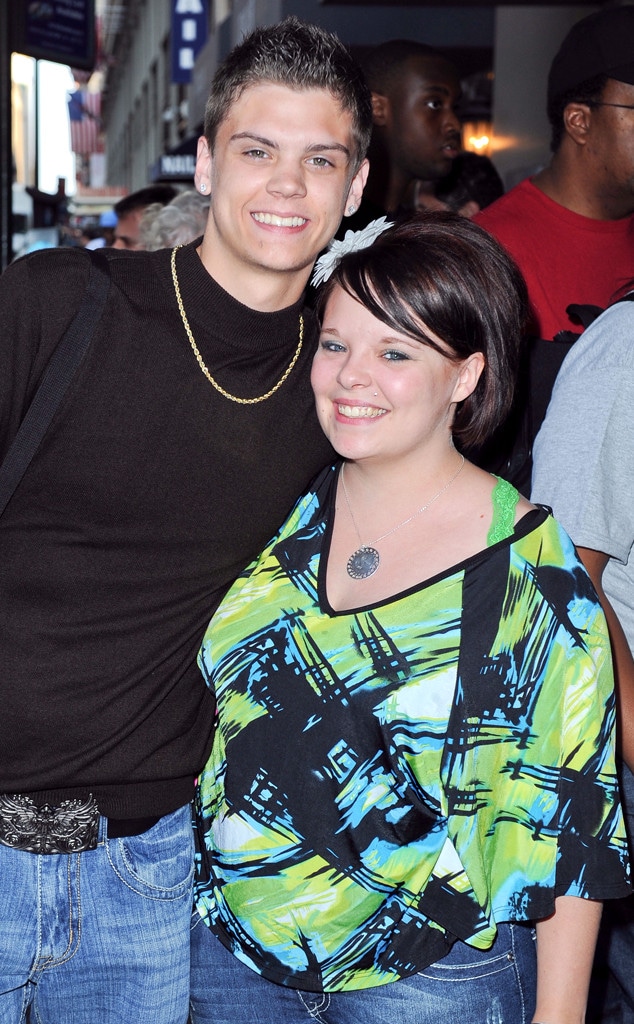 Dario Alequin/INFphoto.com
Nine years ago, the odds weren't exactly in Catelynn Lowell and Tyler Baltierra's favor. 
Catelynn, who described her mom April as "pretty unpredictable," had lived in 13 different houses since she was born in 1992. Tyler's dad, Butch, had been in and out of prison. Oh, and April and Butch, both single when they met through their kids, had ended up marrying each other, making Catelynn and Tyler step siblings.
But as the teens pointed out, they had met first. (And Tyler lived with his mother.)
The high school sweethearts in Algonac, Mich., had been dating for three years, since the seventh grade, when 16-year-old Catelynn found out she was pregnant.
That news would seemingly lead to "cue the hysteria," but when 16 and Pregnant premiered on MTV in 2009, the show—which introduced the world to six pregnant teens that first season—first featured Catelynn at 16 weeks along and already talking adoption.
She knew she was having a girl, but, as she pointed out to her friends, "I've talked about keeping it, but there's not really a lot of good things about keeping it. Like, there is, but there isn't."
What has to be one of the hardest decisions to make in life, in a nutshell—because sometimes kids, with the benefit of not yet having too much life experience, are more adept at boiling a subject down to its essence without even trying than most adults.
Frankly, Catelynn found the idea of giving her baby up for adoption scary, but the prospect of parenting even scarier. 
Catelynn's story always stood out from the rest of the 16 and Pregnant, and then the Teen Mom, pack because she and Tyler were the only couple from all of the franchise's installments to go the adoption route. And they continue to stand out as the only original couple from the earliest days of the surprise hit series who are still together to this day. (Mackenzie and Josh McKee from Teen Mom 3 married in 2012 and also remain together.)
They celebrated 13 years together this summer, and have now been married for three years. They are also now parents to daughter NovaLee Reign, born in January 2015, and—after weathering a miscarriage earlier this year—are now expecting another child together.
Each only 26 years old, they've still got a long way to go, but they've been through more than most couples their age, from the shocking news of Catelynn's first pregnancy to having to stay strong in the face of their parents' objection to their decision to adopt, to dealing with that guilt trip and the inevitable emotional aftermath of their decision once their daughter was adopted, to Catelynn's battle with depression.
"I want my daughter to have a chance at life," a then 17-year-old Tyler, his still-boyish frame swimming in baggy hip-hop-inspired clothes, told his dad when Butch fiercely objected to the idea of adoption. "I just don't want her to be raised the way that she's going to be raised."
To Catelynn, as they continued to talk it out, Tyler said, "I think keeping the baby would totally ruin us...I don't think our lives are very stable to raise a child."
"I don't care if anybody's there to back us up," he added, when Catelynn expressed hope that their family would support their choice. "There's no one else's opinion that matters to me, especially my dad."
They didn't really know anything about adoption, yet, but once they set on that course, the couple started doing their research—including just how involved they would be allowed to be in their daughter's life down the road, or if they'd even be able to see pictures.
It would depend on the agreement with the other family, of course. It was touching to see Tyler and Catelynn, just kids themselves, project their hopes on the people who would end up raising their baby. Tyler wanted the guy to have a college degree. Catelynn preferred a stay-at-home mom.
Brandon and Teresa Davis, who stood out to them right away, ended up being the right fit for Carolyn Elizabeth, the baby girl Catelynn gave birth to on May 18, 2009, and has since always referred to as Carly.
Before Catelynn was induced, Tyler wrote a letter to their child, explaining their decision and ensuring her that her birth father would always love her.
"The thought of what kind of dad I wanted to be, and what you deserve in life, just didn't mix," he wrote. "I think about you every day, you are everything to me. I don't want you to ever, ever think I didn't want you."
When the first season of Teen Mom premiered in December 2009, Catelynn was the only teen of the group who was not dealing with the challenges of taking care of a baby, but rather coping with the decision to give her baby up. 
Brandon and Teresa were that probably fairly unusually couple who agreed to give Catelynn regular updates on Carly. She and Tyler would celebrate Carly's birthday (from afar) and had yearly visits. But the initial understanding between the families has caused its fair share of drama over the years. Brandon and Teresa, who later adopted a baby boy as well, eventually started to pull back from the arrangement, first not wanting Carly to appear on Teen Mom anymore as the child was getting older, and then telling Catelynn in 2016 that they didn't want her even talking about the adoption anymore on camera.
All of which transpired on camera, of course. "My relationship with you comes before my relationship with MTV, period," Catelynn was seen telling producers. And when she told Tyler over the phone, he offered a sweeping assessment of the situation. "We should've never done an open adoption," he lamented. "We should've stuck with the closed and we should've never signed up to be on TV."
London Entertainment/Splash
But the ties that bind remain.
In 2016 Cate told E! News that their relationship with Brandon and Teresa remained strong, they were still visiting Carly once a year and she got to text with her and see picture all the time.
Carly made NovaLee a Valentine's Day card last year, which Catelynn proudly showed off on Instagram. She naturally became the resident voice on Teen Mom for the pros and cons of adoption and the forever-feelings that come with being a birth mom and then not an active parent.
But she was never in it alone. Tyler was always there for her, and continues to be there for her, though obviously their relationship would never qualify as having been easy—for a number of reasons, their tender ages being only one.
Tyler's own guilt consumed him at first and, with Catelynn also struggling, there was major tension. Their first attempt at living together with Tyler's mom didn't work out, and Catelynn ended up moving back in with her family. And the adoption continues to haunt them in the form of their parents, with April picking a fight with her daughter even when they were shopping for prom dresses.
The couple graduated from high school in 2011 and Catelynn enrolled at Baker College to major in social work. Tyler proposed in 2012 and they bought a house in Michigan together, but then he up and went to New Orleans, where he was auditioning for commercials and trying to become an actor. They sometimes brought their issues to Twitter, engaging in heated exchanges that left fans wondering what their relationship status was.
By Thanksgiving of that year he was back home with Catelynn and their two dogs.
"We're just a normal couple. We're not the perfect princess story," Tyler explained to In Touch. "We get in arguments and we say things that we regret. We apologize and move on."
They had originally planned to get married in 2013, but they ultimately determined, with the help of couples counseling, that they weren't ready for that next step. But in 2014, Catelynn became pregnant again. This time, the couple knew they were going to become full-time parents.
Just weeks before they welcomed daughter NovaLee in January 2015, Tyler surprised his fiancee with a sparkly new engagement ring. 
"She's the best thing that has ever happened to me," Baltierra wrote on Instagram a few days before Christmas. "She's everything I want that I never knew I needed. She's the most selfless, kind hearted woman that I'm lucky enough to call mine."
Also in 2014, the couple penned a book together, the aptly titled Conquering Chaos, which came out in March 2015. The couple have also started a baby clothing line, Tierra Reign.
They ended up tying the knot on Aug. 22, 2015, at Castle Farms in Charlevoix, Mich., in front of family and friends including fellow Teen Mom stars Amber Portwood and Maci Bookout.
At the same time, however, Catelynn was battling severe postpartum depression and anxiety, and in 2016 she spent a month in treatment in Arizona.
"I decided I needed to get help from talking with Tyler and realizing that I maybe needed something more intense for myself," she told MTV News that September. "For some reason, I just had a light bulb moment where I was like, 'Maybe I need extra help.'"
Her world remained on edge, however, when she returned home and Tyler, who was being unusually nasty to Cate about her weight, a topic of sensitivity for her as seen on Teen Mom, was also depressed. "I'm always thinking negative all the time," he tells Cate. "It's a lot like how I felt when I was a kid. I can just feel it… I know it. All the s--t with my dad again. It's pushing me right over the edge."
When she told him it didn't seem as if he was sad all the time, Tyler said he was, and asked Cate if she was blaming herself for his depression. "Yeah, I am," she said. "I also jump to the worst thing possible."
At the time there were also rumors swirling that Tyler had been cheating on her, which the couple seemingly joked about on social media early last year, with Catelynn tweeting, "Well since it's out in the open @TylerBaltierra did cheat on me. He's busted." To which he added, "Well it goes both ways. Sometimes I booze while she cheats, sometimes she'll booze while I cheat. It just depends on the day of the week."
Um, laughter's the best medicine?
Catelynn continued to struggle, however, and in November she checked into treatment for depression again after considering suicide.
"Incredibly proud of my wife...when she thought she had no choices left, she reached out & decided to LIVE today! My life would be desolate without her in it. You are beautiful, strong, worthy, & loved @CatelynnLowell #KeepTalkingMH," Tyler tweeted his support.
She was home by New Year's, and into Tyler's waiting open arms. He had admitted he was having a tough holiday season without her, but he took comfort in being with NovaLee and watching her open presents.
At the same time, he was determined to win another battle that was on his mind. Today he showed off the before-and-after pics after losing 26 pounds in five weeks.
"Eating healthier just feels better & obviously looks better hahaha lol BOOM! #LifestyleChanges #Goals," he wrote.
This year will continue to be about changes and goals for the family, as Catelynn also announced this week that she's going back into treatment, barely three weeks after checking out.
"Well they say third times a charm..." she tweeted Jan. 17. "I'm going back to treatment people for 6 weeks to work on my trauma and getting on different meds. THANK YOU @TylerBaltierra I LOVE YOU SO MUCH!!!!! You are my light!! And nova you are my sunshine #KeepTalkingMH."
When Tyler turned 26 in January, with Catelynn wrote on Instagram, "SCREAMING Happy Birthday to my main boo, my best friend, and my lover!!! 26 has never looked so good! Thank you for all you do for Novalee and I. Your an amazing father and THE best husband! I love you so much!"
Then, with time flying, Novalee started preschool. "#gettingbig," indeed.
In March, Catelynn opened up on Kailyn Lowry and Lindsie Chrisley's Coffee Convos podcast about how she was managing her depression post-treatment, sharing that she seemed to finally be on the right medications and "they seem to be working really well. It all stems from the trauma in my past, so I'm going to have to keep digging deep into that."
And Tyler, who has now lost 40 pounds since embarking on his weight-loss journey, has been there, while also realizing that his own health is essential to making the overall equation work.
On their third wedding anniversary last month, Catelynn posted some photos from their wedding and wrote, "Happy anniversary to my husband! We have had some really rough times and some amazing times. I wouldn't want to go through this life with anyone but you!!!! Happy 3 years and I can't wait for many more! I love you."
Talking to Us Weekly, she called baby No. 3 "our rainbow after the storm. I'm super excited."
Catelynn continued, "It was a huge shock at first. We were not planning it, especially after the miscarriage and how I went downhill with my mental illness...We were going to wait a really long time. We were using protection and everything and still got pregnant. This baby just wanted to be here. It was very unexpected."
While life continues to present its challenges, and they're still only in their mid-20s, Catelynn and Tyler Baltierra are still the ones who've proved all the Teen Mom naysayers and skeptics wrong. If they remain committed to each other, there's no reason to think they can't clear every hurdle that comes their way—as a couple.
Lord knows, their fans are rooting for them.
(This story was originally published Jan. 19, 2018, at 2:01 p.m. PT)