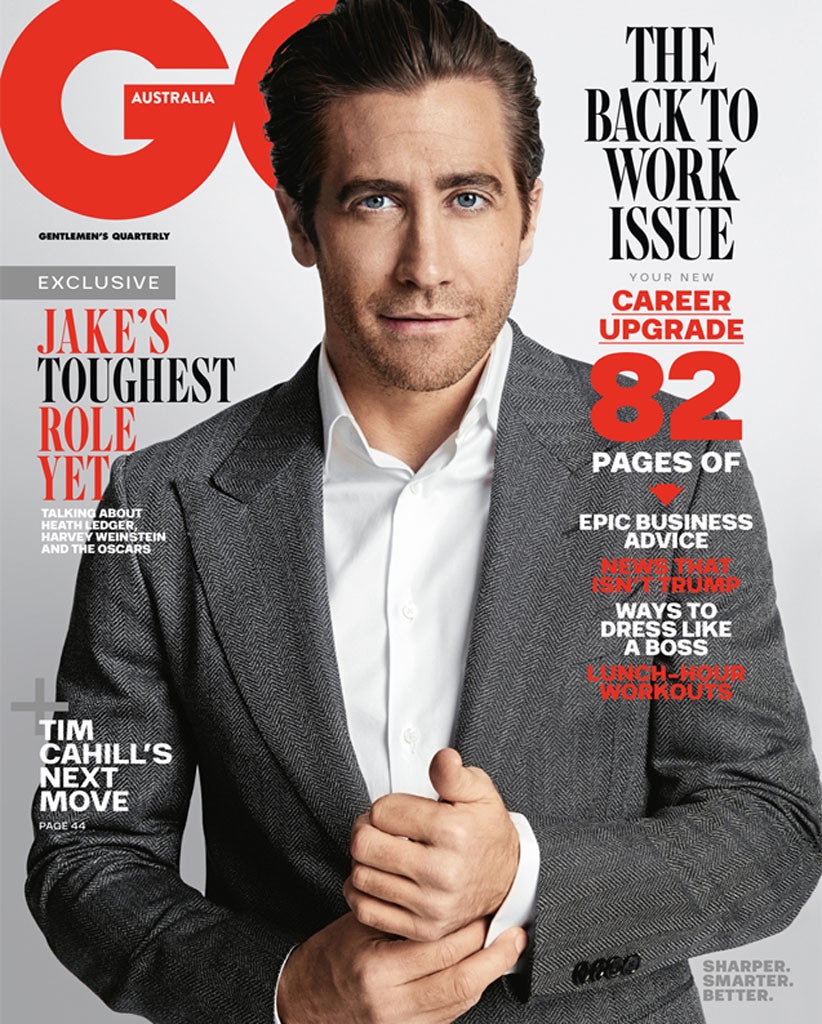 Doug Inglish
Before Brokeback Mountain there was Moulin Rouge!, and Jake Gyllenhaal has the latter to thank for his friendship with Heath Ledger. 
The movie star is GQ Australia's February 2018 cover star, in it discussing the origins of his close bond with the late actor and his role in Stronger—the emotional true story of a man who lost both his legs in the Boston Marathon bombing. 
Turns out Gyllenhaal and Ledger bonded over a "mutual frustration" most aspiring actors share when the role of a lifetime goes to someone else. In the case of 2001's Moulin Rouge!, that someone else was Ewan McGregor. 
As the 37-year-old recalled, "I was auditioning for Moulin Rouge!— [director] Baz Luhrmann had chosen three actors. It was Ewan, it was Heath, and me. And we auditioned with many different actresses, it was a long process. But I never met Heath, I only heard about him."
Jake shared that it wasn't until Ewan was cast that he "finally met Heath and we sort of became friends before Brokeback Mountain based on our mutual frustration."
The close friends got the last laugh, he added, after the 2005 romance-drama "got all the attention that it did." Gyllenhaal told the mag, "I remember, a few months later, Heath called me and he was like, 'Hey mate, I got some news for you'. I said, 'What?' He said, 'Baz just offered me his next movie. I just wanted you to know, I f--king turned it down!'"
"So that was how much Heath loved me, you know," Jake said. "That was how I met him."
Ledger passed away in 2008 from an accidental overdose, and Gyllenhaal is the godfather to his and Michelle Williams 12-year-old daughter, Matilda. 
When asked about playing Jeff Bauman in Stronger, Jake called it his toughest role yet. "It pushed me more than I've ever been pushed," he explained. "I pushed myself as a result. Sometimes I took it probably too far, admittedly. I mean, it has consumed me for two-and-a-half years."
Gyllenhaal has since forged a friendship with Bauman, and the two talk "almost every day."
"I don't think that I would have been able to survive what he survived," he said. "And to find the sense of humor that he has. It just taught me more than any other film I've ever made. When you get to spend time with someone like that, it's more than a lesson, it's life changing. Getting it right and portraying him, it still stresses me out, but I love him so much."
He's also confident in the likelihood of an Oscar nomination, adding, "I have approached that possibility with no hesitation. In years past I probably would have been a little bit more consciously humble but I've started to realize that the acknowledgement of something, a performance or movie, through awards is a way of getting more people to see it."
"I also do think, more and more," Jake concluded, "it's allowing yourself to be openly proud of the work that we put so much of ourselves into."
Pick up the latest issue of GQ Australia when it hits newsstands Monday, January 15.