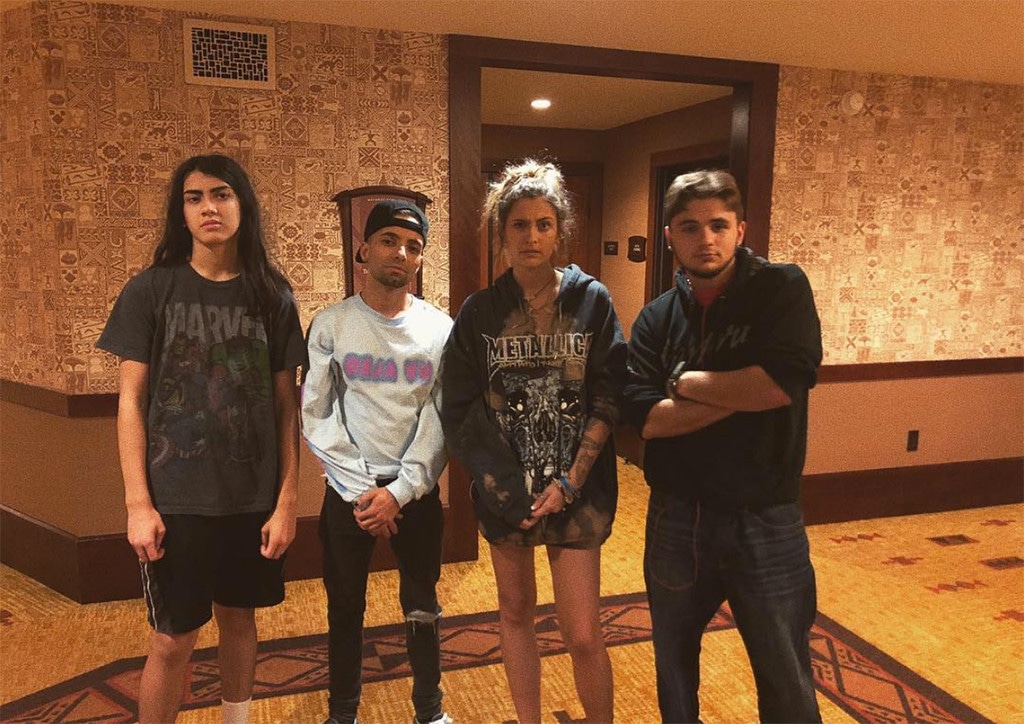 Instagram
Christmas brings families together—even if they're not actually together.
Paris Jackson, 19 shared a rare photo of brothers Blanket Jackson, 15, and Prince Jackson, 20, (along with family friend Omer Bhatti) with her 2.3 million Instagram followers yesterday. "happy christmas from ours to yours," the model and actress wrote in the caption. "#brahdas." (Earlier in the week, Paris took to Twitter to explain why she considers Omer part of the family—and why she refers to him as one of her brothers. "Why is everyone losing their f--king minds over this?" she asked. "Do you guys seriously not remember the fact that not only have I known him since birth, we have literally called him our brother many many many many times.")
Blanket, who reportedly changed his name to B.G. or Bigi, has rarely been seen in public since Michael Jackson died in 2009. While his brother and sister willingly stepped into the limelight once they reached adulthood, Blanket—whose mother is an unidentified surrogate—attends a private school in L.A. and resides in his 87-year-old grandmother Katherine Jackson's mansion.
(That may change: In October, Katherine filed paperwork to resign as his legal guardian, citing their ages. According to court documents obtained by E! News, Katherine said she feels co-guardian T.J. Jackson is now "able to assume all necessary responsibilities of the guardianship." The Jackson family must now wait for a judge to make a decision regarding Katherine's filing.)
In Paris' Christmas photo, Blanket—still sporting his long hair—wore gym shorts and a Marvel tee. It's unclear if the Jackson siblings actually spent the holiday together, however. In Omer's Instagram story, Blanket and Prince were M.I.A., while Paris danced to José Feliciano's "Feliz Navidad" and people opened presents under the tree. Paris' own Instagram Story revealed they're on an exotic island—and, by the looks of it, she's having the time of her life. Various videos showed her singing " Santa Claus Is Comin' to Town," modeling a Calvin Klein bikini, eating a slice of pizza and dancing to Silentó's "Watch Me (Whip/Nae Nae)" with two little girls.
A day earlier, Prince shared several photos of himself at the Matterhorn Mountain in Switzerland, leading some fans to wonder if he and Paris had celebrated Christmas separately.
Blanket's whereabouts, meanwhile, remain unknown. Just last month, his grandfather Joe Jackson shared another rare photo of the teen—in addition to a message for him—via his website. "To my grandson Blanket: You are like your father in so many ways, and you remind me most of him," he wrote. "Enjoy life, see lots of good movies, stay healthy and remember, I do love you!" In an accompanying video message, Joe told his grandson, "You're like your father. Now I understand why your father had you wear masks all the time, because news people was bothering him so much and he tried to disguise you as much as possible. I know what you mean, man. But I want you to stay healthy and stay off those bikes!" (Joe confused Blanket with Prince, who sustained a minor accident on his two-wheeler a few weeks earlier.)
While Paris and Prince rarely discuss Blanket in interviews, the siblings' bond is undeniable. The elder siblings have matching ankle tattoos, and in October, Paris publicly praised Prince. "You accept my crazy ass for who I am, and love me unconditionally despite how out there I can be sometimes. And you support anything and everything I do solely because you know I'm passionate about it. You're my ride or die," she wrote on Instagram. "Thank you for everything, you're such a f--king blessing in my life and I don't know where I'd be if I didn't have you."