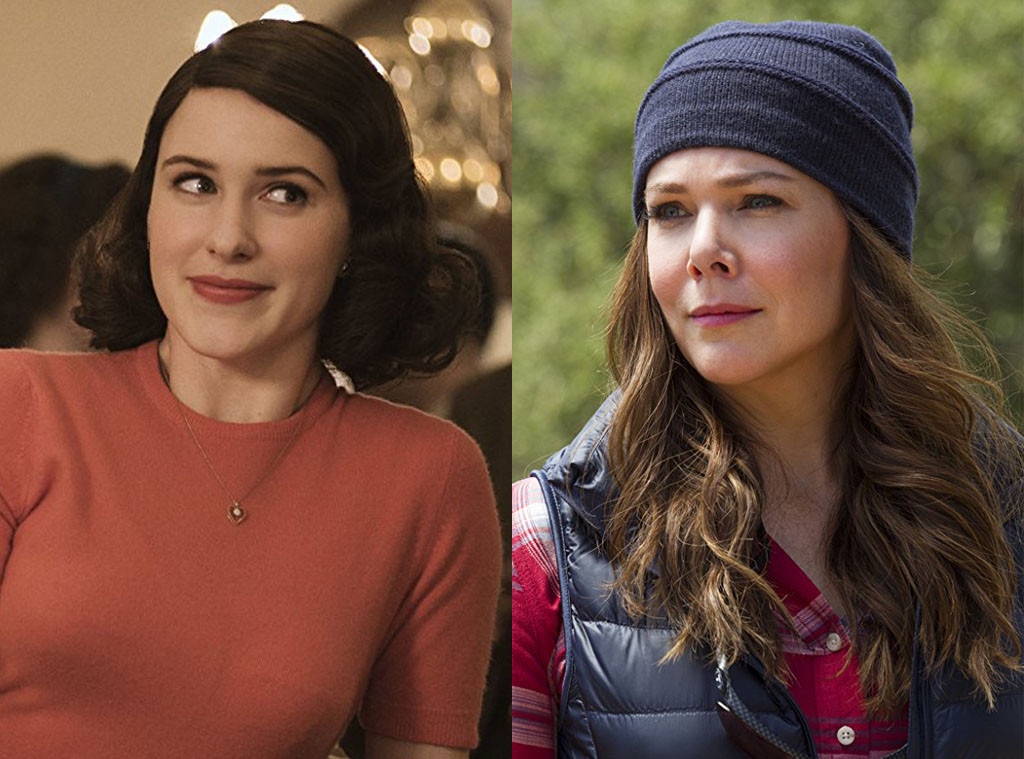 Netflix
The Marvelous Mrs. Maisel and Gilmore Girls share more than just Alex Borstein. (For those not in the know, Borstein plays Susie Myerson on Mrs. Maisel and was the original Sookie on Gilmore Girls until MADtv didn't let her out of her contract, she would appear as Miss Celine and Drella in the series). Both shows hail from Amy Sherman-Palladino and her husband Daniel Palladino and both feature the trademark rapid-fire dialogue of the husband-wife team. And The Marvelous Mrs. Maisel contains more than one nod to Gilmore Girls—and perhaps Sherman-Palladino's thoughts about life.
Let's start with the wedding. In Gilmore Girls, Emily (Kelly Bishop) revealed the details she had planned for Lorelai's (Lauren Graham) wedding that she never got to plan. "Yours was going to be a Russian winter theme," Emily told Lorelai in the season two episode titled "Dead Uncles and Vegetables." Lorelai's wedding was going to have snow-white roses, trees with white lights and candles, snow everywhere. "Well, it would have been beautiful," Emily said.
And Midge Maisel's (Rachel Brosnahan) wedding? It was a "Russian winter wonderland theme." "Everything was white, and there were trees painted like they were covered with snow," Midge told her friends in the season one finale of The Marvelous Mrs. Maisel.
"It was really, really beautiful," she said.
Midge Maisel had the wedding Emily always wanted for Lorelai!
Sherman-Palladino's main characters do share one very big thing in common: snow.
There's another connection to Gilmore Girls, but this time with kids and sticky hands, something both Luke (Scott Patterson) and Susie cannot comprehend. Turns out Ethan, Midge's son did have jelly on his hands.
Ahead of The Marvelous Mrs. Maisel premiere, Sherman-Palladino and Palladino said they didn't consciously set out to something totally different—like a period dramedy on a streaming platform—from Gilmore Girls.
"Well, I think there was a conscious effort to do something where I never had to write the word Snapchat, I know that," Sherman-Palladino said. "That was an absolute conscious effort. I was like, it's going to be in the '50s—"
"Or figure out how to depict people texting," Palladino added. "It's like [text noise] it comes up on the screen, do you focus on the thing…"
"We wanted to do something that was New York, that shot in New York and had some scope to it. Really sort of see if we could convince somebody to give us a budget where we could go out and close 34th Street…and we did and then it was kind of on us to screw it up. We definitely wanted to do that," Sherman-Palladino said. "As far as veering from Gilmore Girls, I don't think we think about it in terms of—You fall in love with a character and a journey and you just sort of have to let that kind of dictate what the hell it is you're going to do."
But don't count out a return to Gilmore Girls for Sherman-Palladino just yet.
"You know, I can't say no because I said no before and we wound up doing six hours of Gilmore Girls, so that would be nobody is going to take me seriously anymore. You know, I don't know," Sherman-Palladino said.
"You're very unreliable," Palladino added.
"We're very close with these actors, especially Lauren, Kelly and Milo...I think if the time was right and everybody is in the right space, because that's what happened before. Everybody was kind of, like, in a room together and we were kind of like, 'Should we do this? Is everybody up—' 'cause it has to have that feeling, it has to be like we're all in it to win it," Sherman-Palladino said. "It'd have to be the right format, the right story, so—we have allowed for it. The deal we have with Amazon has a Gilmore clause carved out, so it's definitely if we can all come together, it can happen. Nothing is in the works right now."
The Marvelous Mrs. Maisel season one is now streaming on Amazon. Season two is in the works. Hat tip to BuzzFeed for bringing our attention to the easter eggs.