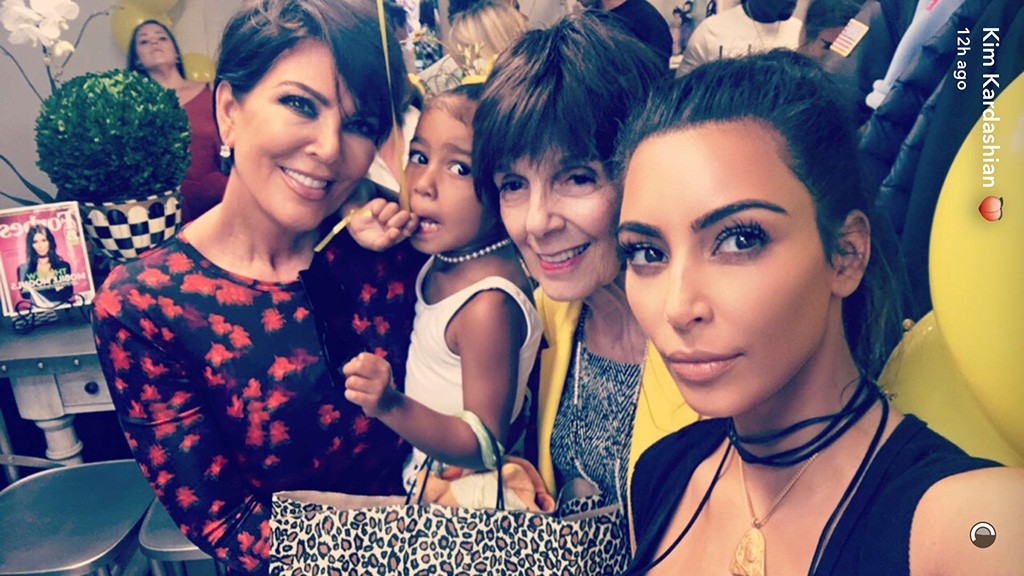 Snapchat
Kim Kardashian and her grandmother MJ Houghton have a lot in common when it comes to their love lives!
In a new video posted to her app, the Keeping Up With the Kardashians star reveals MJ once had a relationship much like her very quick marriage to ex Kris Humphries.
"We have a lot in common. We both got married for two months once," Kim says in the clip.
"We have so much in common. History repeats itself," MJ says. "I can't believe it because I was married for two months at 18. Right out of high school I was given an engagement ring, a guy I had been going with for four years. And then I just thought, 'You know what? This isn't really that much fun,' so I got out of it. Once you got married you realized it. 'What did I do?' And you try to stay in there for a month or so and really try hard and you just cant. You think, 'I shouldn't waste his time.'"
"Yes! I get it grandma," Kim says. "I feel you." 
Kim is no stranger to stripping down naked. But what does MJ think of her granddaughter's R-rated modeling and social media pics?
"Do you think that we are like too sexy?" Kanye West's other half asks Kris Jenner's mother. "Does that make you uncomfortable when I do photo shoots with my clothes off? What do you think of that? Like I'm dying to know."
"Well, I think you like to be nude, all you guys," MJ admits. "And half the people on the Internet. I think it's a thing now that people want to show their bodies."
"If you've got it, flaunt it," Kim smiles.
"I guess so," MJ says, adding, "I don't got it so I don't flaunt it." LOL!