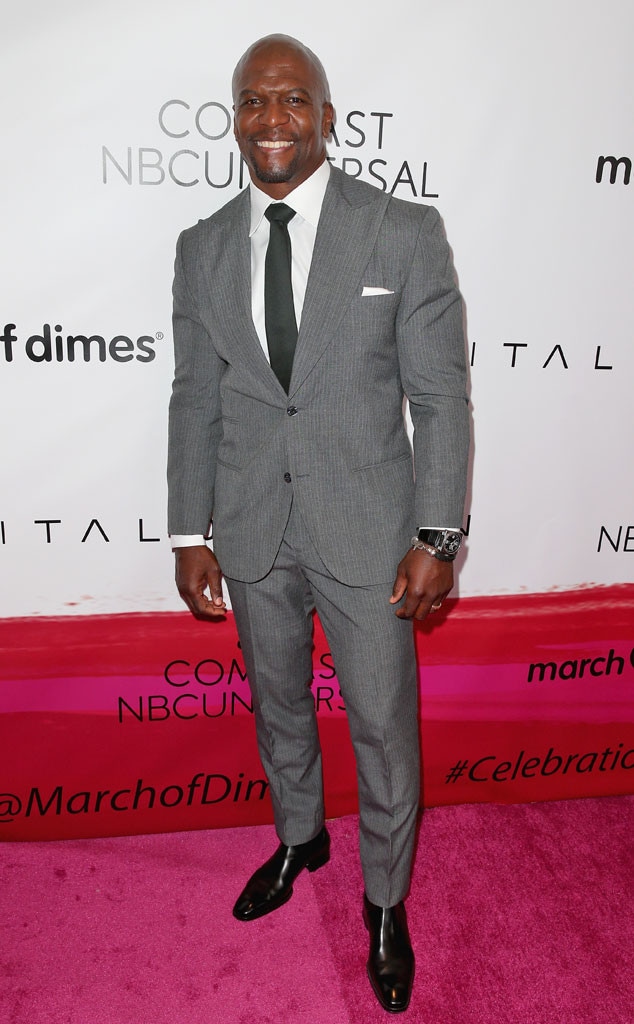 Joe Scarnici/Getty Images for March Of Dimes
Terry Crews is suing Adam Venit.
The actor has filed documents against the WME agent he claims sexually assaulted him at a Feb. 2016 party. E! News has obtained the documents, filed Dec. 4, which state Crews "seeks to hold Venit, and his employer, WME, accountable for the February 4, 2016 blatant an unprovoked sexual assault perpetrated by Venit on Crews." 
He is seeking damages for assault, battery, sexual battery, sexual harassment, gender violence, intentional infliction of emotional distress, breach of fiduciary duty, negligence and negligent retention and supervision.
Crews first came forward with the allegations in October, without naming Venit. "This whole thing with Harvey Weinstein is giving me PTSD. Why? Because this kind of thing happened to ME," he tweeted. "My wife n I were at a Hollywood function last year n a high level Hollywood executive came over 2 me and groped my privates."
A month later, E! News confirmed that Crews reported his alleged sexual assault to the Los Angeles Police Department.
"LAPD can confirm Terry Crews meet with officers from the LAPD Hollywood station," a spokesperson said in a statement at the time. "As of now, we have not been advised of what the meeting entailed. We will provide any additional information on this matter as soon as it becomes available."
Days later, Crews appeared on Good Morning America, naming Venit and sharing allegations of what happened at that Feb. 2016 party. He told Michael Strahan that the first time he had any interaction with Venit was at this party where he was making "overtly sexual tongue moves."
When Venit allegedly made his way over to Crews, the actor said he stuck his hand out to greet Venit. "He literally takes his hand and puts it and squeezes my genitals," Crews said, adding that he jumped back and asked him "what are you doing?" Crews also said that Venit came back to him a second time and he "pushed him back."
Crews then shared that went over to Adam Sandler, who's represented by Venit, and told him that he's "grabbing my junk." He said Sandler "didn't understand" because it was "bizarre" to both of them.
WME told ABC News at the time, "Adam Venit was suspended following the internal investigation into the matter."
In late November, Venit returned to work at WME after a 30-day suspension, in which WME did an investigation. In response to Venit's return, Crews tweeted, "SOMEONE GOT A PASS."
E! News has reached out to Crews and Venit for comment.