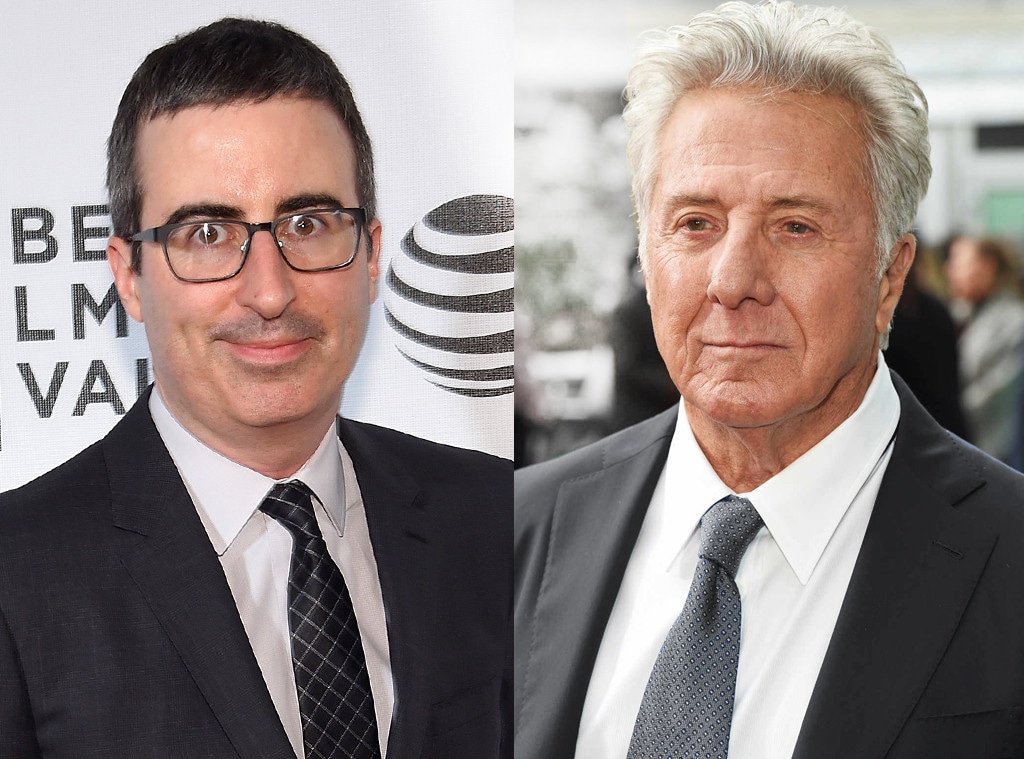 Jamie McCarthy/Getty Images; David M. Benett/Dave Benett/WireImage
In an unexpected turn of events last night, John Oliver grilled Dustin Hoffman over the sexual assault allegation that was brought against him earlier this month.
In case you missed it, a woman named Anna Graham Hunter, now 49, came forward and said that when she was 17 years old and a senior in high school, she interned as a production assistant on Death of a Salesman—the 1985 TV movie that earned Hoffman his first and only Emmy. She claimed he sexually harassed her several times, including grabbing her inappropriately and making multiple sexual remarks.
In response, Hoffman released a public statement, apologizing for his actions.
"I have the utmost respect for women and feel terrible that anything I might have done could have put her in an uncomfortable situation," he said. "I am sorry. It is not reflective of who I am."
However, according to Deadline, Oliver refused to accept that response, bringing it up during a Q&A last night that was supposed to be centered on the 20th-anniversary screening of the film Wag the Dog.
Most of the conversation was instead focused on the many sexual harassment allegations coming out against men in the entertainment industry—Hoffman being one of them.
Frazer Harrison/Getty Images
Oliver asked, "You've made one statement in print. Does that feel like enough to you?"
Hoffman replied, "First of all, it didn't happen, the way she reported...I still don't know who this woman is. I never met her. If I met her, it was in concert with other people."
He then noted that his apology was encouraged by his reps and became "misconstrued at the click of a button."
But Oliver honed in on the fact that Hoffman said his actions in the past aren't reflective of who he is as a person.
"It's that part of the response to this stuff that pisses me off," the HBO host said. "It is reflective of who you were. You've given no evidence to show that it didn't happen. There was a period of time when you were creeping around women. It feels like a cop-out to say, 'Well, this isn't me.' Do you understand how that feels like a dismissal?"
"It's difficult to answer that question. You weren't there," Hoffman shot back as Oliver responded, "I'm glad."
The conversation went on for nearly 30 minutes with Hoffman seething over the comments, telling Oliver, "You've put me on display here. You have indicted me...That's not innocent until proven guilty."
Eventually, after Hoffman asked what response Oliver would have preferred, the host explained, "It's not for me to say. It feels like dismissals or re-contextualizing it is not addressing it. It doesn't feel self-reflective in the way the incident demands."
Oliver continued, "I get no pleasure from this conversation. But you and I are not the victims here."
Despite other members of the panel—including Jane Rosenthal—and a few members of the audience asking Oliver to "move on" from the conversation—amid many others thanking him for addressing it—the discussion around sexual harassment took up a majority of the hour-long Q&A.
"I can't leave certain things unaddressed," Oliver explained toward the end of the panel. "The easy way is not to bring anything up. Unfortunately, that leaves me at home later at night hating myself, [asking,] 'Why the f--k didn't I say something?' No one stands up to powerful men."