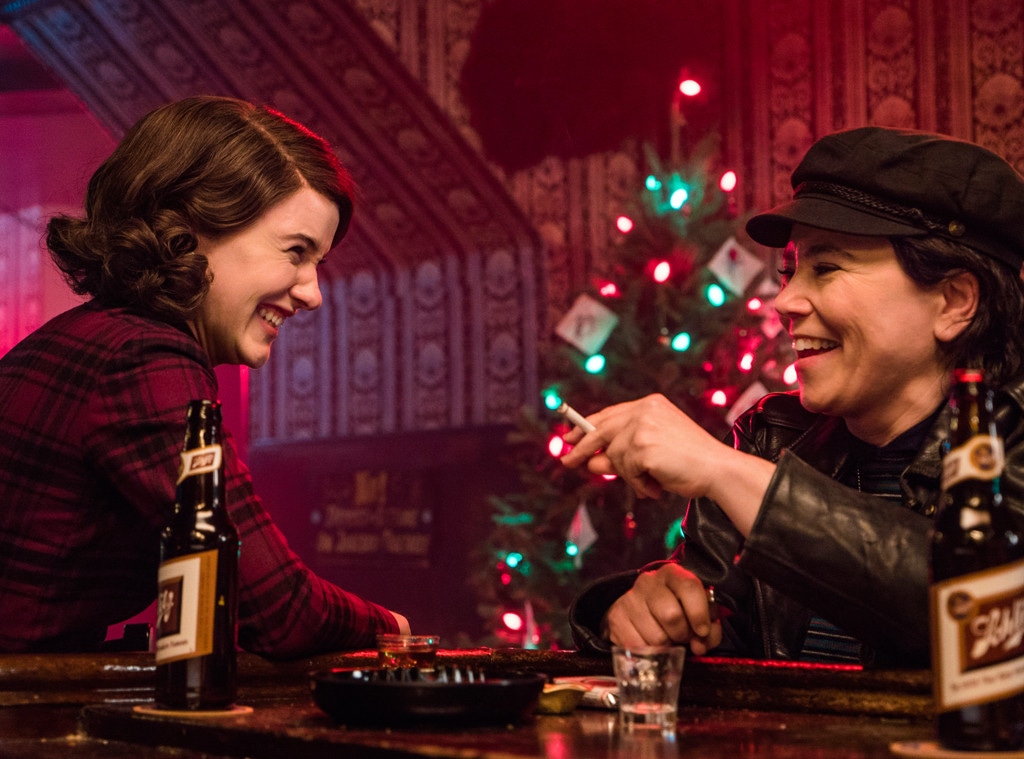 Amazon
The Marvelous Mrs. Maisel hails from Gilmore Girls creator Amy Sherman-Palladino, and while it's set in New York City in the 1950s, there are more than a few delightful similarities between the shows. There's the signature rapid dialogue, the sweeping camera shots, the complicated familial dynamics and of course the interesting, three-dimensional relationship between the two lead female characters: Midge Maisel (Rachel Brosnahan) and Susie Myerson (Alex Borstein).
This isn't Lorelai and Rory Gilmore for a new generation, it's something different.
"I always say it's like Mary and Rhoda. They're very, very different. You can't imagine they'd be friends, and yet they need each other. It's similar to Getting On," Borstein told E! News, citing her critically-acclaimed HBO comedy about a nurses and doctors in a beleaguered medical facility. "It's really cool, these women that absolutely have to lean on each other are better people because of their relationship together."
On The Marvelous Mrs. Maisel, there's a respect and admiration each woman has for one another, Midge the aspiring stand-up comic and Susie, Midge's manager and comedy guru. That's not to say Lorelai and Rory didn't respect each other, but there was still the mother-daughter relationship. On Mrs. Maisel, these two characters, from wildly different worlds, are united over the love of comedy and the dream of success.
"They're very rich and they're very complicated," Sherman-Palladino told E! News about the allure of female friendships. "Look, all relationships are complicated, but I think women relationships are especially fraught with peril, especially two women like this who are so completely different. One who sort of revels in her femininity and is proud of it and while not defined by it, it is a giant portion of who she is. And another one who just feels like, 'How the f--k did I get—why am I woman?'…Especially in 1958 when women's roles are very clearly defined—someone like Susie is like, 'What the hell am I doing here?' I think just that journey between two people whose frame of reference for what their lives should be and what will make them happy are so completely different."
 "And so far it's a completely professional relationship," executive producer Daniel Palladino said. "They take no interest in each other's personal life whatsoever."
"At all. Because they have nothing to talk about," Sherman-Palladino added.
That's not without trying. Midge does inquire about Susie's personal life and family in an episode, but is quickly shot down and learns things on Susie's terms.
"Just a little tiny bit, but generally they pass the Bechdel test in every episode for sure. It's a really fun dynamic," Palladino said. "The two actresses read together at some point and it just sort of was like, how they mesh together like this so naturally—"
"It's so weird," Sherman-Palladino added.
"Was really, really kind of surprising, I think to all of us, but they just truly meshed personally and peacefully on screen," Palladino said.
"You can't cast chemistry. You see these movies where they put these wonderful actors together, and you can't wait to see them together, and then you see them together and you're like, 'Huh?...' But for some reason from the first moment when Alex and Rachel stood in a room together we were like, 'Oh, that's going to work. That s--t's going to work,'" Sherman-Palladino added.
In the season one finale, Midge shares she slept with her estranged husband and later in the episode, Susie comes face-to-face with a distraught Joel (Michael Zegen) and reads him the riot act—Midge is going to be a success without him.
"These are two women who, under normal circumstances, may never have met, let alone become friends and let alone become the kind of friends who need each other, who kind of complete each other in some way," Brosnahan said. "This really deep female friendship is something that I love and don't see enough of on screen, and I'm really excited to see where it goes. I love working with Alex so much."
The Marvelous Mrs. Maisel season one is now streaming on Amazon. Season two has already been announced, but no premiere date given.