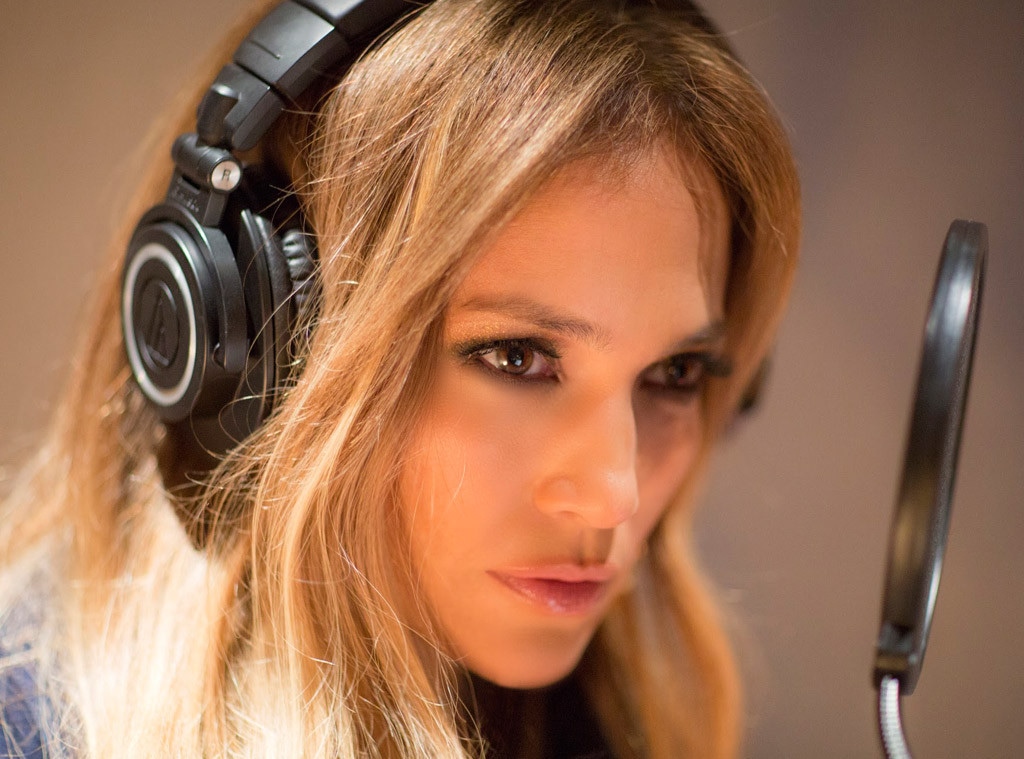 Spotify
Jennifer Lopez helped kick off ¡Viva Latino!, which is a Spotify original podcast and she didn't hold back. She discussed everything from her relationship with Marc Anthony to playing Selena Quintanilla and talked about her upcoming album. 
When asked which has been her favorite movie performance, the star said that Selena was one of her top picks. 
"It will never lose its impact," she says referring to the 1997 film. "She was such a bright light, and she was such an amazing artist and such a talent. She was so damn talented. It's like those things you're born with, she just, she had the light inside her. She was a star."
Lopez was only less than two years older than the late singer that she famously portrayed in the iconic biopic. 
"It was sad to not see where she would be now at my age," the 48-year-old star says. "She would be around my age now, so it's sad. Tragic."
J.Lo reveals that it was her idea to ask Selena's family and band Los Dinos to join her on stage for the touching tribute. 
"It was awesome to be able to do that, that many years later—20 years later," she says. "And to see her sister and her brother and see Chris [Perez] and the rest of her band that came out. They didn't ask me to do that, it was my idea. I was like, 'We should get her family out here! This is 20 years!'"
"It was a beautiful moment," she added. "It was a privilege because in the movie I don't get to sing the songs, so to be able to finally sing them was special for me."
The singer, who has an upcoming Spanish album Por Primera Vez [For The First Time], spoke about her working relationship with Anthony. 
"It [collaborating on the album] actually kind of repaired certain parts of our relationship that had been fractured from our marriage and our divorce and it kind of made us friends again," she reveals. "Like, because when we first started working together it's how we met, we met working. And so we remembered that like, oh right, we connect on this level of music. And we have that. and that's what the album came out of." 
Lopez also paid tribute to Anthony's late mother, who passed away earlier this year, by recording a cover of "Vivir Mi Vida" at the Spotify studios.
(The interview was conducted just after the death of Anthony's mother.)
"The first thing that came to my mind, because Marc's mom had just passed away, you know, my kids' grandma, was 'Vivir Mi Vida.' And I thought, 'I think that's a good song to sing right now,'" she explains. "But, in a different way. Not in the kind of up-tempo, rhythmic, salsa way that Marc did it, but in a way where you really hear the words to that song, which is, you know, you have one life and you have to live it." 
Lopez has already dropped various singles from Por Primera Vez and admits it's been a journey of learning and growth. 
"I've learned so much and I've done so much and I haven't done an album in a couple of years and I feel like I'm so different now than I was a few years back. There was like a growth spurt emotionally and kind of spiritually for me. And I said, 'You know it's different now for me,'" she says. "Everything is like the first time. Things are going to be different for me. Even when it comes to love, especially when it comes to love because, for the first time, I'm going to put myself first."