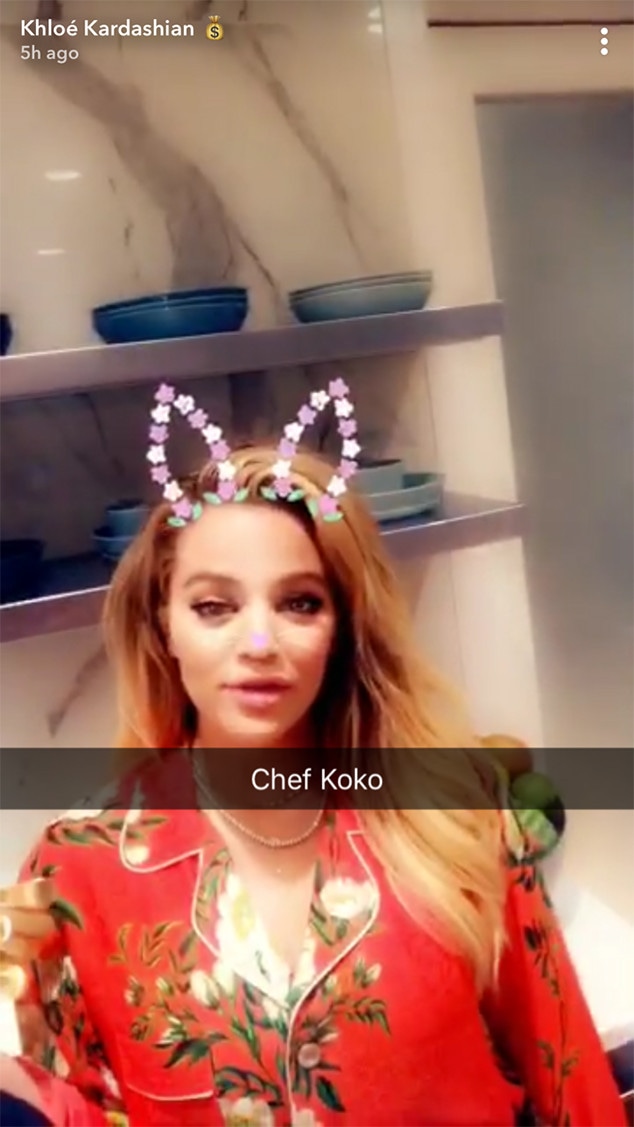 Snapchat
Khloe Kardashian may have a new career in event planning.
For the second year in a row, the Keeping Up With the Kardashians star spent Thanksgiving in Cleveland with boyfriend Tristan Thompson—and away from her famous family. Kardashian documented her preparations on Snapchat, which "always" begins two days before the holiday. "Everything's coming together," Thompson said as he surveyed the desserts. "Hell to the yeah!"
Naming herself "Chef Koko," Kardashian made everything: apple pie, bread, chicken wings, cinnamon buns, cookies, cornbread, doughnuts, gravy, greens, macaroni and cheese, pumpkin pie, stuffing, sweet creamed corn, sweet potato soufflé, and, of course, turkey. "I'm exhausted but it's worth it [to be] cooking and slaving away in the kitchen. I love everyone's reactions and just making everybody happy with food. It's so rewarding," she told her followers Thursday. "I hope all you guys are having an amazing Thanksgiving. I need to kick my feet up for a minute."
But, in the end, it was worth it.
"I usually host Thanksgiving every year, but my sisters and my mom would bring a few dishes to help me out in the kitchen. But now being in Cleveland, I have to do everything on my own. Last year was the first time I did it completely on my own and I was really proud of myself for accomplishing it all. I did it! And seeing everybody go back for seconds made me even happier!" Kardashian wrote on her paid app earlier this week. "It lets you know they really like the food."
Thompson thanked Kardashian on Instagram, first by filming a video of the food she prepared for his family and friends, then turning the camera on her to wish her a "Happy Thanksgiving."
Previously, Kardashian blogged about the blessings in her life. "Believe me, I know how truly blessed I am," she wrote. "I thank God every day for this life. It's important to remember your blessings all year long, but Thanksgiving is a good time to take a moment and be appreciative."
"I am truly grateful for Tristan and all that he has brought into my life!" said Kardashian, who has not confirmed or denied reports that she's expecting a baby with the Cavaliers player. "He has been a huge positive influence on me and has given me a new level of happiness and love."