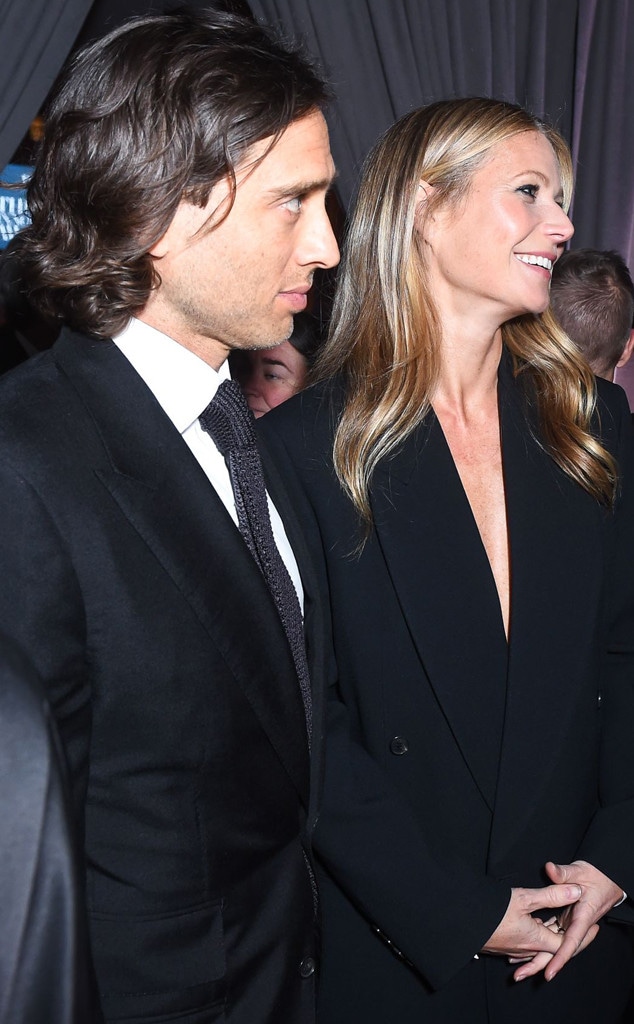 Joe Schildhorn/BFA/REX/Shutterstock
Looks like Gwyneth Paltrow and Brad Falchuk have quite a bit to be thankful for today, and it's not just because Thanksgiving is around the corner...
They're engaged, according to multiple reports.
The television producer reportedly popped the question after dating Paltrow for more than three years. 
"They both knew it would happen, but it wasn't a big thing to them because they were both in long marriages before," a source tells Us Weekly. "There wasn't a rush."
Another source tells Entertainment Tonight that she's had a ring for "a long time." However, she's only recently been spotted wearing it out at events.
In fact, it was hard to miss Paltrow's new accessory—a massive, gold, square-cut ring—during the goop launch of goopglow morning skin superpowder on Monday in Venice, Calif. The blonde actress dressed casual and makeup-free, causing her new bling to pop even more.
Charley Gallay/Getty Images for Bumble
Meanwhile, Paltrow and Falchuk met on the set of Glee—which Falchuk co-created and executive produced—in 2010 and were rumored to have been dating for a year before they finally confirmed their romance in 2015.
Of course, the "confirmation" came with an Instagram photo Falchuk posted of his "date" at the Scream Queens premiere (another show he co-created) in September of 2015. 
The couple have remained relatively low-key with the exception of a couple romantic getaways and date nights since then. Paltrow has even been mindful of what she posts on social media, rarely sharing any photos of her man.
Their decision to fly under the radar and take things slow is likely due to the fact that they were both in long marriages before getting together.
Paltrow was married to Chris Martin for 10 years before they decided to "consciously uncouple" in March of 2014, a few months before she began seeing Falchuk. Despite their split, however, Martin and Paltrow have remained incredibly amicable, successfully co-parenting their two children, Apple, 13, and Moses, 11.
Falchuk, on the other hand, was married to Suzanne Falchuk for 19 years before they split in 2013. They share two kids together as well, a daughter and a son named Isabella and Brody.
As for the success behind Paltrow and Falchuk's romance? The actress says she learned from all the relationships she "f--ked up" in the past.
"I'm actually a pretty good friend and a good sister and a daughter and a mother but I am at my potentially most vulnerable and f--ked up in the romantic slice of the pie," Paltrow explained in a podcast over the summer. "So it's taken me a lot of work to get to the place where I have a good romantic relationship."
Well, a big congratulations are certainly in store for these two!