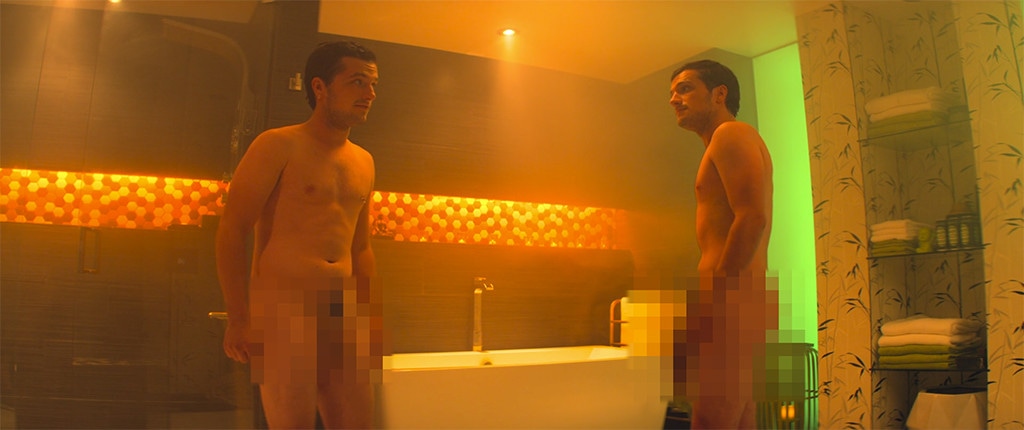 Hulu
Josh Hutcherson dares to bare in the Hulu original series Future Man...sort of.
Episode 12, "Prelude to an Apocalypse," is rated TV-MA and shows the 25-year-old actor fighting his "clone" while completely nude. Pulling double duty in the roles of Josh Futt and J. Futt, Hutcherson jokes about their varied penis sizes. And though he shows his butt, his full-frontal scene is exaggerated. While promoting the show on Josh Horowitz's Happy Sad Confused podcast, he joked, "There are barely limits—some prosthetics really push the limits."
E! News blurred stills from the scene, but the uncensored video is available to stream on Hulu. The comedy, which has been described in reviews as "filthy," is executive produced by Evan Goldberg and Seth Rogen. It stars Ed Begley Jr., Eliza Coupe, Glenne Headly and Derek Wilson.
After starring in the Hunger Games franchise, Hutcherson was making "intense indie dramas" when Future Man was pitched. "I was reading these hard-hitting, intense, indie, psychological dramas, and then this came along. This new era of TV is really amazing and fascinating, and you have a lot more freedom to go to crazy places. Just knowing the team behind it [was appealing], and for me, looking to do something original and interesting, I never really thought about wanting to do comedy or TV," he said. "It just kinda fell into me, or I fell into it. Mutual falling."
Though it's different than his work in The Kids Are All Right, he said, "It's not really apples and oranges, because it's acting. You go in, you have your scenes and you try to make them seem real. The scenarios and situations that we find ourselves in in the show are definitely different than anything I've done. We did have a lot more freedom, and you didn't have to censor yourself, so I kind of felt natural in that way, because I don't in my everyday life censor myself."
All 13 episodes of Future Man are currently streaming on Hulu.
In this role, he explained, "I'm a janitor at a center that's trying to cure sexual diseases, and by night, I'm a big time video gamer. He has this one game that he's been trying to beat, and no one has ever beaten, and when he finally does, it's like [1984's] The Last Starfighter. It's a training simulator sent back from the future to find the one person to save all of humanity. We start out by trying to stop someone from getting herpes: Mission C--kblock. That's where we start, from there. The show is great because you'll be like, 'Oh, that's a funny, weird joke.' But then it becomes a major plot point. The way it weaves and moves through time is really fun."