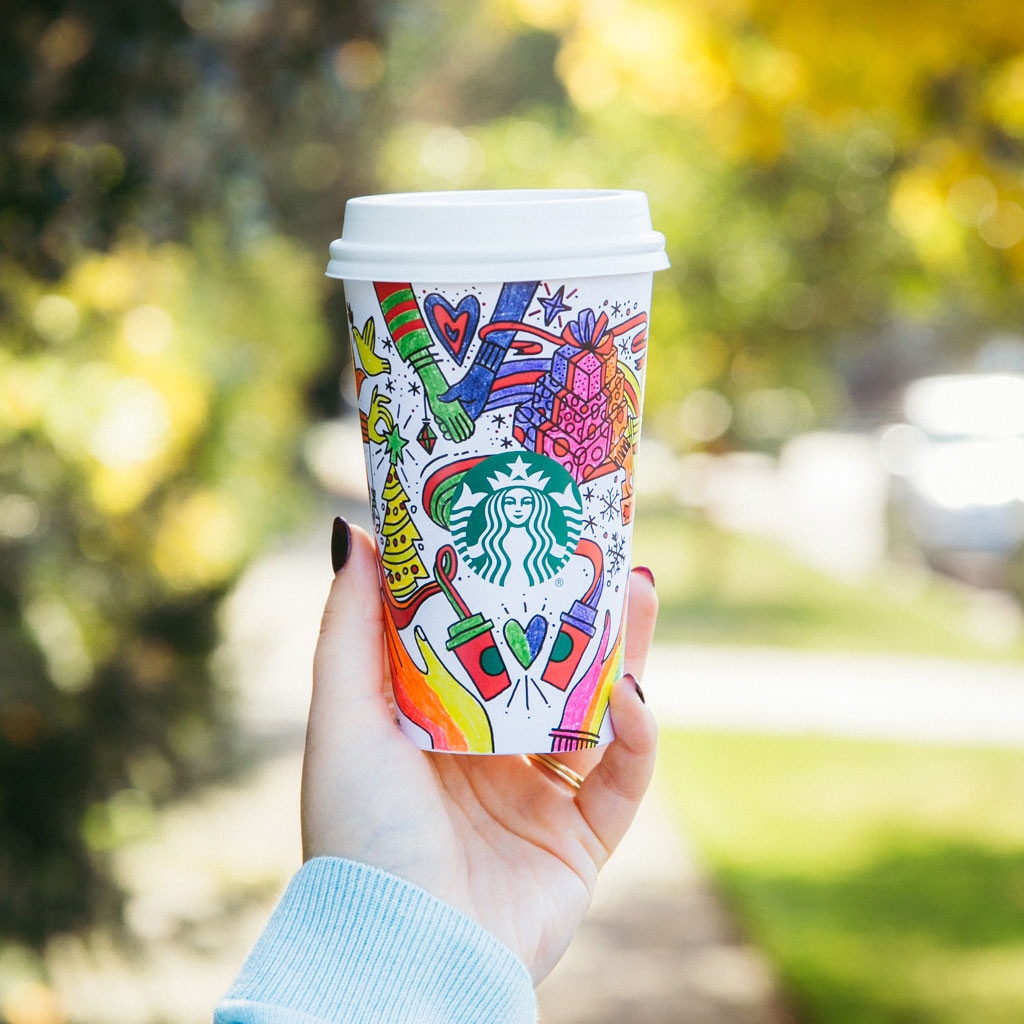 Starbucks
Starbucks' 2017 holiday cups are drawing a lot of attention after a BuzzFeed News reporter suggested the design has a "gay agenda." 
In addition to featuring hearts, presents and a Christmas tree, the design showcases two people holding hands. BuzzFeed News reporter Venessa Wong suggested that Starbucks' commercial for the cups also features two women holding hands, possibly drawing a connection between the two.
"While people who follow both Starbucks holiday cup news and LGBT issues celebrated the video, the ordinary Starbucks customer probably didn't realize the cup might have a gay agenda," Wong wrote.
The design has produced a lot of commentary on social media, some positive and some negative.
While Starbucks did not confirm or deny to BuzzFeed that the hands in question belong to people of the same sex, it did release the following statement: "Each year during the holidays we aim to bring our customers an experience that inspires the spirit of the season, and we will continue to embrace and welcome customers from all backgrounds and religions in our stores around the world."
The company also responded to a customer complimenting the company for featuring a lesbian couple in its design, tweeting it was "happy" the customer liked the new campaign.
According to Starbucks' press release about the cups, the design also includes a pair of hands holding red coffee cups at the bottom to give a slight nod to cup designs of years past. It also features ribbons and green and red colors to symbolize the holidays. 
"I like the idea of hands at the center point, a symbol of connection, love and giving joy," Jordan Kay, the illustrator of this year's cups from Starbucks' Creative Studio, said in a press release. "Whether it's wrapping presents or decorating a tree, writing cards or enjoying a mug of cocoa."
Leann Fremar, executive creative director for Starbucks, also said, "This year's cup is intentionally designed to encourage our customers to add their own color and illustrations. We love the idea of everyone making this year's cup their own."
The theme of this year's holiday campaign is "Give Good."
"Giving Good can be as small as someone opening the door for you or recognizing the people that enrich your life—your child's teacher, a caregiver, a family friend," Fremar added. "The holidays are a time to celebrate all the good we give to each other and our community."
Starbucks debuted its first holiday cup in 1997 with its red cup.
For more celebrity news, watch E! News at 7 and 11 p.m.