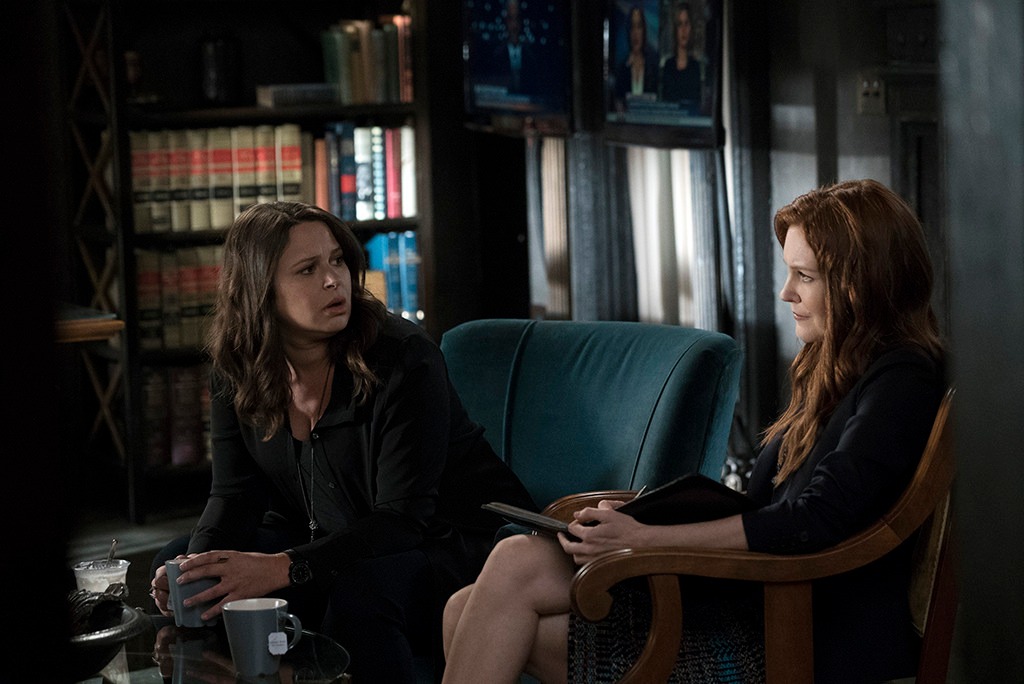 ABC
"Wanna see the body?"
Those weren't exactly the words that Olivia Pope (Kerry Washington) wanted to hear in the final moments of her biggest showdown yet with that nasty Papa Pope (Joe Morton), but they were the ones he uttered after calling her bluff in the Scandal fall finale and seemingly murdering (off-screen, of course) Quinn (Katie Lowes) and her unborn baby. 
Yes, after Quinn went missing last week, our biggest suspicion was proven true when Eli let his daughter know he was holding her hostage in order to get his damn bones back. That's right, this whole thing was about dinosaur bones!
"You have a soul left, Olivia. You will not let that girl die," Eli told his daughter after pulling a gun on her. However, she wasn't backing down.
She called in a kill order for Eli, gives him 20 minutes to live. "You think there's a soft chewy center in here. You do think that. And for the life of me, I can't figure out why." She read him the riot act for how he continuously destroyed her life, and honestly, she wasn't wrong. 'You made me in your own image. The apple doesn't fall far from the tree, poisoned as it may be...So why would you think I would choose Quinn over the Republic?"
"If Quinn has to die for the Republic, then she has to die," she reiterated. 
Of course, Liv was bluffing and expected her father to fold. Until he didn't. She didn't handle hearing those gunshots well, but composed herself well enough for her dad to return to the room and offer the cruel taunt to show her the body. So, is Quinn really dead? Normally, without seeing the body with out own eyes, we err on the side of caution before presuming a main character has been offed. But Lowes and creator Shonda Rhimes' tweets immediately after the finale finished have us thinking that really may have been the end of the road for ol' Quinn Perkins.
"It's the final season you guys, you know we had to go all out. We are happy that @KatieQLowes can have this time with her baby," Rhimes told her followers.
Lowes sent out a couple of messages on the social media site. "Thank you to the @ScandalWriters @shondarhimes for this time with my baby. And for Quinn," she wrote. "Can't even tell you how much I miss my #Scandal fam...and most of all. You #gladiators. Thank you. Love you. Thank you."
So we turn to you, Scandal fans: Is Quinn really dead? Or are they trying to pull a fast one on us? Sound off in the comments below!
Scandal returns to finish up its final season on Thursday, Jan. 18 at 9 p.m. on ABC.