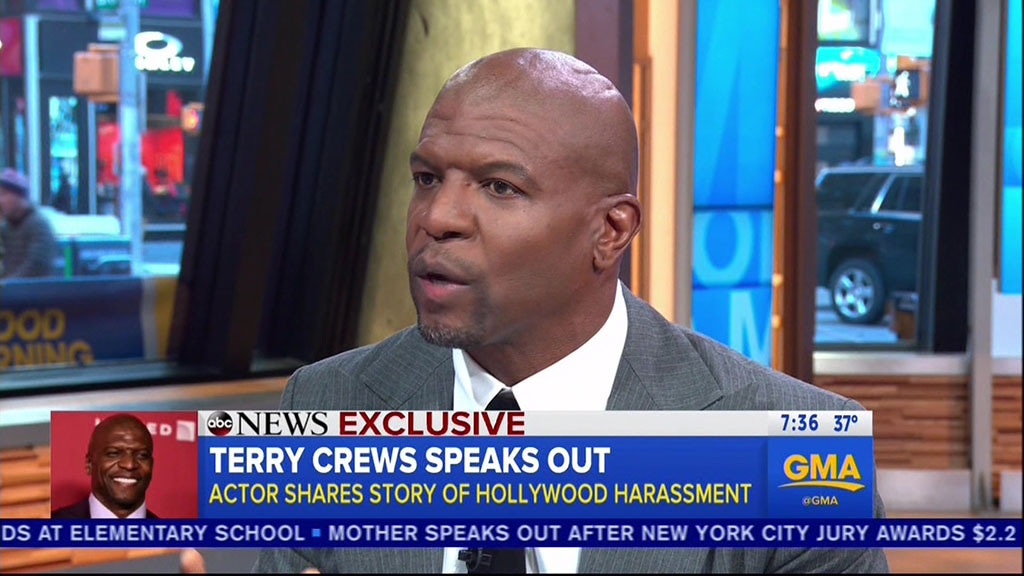 ABC/Good Morning America
Terry Crews will not be silenced or shamed. 
During an emotional interview on Good Morning America, the actor shared the details of the alleged sexual assault he claims he experienced in February 2016 at the hands of Hollywood executive and agent Adam Venit.  
After first publicly coming forward with allegations against an unnamed Hollywood executive on Twitter in early October, Crews elaborated on the alleged assault during a sit-down with Michael Strahan Wednesday morning, describing how he first met Venit at an event with Sandler. "This is the thing—I did not know this man," Crews explained. "The first time I ever had an interaction with him was at this event."
According to Crews, Venit had been sticking his tongue out at him and making "overtly sexual tongue moves" when the actor began to suspect something was not right. 
"I'm looking at him like, 'Is this a joke?'" he described. "It was actually so bizarre." With his wife Rebecca King-Crews "right there," Crews claims Venit squeezed his genitals. Stunned, the actor jumped back "like 'Hey!'"
After Venit allegedly came back a second time, Crews said he got forceful and pushed the agent back, but Venit allegedly continued to laugh. "I have never felt more emasculated, more objectified," Crews said. "I was horrified." 
Despite mounting rage, Crews heeded his wife's earlier advice to resist ever responding with violence and the two left the party. 
"If I would have just retaliated in defense, I would be under the jail right now and that's one thing I knew being a large African American man in America, I would immediately be seen as a thug, but I'm not a thug. I'm an artist," he said, noting his wife was crucial to calming him down. 
However, after sexual misconduct allegations against Harvey Weinstein surfaced and swelled the public conversation last month, the memory of that night quickly came back to Crews. 
"When the Weinstein thing started happening, I got PTSD. I was going, 'Oh my God—this exact thing happened to me. I understand why they won't come forward," he said. 
In an impassioned moment of the interview, the star likened assault to being a prisoner of war. "When a person of power breaks that boundary and violates that boundary, you're a prisoner of war. Immediately, you're in a camp because you're trying to figure out when is the right time to come out, when does the guard turn his head, when do they leave a door open."
As he continued, "You're digging tunnels with spoons and you're trying to find a way out and you get out and then you finally find freedom and somebody says well it must not be that bad. You should have came out sooner."
However, Crews won't let that kind of thinking hold him back from speaking up. 
"People need to be held accountable. This is the deal about Hollywood–it's an abuse of power," he told Strahan. "This guy—he's one of the most powerful men in Hollywood and he looked at me at the end as if [to say], 'Who's going to believe you?'"
"I will not be shamed," the actor declared on live television. "I did nothing wrong. Nothing."
E! News has attempted to reach Venit for a response. According to Variety, he is currently on leave from William Morris Endeavor. Meanwhile, Crews formally reported his allegations to the Los Angeles Police Department last week.