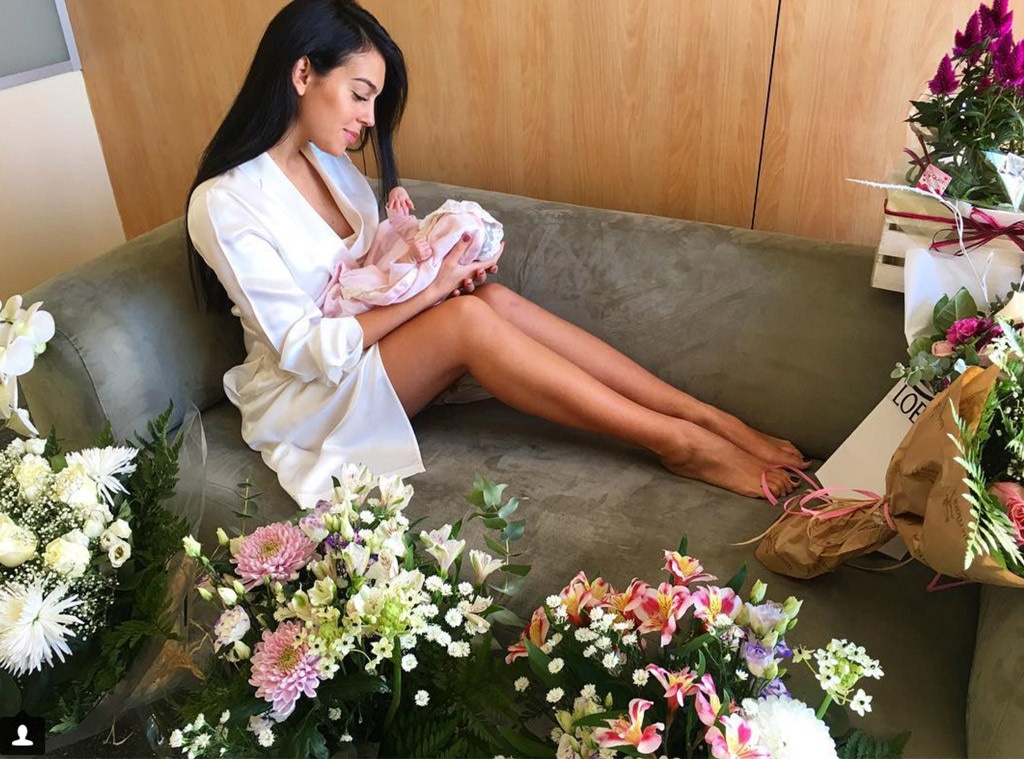 Instagram.com/georginagio
Georgina Rodriguez is elated to have given birth and says that now their family is "complete."
The Spanish model and Cristiano Ronaldo welcomed their first child as a couple on Sunday morning and quickly announced the news via social media. 
Two days later, Rodriguez shares a heartfelt message and photo of herself, in a white silk robe, holding their little bundle of joy while being surrounded by flower arrangements that were sent to the hospital by family and friends. 
"Alana Martina was born on 11-12-17. Being a mother and caring for the children at home for all of this time has helped me experience a supreme happiness and now with the arrival of Alana Martina, we are now complete, and happier than ever," the 22-year-old new mom writes in Spanish. "I want to personally thank the hospital for the impeccable attention they've given us before, during and after the labor. I also want to thank our family and friends for the calls, messages, visits, and thoughtfulness they've had with us over the past couple of days."
"Lastly, I'd like to thank all of our followers that have supported us and send us their beautiful wishes and good energy in the form of messages. We're delighted and grateful with God for the health of our little Alana Martina and of course also for the three other little ones at homes, which I can't wait to hug and eat up with kisses," she continued. "It's beautiful to see my mother calm Alana Martina while on her chest I wouldn't change this feeling for anything in the world. I love my parents, and I love my family. Thank you all!"
The soccer star and Georgina have been dating for more than a year. Her pregnancy was made public in July, a month after he confirmed the arrival of his twin son and daughter, reportedly named Mateo and Eva, who were born via surrogate.
Congratulations once again to the happy family (of six!) on their daughter's arrival.