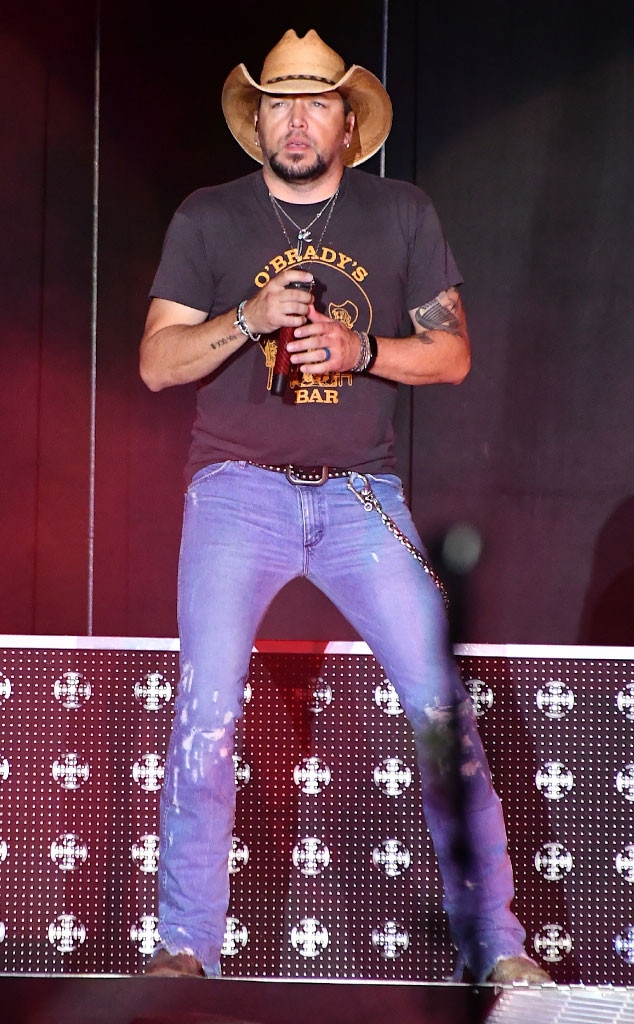 Mindy Small/FilmMagic
"It was just panic." 
For Jason Aldean, the moments after gunman Stephen Paddock opened fire on a crowd of 22,000 fans listening to his show were a mix of confusion and scrambling. As the Route 91 Harvest Festival headliner serenaded his audience on October 1, the country star heard something "crackling." His initial thought? A speaker had blown. 
"When it first happened, I thought a speaker had blown is what I thought," Aldean told Today's Sheinelle Jones in his first interview since surviving the deadliest mass shooting in United States history. "It just sounded like a crackling something and so, I'm kind of looking around like, 'What is that?'"
David Becker/Getty Images
The star described hearing the sound stop, at which point he assumed whatever glitch had been fixed. However, after hearing the sound go longer a second time, Aldean wanted someone to take care of it. 
"I was actually kind of getting aggravated, so I looked over at my monitor guy that's on the side of the stage as if to say, 'What is that? And fix it.' And so, when I turned to look, my guitar player had run behind me and was telling me to move, like, 'Let's go.' And my security guy was running on stage telling me to run."
While Aldean and his band escaped unharmed, Paddock ultimately injured hundreds and killed 58 people. 
"Everybody was scrambling," he described. "I think everybody just kind of panicked and didn't really know where to go or what to do."
Now, more than a month after the massacre, Aldean, his colleagues and all those impacted by the shooting are just beginning to heal. 
"For me this is something that obviously we're all gonna try to move on and I have to do that as well but it's something that I'll never forget," he concluded. "I just hope everybody can start to heal and some of the stuff you never get over, but I hope it gets better for everybody as time goes on."
(E! and NBC are both part of the NBCUniversal family.)