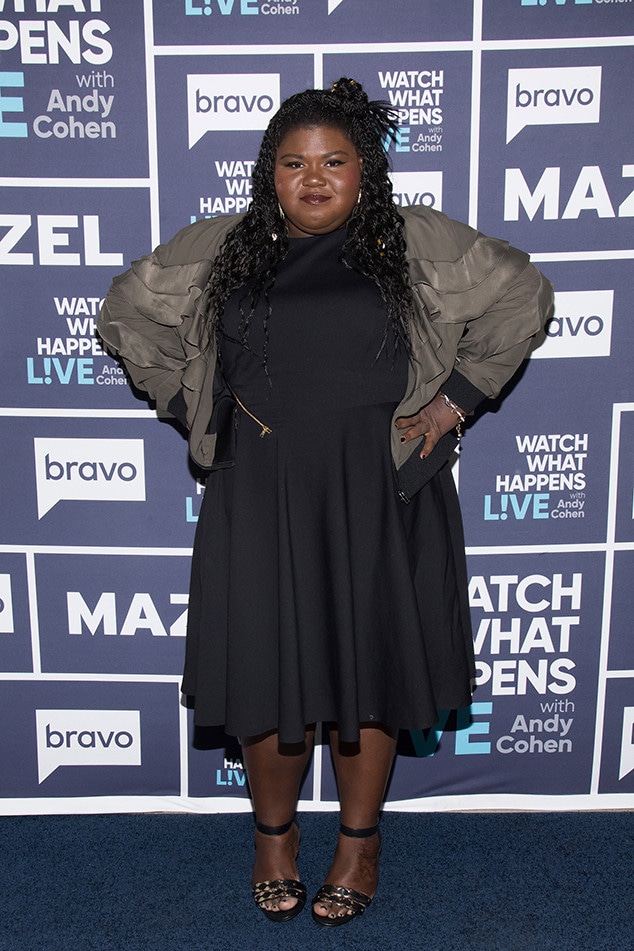 Charles Sykes/Bravo
In a war of words, Gabourey Sidibe finds strength in a higher power.
The 34-year-old Difficult People actress enjoyed a girls' night out with Orange Is the New Black actress Danielle Brooks and Refinery29 entertainment writer Sesali B. at Junior's Cheesecake in Brooklyn Sunday. Sidibe posted a photo on Instagram, joking, "On our way to ya mans house...."
The trio had just attended the Netflix premiere of She's Gotta Have It at the Brooklyn Academy of Music and were excited to share a few photos with their followers. While Sidibe's picture racked up thousands of likes, Instagram user @bettypowell47 sniped, "F--k all 3 of you bitches."
Sidibe ignored the troll, which only seemed to anger her more. "I'm not mad you boy looking bitch," @bettypowell47 said in the comments. "Go find your sides and stop wearing fake hair."
Eventually, Sidibe decided to respond to @bettypowell47. Rather than fight fire with fire, as many celebrities might ahve done, the actress approached the situation with empathy and forgiveness. "I'm not sure why you're so mad and I don't need to know why, Betty. What I do know is that you are clearly suffering and you're probably reaching out in nastiness in order to get some attention and you've got mine. You have my attention and my concern and now my hand extended to you in prayer that your situation and your heart is healed. I don't have to know your needs to ask the Lord to provide those needs to you," she wrote. "May you receive this prayer in love and may God's peace and guidance fall on you and life and keep you in love."
Sidibe's fans loved how she diffused the situation. "I just love how you handled this with such style and grace," @iamsummeranderson told the actress. "I just love how you carry yourself." Another Instagram user, @vina0129, told Sidibe, "Great job, girl...you handled that like a BOSS."
As of Monday afternoon, @bettypowell47 had not responded to Sidibe.